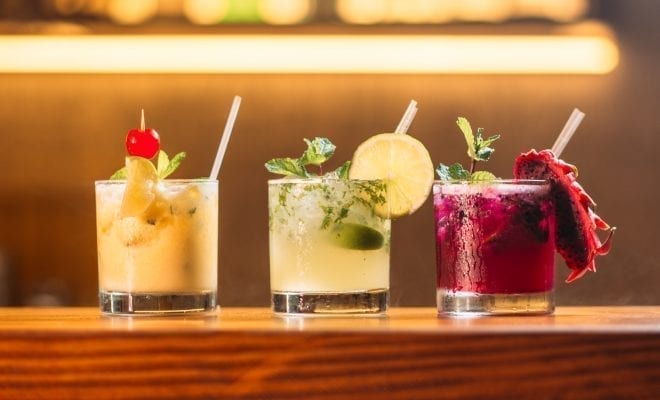 Drinking
Thirsty Thursday: 7 Essential Summer Cocktails
By
|
For those summer days and nights that are just made better with a cold cocktail in hand, we've compiled some incredible drink recipes that you have to try out.
Wild Card
This drink has summer nights written all over it. Perfect for any warm evening.
Ingredients
1 oz Del Maguey 'Vida' mezcal
.5 oz Pierre Ferrand Dry Curaçao
1 oz pineapple juice
.5 oz yuzu juice
.25 oz ginger juice
.5 oz raspberry syrup
Hefeweizen beer
Raspberries
Instructions
Shake and strain, then top with hefeweizen beer and garnish with 3 skewered frozen raspberries. Serve with straw and thin rim of froth at the rim.
Blackberry Mojito
It doesn't get much more refreshing than a mojito, and with added blackberries, you get a little extra hint of tang and sweetness.
Servings: 2
Ingredients
1/2 cup blackberries
handful fresh mint leaves
Juice of 2 limes
1 tsp. sugar
1/2 cup light rum
Crushed ice
club soda
Instructions
Combine blackberries in small bowl and gently muddle
Place leaves in bottom of drinking glass, then spoon an equal portion of blackberry mixture on top
Add rum, sugar, and lime juice and stir until thoroughly combined.
Top with crushed ice and another mint leaf
Sweet Tea Sangria
This classic favorite is given a sweet Southern-infusion, making it the perfect drink to sip on during summer.
Servings: 6
Ingredients
1 750-ml. bottle white wine, such as Sauvignon Blanc
4 cup sweet tea
1/4 cup triple sec
2 cup sliced frozen peaches
2 cup raspberries
Fresh mint, for garnish
Directions
Combine wine, sweet tea, triple sec, frozen peaches, and raspberries in large pitcher
Stir until combined well, then refrigerate until chilled
Serve with a mint leave for garnish
Pina Colada Mimosas
The tropical vibes are strong with this cocktail, making it the perfect poolside drink to sip on.
Servings: 4
Ingredients
1 c. sugar
Pineapple wedge, for rimming glasses
1 c. pineapple juice
1/2 c. coconut rum
1 bottle prosecco
Pineapple slices, for garnish
Maraschino cherries, for garnish
Directions
Pour sugar into a small dish. Rim glasses with pineapple wedges, then dip into sugar
Pour ¼ cup pineapple juice and 2 ounces of coconut rum into champagne glass, then add a splash of prosecco
Garnish top with pineapple slice and a cherry
Rooftop Lemonade
This ultra crisp drink is the perfect adult take on lemonade.
Ingredients
2 oz. of high quality vodka
3 oz. fresh squeezed lemonade
Cucumber slices
Lemon wedges, for garnish
Directions
Shake vodka and lemonade thoroughly
Slice up cucumber and add in with mixture
Squeeze lemon in, then garnish with an extra wedge
Brunch rum punch
Rum is a quintessential summer liquor, and this drink seamlessly blends light and dark into a well-balanced, refreshing cocktail.
Servings: 6
Ingredients
1/2 cup light rum
1/2 cup dark rum
3/4 cup fresh orange juice
3/4 cup pineapple juice
3/4 cup cranberry juice
2 tbsp. grenadine
Ice
Orange slice
Seltzer, optional
Directions
Mix all liquids together in a large pitcher and stir well
Fill glasses with ice, then pour rum mixture in.
Garnish each glass with an orange slice
Blue Lagoon Margaritas
These margaritas have a cool blue appearance thanks to the Blue Curacao liqueur, which also gives it a nice citrusy flavor.
Ingredients
2 limes, sliced into wedges
Coarse salt, for rimming glasses
1/4 c. Blue Curacao
3 oz. tequila
3 oz. triple sec
1/3 c. lime juice
1 can seltzer
2 c. ice
Directions
1. Rim two glasses with lime and salt
Combine liquids into glasses and stir
Top with a spritz of seltzer, and garnish with a lime wedge