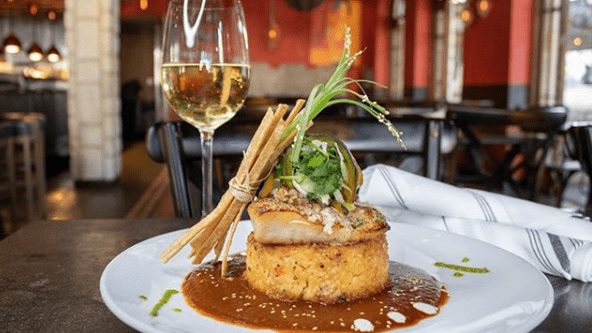 Dining
Where To Dine During Restaurant Week: Uptown/Downtown
By
|
The coveted San Diego Restaurant Week returns for its 15th scrumptious year on Sunday, September 22nd, 2019 through Sunday, September 29th, 2019 for an edible extravaganza to celebrate the end of the summer season! For 8 delicious days only, over 180 participating restaurants will offer three-course dinner menus for $20, $30, $40, $50, or $60 per person and/or two-course lunch menus for $10, $15, $20 or $25 per person. This foodie-favorited week is the perfect time to take a culinary tour throughout our diverse and thriving food culture and to explore the beauty San Diego itself. Find out why San Diego Restaurant Week is the time to dine with over 150,000 fellow diners and introduce yourself to the best California-based cuisine. Of course, a place where food is known to continuously flourish is in the beloved heart of downtown San Diego.
With every type of taste you could possibly want, old restaurants and new, low fare to high-end dining—you can find anything you are looking for in Downtown San Diego. This makes San Diego Restaurant Week the perfect opportunity to explore the endless possibilities to satisfy your every craving. We've explored Downtown, Little Italy, Hillcrest, and Point Loma, and these are our top picks for where to dine during San Diego Restaurant Week.
Sushi
Looking for some exquisite Japanese sushi to indulge in this Restaurant Week? Take date night or dinner with your favorite foodies and reserve your table at Nobu San Diego, a landmark within the world of Japanese Cuisine and situated in the beating heart of the Gaslamp Quarter. Classically trained in Tokyo, world-renowned chef Nobu Matsuhisa has taken traditional Japanese cuisine and infused bold South American and Western flavors to create a unique culinary style (Hard Rock Hotel). Nobu San Diego delivers equally on food, impeccable service and ambiance that is sophisticated yet lively. Add Nobu to your culinary road map this Restaurant Week for a sensational 5-course dinner for $50; to check out their menu, click here.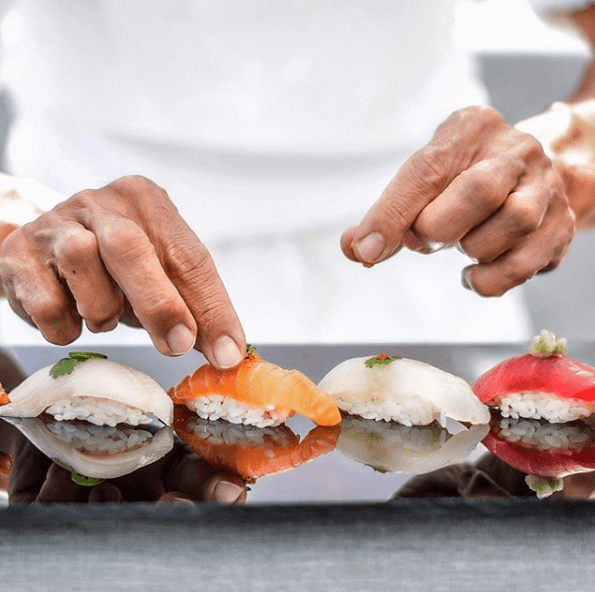 Take an underground journey to Little Italy's Cloak & Petal, a magically transformed Japanese dining lounge that is reminiscent of a trendy Tokyo subway. Sip from an impressive selection of signature cocktails beneath colorful indoor cherry blossom trees before dining on traditional Japanese fare perfect for sharing. Savor food, drinks, and friendship at this intimate space during San Diego Restaurant Week. This trendy Little Italy restaurant offers a creative lineup of craft cocktails, along with authentic Japanese sushi, appetizers and small plates.
Vegetarian
Café Gratitude is a collection of plant-based restaurants specializing in gourmet cuisine using 100% organic ingredients. Their menu and environment support health and sustainability for both our community and the planet. For San Diego Restaurant Week, they are offering a $20 2-course lunch menu, and a $30 3-course dinner menu. Plus, they are one of the few vegan restaurants participating in Restaurant Week.
Located in stylish Little Italy, this Chef Deborah Scott hot spot presents innovative Modern Latin Cuisine, worldly décor and a warm ambiance. Indigo Grill's eclectic menu boasts unique and modern flavors, offering both small plates to share and larger platters to indulge in. The interior showcases handpicked furnishings and vintage accents procured from around the globe. The "al fresco" patio overlooks the bustling Little Italy neighborhood complete with a concrete fire pit. With their diverse menu and design, Indigo Grill embodies a sense of world travel creating the perfect setting for sharing food and stories this Restaurant Week! Try their delicious specialties starting at $30 for 3-course dinner menu options.
BO-beau kitchen + caché brings the flavor, feel and romance of the Mediterranean to San Diego's Hillcrest community. This warm and rustic neighborhood bistro feels as though you are stepping into a small village cottage in the South of France. The menu features a modern twist on Cal-French classics and is known for favorites like the Crispy Brussels Sprouts and a variety of Moules & Frites. Guests can dine under the stars on the heated patio or enjoy a romantic dinner in one of the intimate dining rooms. Click here for their SDRW 2019 menu.
Steak Houses
Proudly serving in the heart of the Gaslamp Quarter in downtown San Diego since 1999, Greystone Steakhouse has a modern-chic, yet trendsetting atmosphere that allows for a vibrant dining experience. They serve a wide variety of cuts including Wagyu beef and exotic game, paired with wines from around the world showcased on our highly-acclaimed wine list. Enjoy one-of-a-kind craft cocktails and accommodating service. Experience unparalleled, world-class dining at San Diego's finest steakhouse destination. Click here to check out their $50 and $60 3-course dinner menus for SDRW 2019.
There's no other restaurant like The Butcher's Cut in all of San Diego. The space has a rustic and vintage vibe that takes you back to a simply classic era. The newly installed glass meat locker on the restaurant floor is a spectacle one must experience in person. The Butcher's Cut promises to be the freshest, most desired dining destination in the Gaslamp District. Click here for their $40 and $50 3-course SDRW 2019 menu.
Dine with a View
Panorama Bar & Grill Restaurant – Harbor Island
Spend some time gazing out to the Pacific Ocean on Harbor Island, filled with shopping and unique eateries like Panorama Bar & Grill Restaurant. Panorama Bar & Grill presents New American Cuisine at its finest, all while showcasing many of California's very best wines, hand-crafted cocktails, the region's most sought after craft beer on tap, and Southern California's best musicians every Friday and Saturday night! Make your reservation now and come experience San Diego's newest waterfront dining and entertainment destination. Their 3-course dinner menus start at $30 can be found here.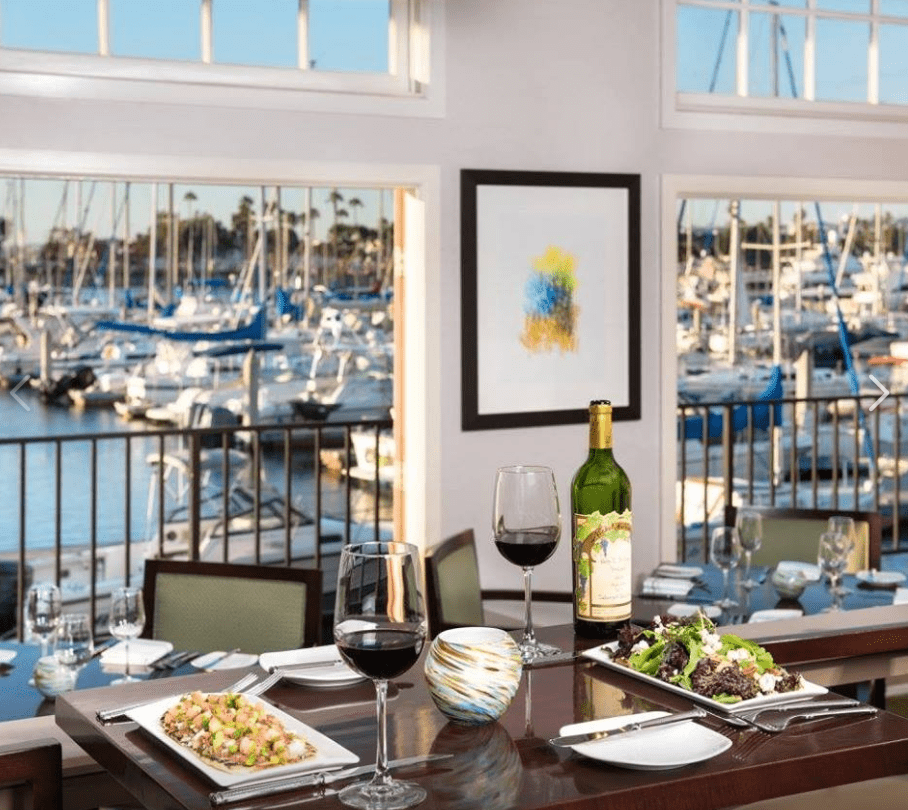 With views to dine for, both Island Prime and C Level offer panoramas of the San Diego skyline. These premier dining destinations led by San Diego Chef, Deborah Scott, are housed under one roof situated on the bayfront waters of San Diego's Harbor Island. C Level's California Modern cuisine showcases fresh seafood and uniquely inspired dishes. This casual bistro offers lunch and dinner daily both indoors as well as along the waterfront of their spacious patio and lanai. Island Prime offers an upscale steak and seafood dining experience. The award-winning menu highlights superior quality choice cuts, innovative a la carte selections, as well as composed dishes. Click here to check out their $40 3-course dinner menu.
ALL NEW in September 2019 is the "Restaurant Week Your Way" feature with the same great price points but with more flexibility! Create your perfect palate with personalized menu options from your favorite participating San Diego eateries! Choose between your combinations of Entrée, Appetizer, Drink, and Dessert to create your own customized, one-of-a-kind Restaurant Week experience. You now have the freedom to create your perfect menu selections at the best restaurants– all at exclusive discounted prices! This means you can taste more, save more, and enjoy more of San Diego with both new restaurants and old favorites.
Gather your food connoisseur crew, prepare your appetites, and embark on an unforgettable edible journey that is sure to keep you satisfied for a lifetime! Don't just eat and drink like any other week—indulge until your heart's content, laugh, and share! Tickets are not necessary for this delectable week of discounted dining, but reservations are recommended! Visit SanDiegoRestaurantWeek.com for more information.