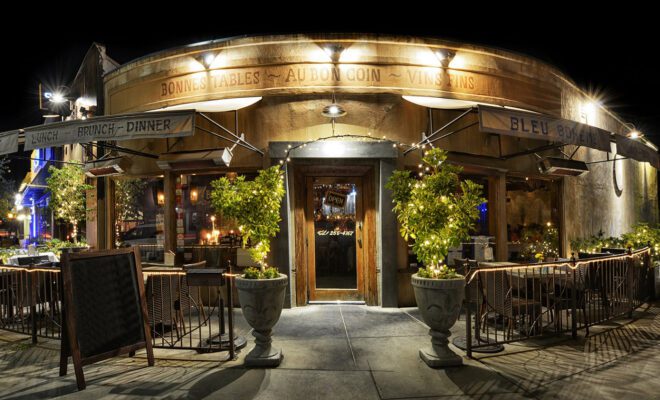 Dining
Bleu Bohème to Highlight Award-Winning
By
|
French Cuisine for San Diego Restaurant Week
Bleu Bohème, an award-winning French restaurant, will take guests on a culinary journey with a three-course menu for San Diego Restaurant Week, exclusively available Tuesday, Sept. 26 through Saturday, Sept. 30.
Owner and Executive Chef Ken Irvine has curated a three-course prix fixe dinner highlighting classic and contemporary French cuisine, priced at $65 per person, for San Diego Restaurant Week. To begin, guests may choose from a selection of petit plats, including rum-cured and cold-smoked salmon, served with extra virgin olive oil, shallots, capers, chives, lemon zest, goat cheese crèpe, crème fraiche and caviar; sautéed GruyeÌre dumplings, made with cremini mushrooms, asparagus, charred cherry tomatoes, romesco and beurre blanc; crab croquettes served with jicama remoulade, tomato-rocket salad and saffron aioli; roasted beet salad with clementines, pickled red onions, balsamic vinaigrette, goat cheese croquettes and rocket lettuce; French onion soup and more.
Main course selections will include Shiitake and oyster mushroom raviolis, made with spinach, Espelette peppers, tomato relish, fines herbes and white wine sauce; braisedbeef short rib in red wine, served with mushrooms, house-smoked bacon, carrots, baby potatoes and caramelized pearl onions; Faroe Island salmon, served with Japanese potatoes, butternut squash, baby cauliflower, smoked tomatoes and sorrel-mushroom sauce; Hudson Valley Muscovy duck leg confit, served with creamy goat cheese polenta, baby kale, leeks, olive relish and sauce verte. For an additional $8, guests may order large dry-pack sea scallops, served with saffron lobster risotto, linguiça, English peas, fennel and basil pistou.
To finish on a sweet note, guests may choose between warm brioche bread pudding, with caramelized apples, raisins and white chocolate; creÌme bruleìe; dark Callebaut chocolate mousse, served with seasonal berries; and warm gingerbread, served with strawberry confiture and caramel ice cream. The full San Diego Restaurant Week menu is available online here.
Bleu Bohème's signature dinner menu will also be available and may be viewed here. For more information or to make a reservation, visit their website at www.bleuboheme.com or call 619-255-4167.