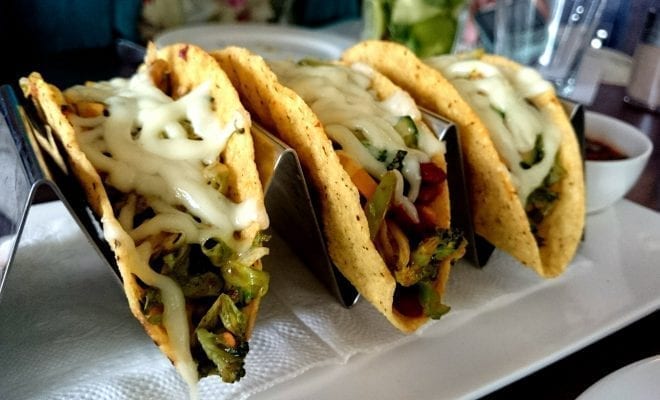 Photo by Siddhantsahni28 via CC 4.0
Dining
Tacos Aren't Just for Tuesday at Taco Surf PB
By
|
San Diego has a very diverse selection of food available, but a food tour of the city isn't complete without the perfect taco. Owner of Taco Surf PB, Sam McLarty says the restaurant has "been around for almost 30 years, we're the longest lasting restaurant in Pacific Beach." Sam runs the establishment with the help of his wife and co-owner Cindy McLarty. The food served here is of the best quality, and provides delicious bursts of flavor to your taste buds, after relaxing all day at the beach. Sam says, "We use high quality products, and have unique ambiance with historic surfboards." Sam has been in the surfing industry since 1969, and definitely has a passion for this restaurant.
This establishment is different from the rest, because of the atmosphere that is created, and the quality of each food product. There are surfboards all around the restaurant, and each one has a different story. Being very popular to local surfers and the locals as a whole, Taco Surf Pacific Beach creates a sense of community. Sam says, "We do many things in the community with the schools and we are also involved with weddings and caterings." With Cindy's love for cooking, and Sam's love for collecting vintage surfboards from the 60's, these two are the perfect pair, with a restaurant to prove it. These two create an environment that you will crave to be a part of. From delicious and fresh food, to the perfect location, this taco shop has got it all.

There are different specials throughout the week, as well as Taco Tuesdays, and even Taco Thursday's. Sink your hungry teeth into the carne asada fries, with perfectly cooked carne asada, topped with beans, cheese, French fries, and sour cream; the perfect meal after a long day at the beach and exploring Pacific Beach. Or you can go old school with the perfect taste of fresh fish tacos, whether you want grilled or battered, you won't be disappointed.
You can choose from a very diverse menu, that will be appealing to almost anyone. You can choose from taco surf specials, combination plates, a la carte, or even build your own. The Taco Shop Pacific Beach is also known their fresh and crispy rolled tacos. Choose from beer, chicken, or even potatoes as the main ingredient, served with cheese and guacamole. If you're in a hurry running around Pacific Beach, you can also call and order take out. You can even grab a couple tacos to go and sit on the beach while enjoying your fresh Mexican food.
This taco shop is a place that you can go to, to be a part of something that is important, and to enjoy everything you know and love about tacos. Be a part of a community that supports the locals, and is home to some of the best Mexican style food in San Diego. Make the Taco Shop Pacific Beach your destination for the day, and get ready to explore the many surfboards that come with it.