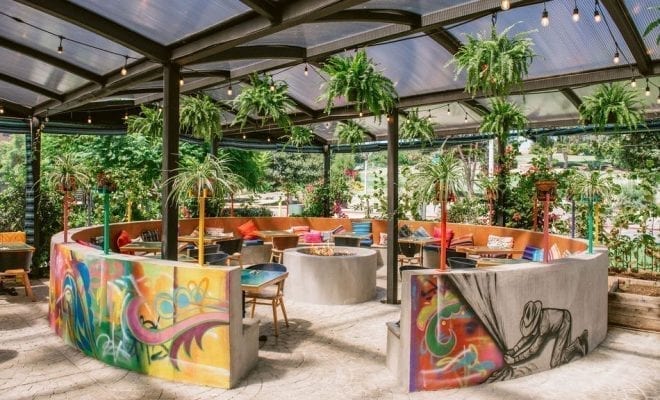 Dining
El Jardin Cantina Opens in Liberty Station
By
|
El Jardín Cantina is spreading its wings in Liberty Station with a fun, approachable take on Cali-Mex. It's the same space that previously housed El Jardin, but the new concept has a completely different menu and approach to food. 
The whimsy starts at the entrance, walking under a canopy of brightly colored umbrellas into the expansive patio. Inside, the mood turns romantic with deep blue velvet booths twisted up in rope detailing. The brand new menu at El Jardín Cantina offers guacamole flights, tacos, ceviche, and fusion dishes like Cantina Nachos. A full cocktail menu is worth checking out with specialty cocktails like the standout Na-ima-stay, comprised of blanco tequila, cucumber purée, lime juice, and ancho verde. Groups of six can share a massive cocktail served in a half watermelon, dubbed the One In A Melon. It is crafted from blanco tequila, mezcal, lime, watermelon and mineral water.
The strong cocktail program will draw a good happy hour crowd, offered Tuesday – Friday from 4 p.m. – 6 p.m., and Saturday and Sunday from 3 p.m. – 6 p.m. Drink specials are $3 – $6 and include Tecate, house wine, wells, and a Cocktail of the Day. On the food side of the menu, enjoy several different taco options, chips and guacamole, Cantina Nachos, and their Traditional Ceviche, with dishes ranging from $3 – $7.
El Jardin Cantina's brunch is every Saturday and Sunday, from 10 a.m. – 3 p.m. Brunch drinks include a Bloody Maria, Michelada, and a Lagerita. Chilaquiles have their own dedicated section of the menu, with red, green and even mole options. Other dishes include a range of traditional clashed with Mexican tastes, such as the Benedicto de Chorizo, Omelet de Rajas, or Carne con Huevos.
Address: 2885 Perry Road, San Diego, CA 92106
Hours: Tues – Fri (4 – 9 p.m); Sat/Sun (10 a.m. – 9 p.m.)