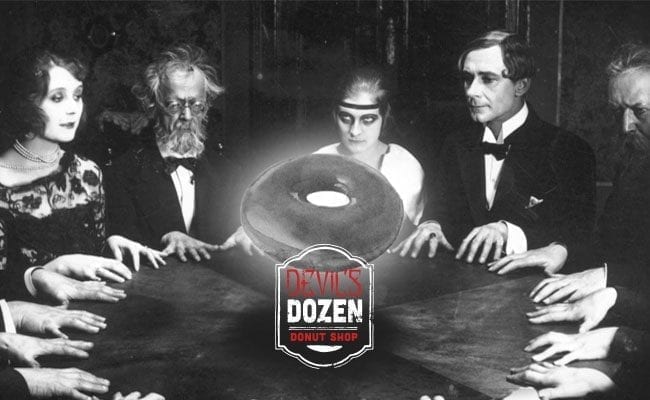 Dining
Better Than Krispy Kreme: Devil's Dozen Donut Shop
By
|
Skip the usual trip to Krispy Kreme on Saturday morning, and make your way down to Devil's Dozen Donut Shop. This spooky shop is known for their creativity, and completely unique donut flavors. Manager Shreece Hopkins says, "For one, our theme is eye catching and it allows us to be creative. We listen to our customers, and our girls focus on connections and customer service is very important." With daily flavors constantly changing, this place will create donuts and treats that you never even thought of.
Currently, the three flavors of the day are Irish cream, lucky charm, and key lime. The constant flow of the changing treats, keeps things fresh and interesting. The girls that work at the establishment have complete freedom to create new flavors. Shreece says, "We have complete freedom to be creative." Allowing creativity, allows the girls to listen to the customers and to give the public what they want. The employees listen to the customer's ideas, and try to produce the most original ideas, in order to keep your appetite entertained. Other toppings include chocolates and delicious fresh fruits.
You can choose from over nine eccentric flavors that will make your taste buds tingle, not including the three donut flavors of the day. Sink your teeth into a Tres Leches donut, or an old fashioned all chocolate glaze. The Nutella Hazelnut will bring a sensation of sweet dough and hazelnut chocolate to your taste buds, and you will be amazed with how fresh the flavor is. The other flavors include cinnamon sugar, vanilla bean, chocolate old fashioned, vanilla old fashioned, Carmel old fashioned, and the cinnamon sugar donut holes.
The Devil's Donut Shop is the perfect place to come for a create environment, and a tasty treat. The perfect outing for a Saturday morning when your weekend is just beginning. Pre-order your donuts so that you can go home and cuddle in bed with your new favorite breakfast pastry. Or, enjoy the environment at the shop, while chowing down on freshly baked donuts with your best friends. The unique environment and theme of the donut shop is what gives this business its edge, considering that these are some of the most imaginative donuts in San Diego.
Aside from the smell of freshly baked donuts, this shop also has organic coffee, lattes, teas, and Mexican mochas; the perfect side kick to your favorite morning treat. Sip on a fresh nitro coffee drink, while indulging on a lucky charms donut. The Devil's Dozen Donut Shop has created an atmosphere that allows its workers and customers to be creative.  This environment allows the locals to be a part of an establishment with tasty treats, while being able to be inspired at the same time.
You can see updates on your favorite donuts, and favorite shop on their Instagram, so you can double click for your favorite donuts. Your mouth will start to water as soon as you see pictures of these delicious creations.
Located at 2001 Kettner Blvd, San Diego, CA 92101