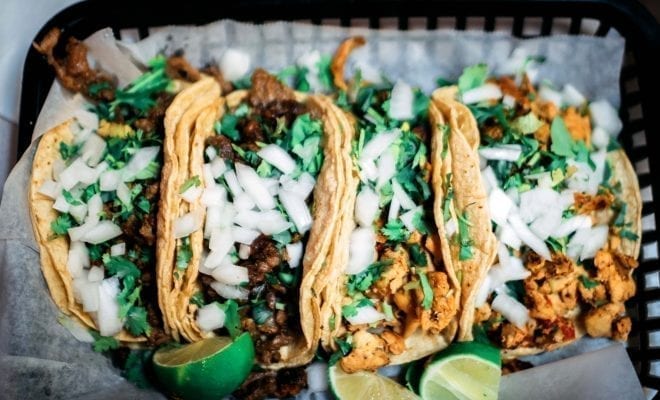 Dining
Where to Find Tasty Tacos in San Diego
By
|
As we all know, San Diego is known for its authentic Mexican food. Now the question is, where do we find those hole in the wall places to savor in the best tacos in San Diego? Don't worry, we will guide you to the best taco shops and restaurants all around San Diego county, which are "San Diego Favorites."
When you walk into this restaurant, you might assume that you are about to enter a professional wrestling match, as the design of the place has displayed masks, vibrant colors and booths roped off. The inspiration behind these decorations stems from the owners who grew up watching Mexican wrestling and thought it would make a fun ambiance. Well, they were right! Lucha Libre is a hot spot to visit, especially during lunchtime as the line is always out the door. So make sure you get there early and save your spot to enjoy some delicious savory tacos! The Surf and Turf taco is a local favorite, as it contains a mixture of steak, shrimp, fresh avocado, queso, and a secret chipotle sauce. Lucha Libre has locations in Mission Hills, North Park, Carlsbad, Petco Park, and Sycuan Casino Resort.
1290 F St San Diego, CA 92101
Located in downtown San Diego, Lola 55 has multiple mouth-watering tacos! One of the best tacos there is called the ceviche taco, filled with avocado, "jicama tortilla," local fish in peanut Arbol marinate, pickled onions, and serranos, cilantro, chipotle almond sauce, charred pineapple salsa. Be sure to leave room for dessert! Lola 55 has several Mexican style desserts such as; horchata ice cream, chocolate mole ice cream, and churros. The hours of operation are Sunday-Thursday 11:30 am – 9 pm, Friday and Saturday from 11:30 am – 10:00 pm.
The Taco Stand has several locations here in San Diego – off the coast in Encinitas, La Jolla, North Park, and Downtown San Diego. The Taco Stand is inspired by the taco stands in Tijuana, truly making you feel like you're in Mexico. What makes the taco stand so special is that they carry al pastor meat, which is sold at every corner in Mexico. For those that know about al pastor, it is marinated pork, topped with cilantro, onions, and pineapple. Give the al pastor a try and you won't be disappointed with the delicious spices that are in it.
5059 Newport Ave, San Diego, CA 92107
South Beach is one of Ocean Beach's local favorite fish and taco restaurants! Located right at the end of Newport Avenue is South Beach Bar and Grill with its spectacular view of the pier. South Beach has a vast taco menu, ranging from mahi-mahi tacos, lobster, oyster, shark, as well as a vegetarian menu. Each taco is priced from $3.95-$4.95, topped with cabbage, cheese, pico de gallo, and sliced avocado. These tacos pair well with a savory mai tai or an ice-cold margarita. South Beach Bar and Grill also has an amazing happy hour Monday-Friday from 3-6 pm, including half off all appetizers. Stop by for the best food and drinks residing on the beach.
2259 Avenida De La Playa, La Jolla, California 92037
Galaxy Taco is the hottest new modern taco restaurant, as stated through The San Diego Union-Tribune. Galaxy Taco Owner and Executive Chef from George's at the Cove partner up to make unique, delicious savory tacos for all to enjoy. What makes them so unique, is the way they make their corn tortillas. Galaxy Tacos follows a strict recipe that is unlike any other, in order to make it a dark blue color. Not only do they make amazing tacos, but they also have a great happy hour, ranging from $4 beers to $6 margaritas between 3-6 pm Monday-Friday.
Puesto – Multiple Locations
The owners of Puesto like to stay on top of innovative flavors of Mexican Cuisine by traveling to Mexico City frequently. A local favorite, the Chicken Al Pastor was voted "Best Taco" by the Tacolandia Festival. This taco has crispy melted cheese, hibiscus, chipotle tinga, avocado, and a pina habanero pico. Their cuisine reflects on the Mexican culture, art, and people of the city and brings each and every one of those to all of the restaurants. You can find a Puesto restaurant in La Jolla, Downtown San Diego, Los Olivos Irvine, Park Place Irvine, Santa Clara, and Veranda Concord.
The owner's mission of creating this restaurant was to bring the delicious Baja seafood taste to Southern California residents for an affordable price and familiar taste and atmosphere. There are two locations off of Bonita road and one location off of E Palomar street. TJ Oyster Bar has a great selection of seafood tacos to choose from, including stingray, oyster, salmon, shrimp chipotle and much more!
560 4th Ave.San Diego, CA 92101
Tacos, Tequila and Tunes, that's what they're all about! La Puerta, located in Downtown San Diego, has of a variety of tacos including the surf and turf taco, Cochinita, pastor taco and much more! La Puerta also makes freshly-squeezed margaritas that pair well with the taco dish. Taco Tuesday includes $3 street tacos and $3 Tecate all night. Hours of operation are Monday-Friday: 11-2 am and Saturday & Sunday: 10-2 am.
718 Ventura Place, Mission Beach, CA 92109
Sitting in the heart of Mission Beach, you will find a quaint restaurant right off the beach called Sandbar. Sandbar is a two-story sports bar as a proud supporter of the Boise State San Diego Alumni Club. Sandbar is known for its award-winning tacos, craft cocktails oceanfront views. The TKO style taco is featured as their award-winning taco because it has something that most tacos don't normally include, which is crispy onion strings! This taco is a must-try and it has an authentic, unique taste to it that makes it that much more good. Sandbar is open from 9 am-12 am Saturday-Wednesday, 9 am-2 am Thursday-Saturday and happy hour is from 4-7 pm weekdays.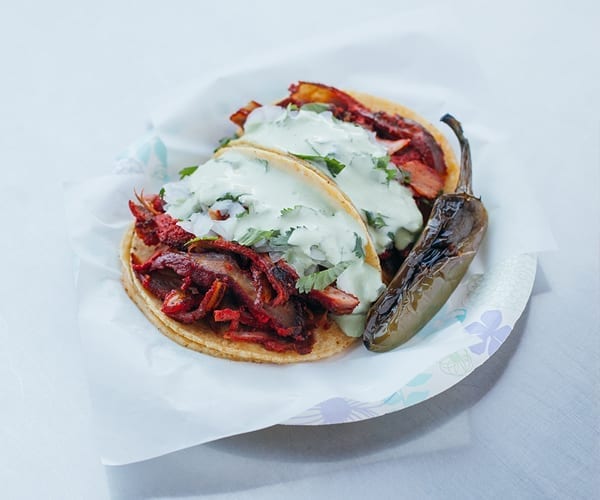 Tacos El Gordo is known for the Tequila style tacos, giving customers the ultimate experience of feeling like they're in Mexico. There are three locations in San Diego; H Street, Palm Avenue, and Broadway street. The Adobada taco is one of the local favorites as it has spiced pork on a corn tortilla with your choice of fresh toppings.
701 Thomas Ave, San Diego, California 92109, United States
Footsteps from the beach, along Mission Bay Boardwalk, you will find some tasty tacos and mega margaritas! The Baja Street Style Taco is a local favorite that has chicken or steak, onion, cilantro with salsa topped on top. These tacos pair well with anyone of the margaritas with over 10 flavors. Not to mention they have 2-for-1 margaritas from 4-8 pm Monday-Friday and 10:30 pm-12:30 am every night!