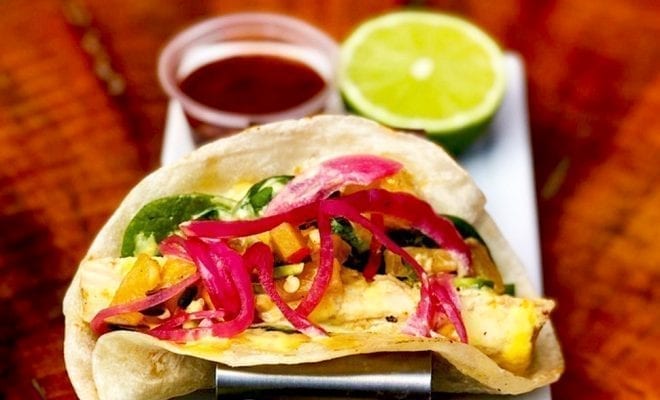 Dining
Delicious Mahi al Mango Taco Recipe for Your Cinco de Mayo Bash
By
|
The Mahi al Mango taco was City Tacos's Taco of the Month in March, and for those who truly love it, you can now make this tasty taco is your own home! Indulge in the flavorful combo of curry marinated fresh mahi-mahi with sweet and tangy mango and pineapple. Onion, spinach, apricot dressing and a drizzle of mango cream sauce ensures this is one taco you won't want to miss out on. If you're planning on throwing a Cinco de Mayo bash of your own, the Mahi al Mango taco is the perfect companion to an ice cold margarita or beer. Wow your guests with this uniquely delicious dish using the recipe below!
Mahi al Mango Taco Recipe
Courtesy of City Tacos
Serving Size: 4
Ingredients:
4 flour tortillas
2 oz of spinach
2 oz of apricot vinaigrette
8 oz mahi mahi filet
Sprinkle of curry powder
2 oz caramelized pineapple
2 oz pickled onion
2 oz mango cream sauce – combo of mango dressing, lime juice and mayonnaise
Instructions:
Heat a pan on the stove, on medium heat, and add olive oil
Cover mahi-mahi filet with curry sauce and cook in pan until done (3 – 4 minutes on each side)
Divide mahi-mahi filet into four and place in flour tortillas
Add spinach, apricot vinaigrette, pineapple and onion
In a small bowl, mix together mango dressing, lime juice and mayonnaise until combined.
Drizzle each taco with the mango cream sauce
Enjoy!