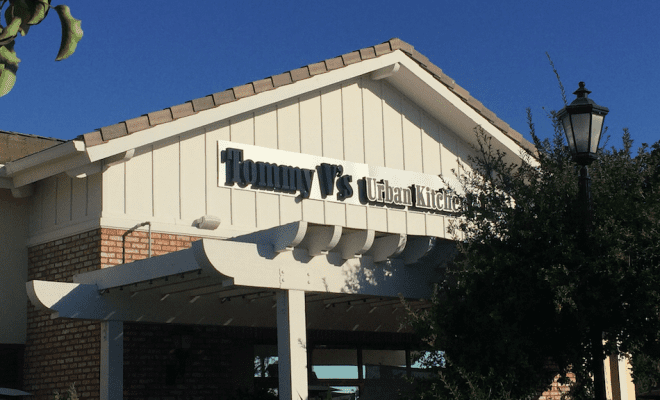 Dining
Restaurant Spotlight on Tommy V's
By
|
Discovering new restaurants that have a relaxing atmosphere with delicious drinks and good food are hard to come by. Tommy V's in Carlsbad is the perfect combination of classy and relaxing. In 2010 owner, Melissa followed her dreams of opening her restaurants that has become her true passion. Since she was very young her passion has involved restaurants and Tommy V's shows all of her hard work paying off.
This restaurant has a variety of delicious meals that have its customers coming back for more and more. A very popular item 
that customers get to enjoy is the garlic butter that is brought out with the bread. This butter is unique and you'll never want to eat regular butter ever again. Spread the delicious butter onto the crispy bread as an appetizer while you enjoy your refreshing iced tea.
Happy hour is every single day form 3:00pm-7:00pm and enjoy an extension for social hour from 9:30pm-11:30 pm on Saturdays. Happy hour includes $5 well drinks and house wines, along with $3.50 for all bottled beers. Enjoy your favorite wine at the best hour of the day, while enjoying $2 off certain foods on the menu. You can also enjoy the $9 specialty drinks and $1 off premium wine by the glass as well. The Bar Bites include tasty dishes such as the juicy and delicious Hand Crafted Meatballs. These specially crafted meat balls contain feta cheese and chorizo ragu that will have a burst of flavor as soon as your taste buds get a little taste. Other Bar Bites include the fresh Ahi Tuna Tower, crispy Truffle Fries, the infamous Tommy V's Charcuturie Board of cheeses an
d meats, and much more food waiting to be discovered.
Start off your delightful meal with the Fig and Prosciutto Bruschetta or any other small bites that you might be craving. Then move on to your main course of pastas, flatbreads, fresh salads, Panini's, burgers, and sea food. With all of the variety of food, there's no way you'll have a hard time finding a food that you're in the mood for. Try the Pizza Artichoke and Gorgonzola, a dish for any cheese lover looking to try something new. Or will you be in the mood for the Cassarecci Marcella, completed with smoked chicken, tomatoes, and a creamy sauce to complete the dish. The food options are endless, and whether you want a night out with the girls for happy hour, or some alone time with your significant other, Tommy V's will provide with you with perfect hospitality.
The location in Carlsbad has an extraordinary outdoor patio, completed with high top tables, where you can sit and sip with a view of fountains and grassy fields. Enjoy your business lunch, date night, or catching up with old friends in an environment that strives to give you the best service. Put Tommy V's on your restaurant radar and try new places that will show you how great food and service should really be.