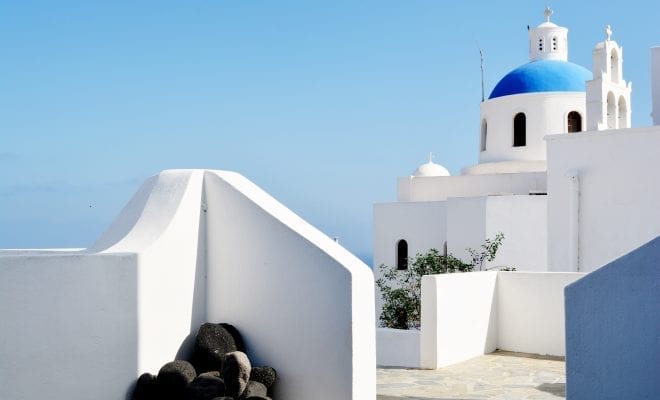 Dining
Enjoy the Flavors of Greece without leaving San Diego
By
|
San Diego is home to numerous delicious restaurants that have unique vibes and extraordinary food. Greek restaurants are starting to pop up more and more, and we're showing you where to find the best and most authentic Greek bites. From delicious shawarma to amazingly tangy wine, you can explore another country in your very own city.
Thanks to Café Athena, you won't have to travel all the way to Athens for some of the best Greek food you've ever tasted. Located in Pacific Beach, this restaurant will take you back to that time you went to Europe with your family, or will make you want to visit Greece for the first time. Café Athena believes in the best hospitality and wants to make sure that you and your appetite, are well taken care of. There are three rooms at this restaurant, each decorated with a different Greek island theme so that you can explore Greece all in one sitting. Enjoy a delicious glass of authentic Greek wine and a unique entrée that will have you wanting to visit "Greece" every night o the week.
Meze Greek Fusion is a family owned restaurant that is located in the Gaslamp area of San Diego. Whether you want a large and filling meal or a small pleasing entrée, this restaurant can fulfill any hunger desires. You can come for a meal before a night out on the town, and even garb a delicious cocktail before your fun night out. On the weekends, you can celebrate your fun with the best meal of the day: brunch. Enjoy champagne, mimosas, and authentic wine. Enjoy brunch and a show with a belly dance performance, only on the weekends. Complete with happy hours, wine Wednesdays, and taco Tuesdays, Meze Greek Fusion has something for you to enjoy every single day. Along with entertainment and amazing Greek cuisine, this will be your favorite new find.
Yanni's Bar & Grill is an elegant establishment in Scripps Ranch, with the staff has a passion for hospitality and ensuring that you and your guests have nothing but a perfect experience. This is a comfortable and cozy environment that will allow you to be pampered while being well fed with all of your favorite Greek food. The menu is of course influenced by the Greek culture, but also has touches of Italy included as well. One of the most unique aspects of this restaurant, is the open kitchen. With this feature, you can be a part of the food preparation action, watching how your food is made and created. Along with all of the authentic and fresh wines, the "Grano Greco" is the restaurants signature wine, which will go perfectly with your Greek dish.  Yanni's Bar & Grill is also very involved in the community, allowing the restaurant to be a part of the culture in San Diego.
Create and adventure where the outcome is finding the best Greek food in San Diego. Embrace the unique wine, delicious appetizers, and of course, the Greek culture. Enjoy a night out on the town while indulging in fresh Greek cuisine.