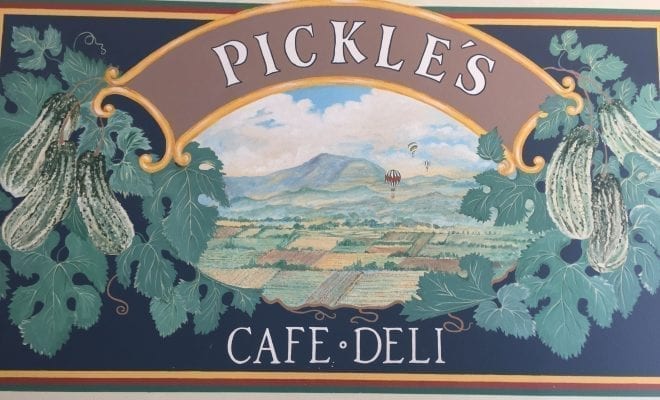 Dining
Bites at Carlsbad Gateway Center | Pickles Catering & Deli
By
|
Nothing says, "home," quite like warm, fresh baked chocolate chip cookies, made with a mother's touch. At Pickles Catering & Deli at Carlsbad Gateway Center, every day feels like home. This restaurant's warm family feel comes from their welcoming staff's love for feeding others, their hearty and healthy menu, and of course their daily, fresh baked chocolate chip cookies. Pickles Catering & Deli is one of many unique, family-owned small businesses located at Carlsbad Gateway Center.
This female-owned and operated deli centers their business around the commitment to creating the best quality meals for their customers. Ann Boghosian took over Pickles Deli in 2011, bringing more than a decade of experience in the restaurant industry and passion for cooking to this local spot. Today, she manages a staff of women, all mothers who take pride in preparing fresh, homemade meals for their customers the same way they do for their families.
"I have always found so much joy in cooking for my children and grandchildren. Being a restaurant owner allows me to bring that passion to my customers," said Boghosian. "Our staff is made up of mothers and we enjoy what we do. We work hard every day to bring smiles to our customers' faces."
Many of these smiling customers are regulars, coming in on a daily and weekly basis for breakfast and lunch. Boghosian says they treat their customers like family because they are family. After spending years managing restaurants in Irvine and Fountain Valley, CA, she always enjoyed the deli atmosphere and small-business feel. Boghosian enjoys being able to connect and bond with customers over their everyday lives and shared meals. When taking over in 2011, Boghosian made modernizing this local favorite a priority—offering a clean, comforting environment for customers to sit and enjoy their meals.
The Pickles Catering & Deli menu offers a variety of healthy dishes and vegetarian options, ranging from breakfast burritos and bagels to gourmet soups and salads. Customers can choose from hot or cold sandwiches in any taste, whether it's the Philly roast beef, grilled bell peppers, onions, mushrooms and Swiss cheese on a toasted French roll; the Mediterranean pita made with turkey, hummus and veggies; or even the not-so classic B.L.A.T.C., made with bacon, lettuce, avocado, tomatoes and cheddar cheese on toasted multi-grain bread.
 "We believe in supporting small businesses and their dreams, which is easy to do when they're as wholesome and caring as Pickles Catering & Deli," said Carlsbad Gateway Center Property Manager, Toni Adamopoulos.  "Carlsbad Gateway Center's sense of community revolves around tenants like these that place family values and customer satisfaction first."
Pickles Catering & Deli uses the highest quality ingredients and prepares their dishes fresh daily, placing their highest priority on what their customers eat. One of their most popular dishes, their lentil dish, offers a nutritious, filling and unique vegetarian option, ringing true to their commitment to giving their customers healthy choices.
Ann and her staff enjoy the relationships they've built with their neighbors at Carlsbad Gateway Center. Being a part of the makers' park, with a diverse collection of more than 80 other family businesses, startups, makers, and service providers, creates that supportive environment that Pickles Catering &  Deli thrives on.  Their neighbors have become their best customers, and they love supporting and sharing a space with like-minded business owners.
Stop by Pickles Catering & Deli for a warm hello and any of their fresh made soups, sandwiches and vegetarian options. Visit Pickles Catering & Deli to learn more about the restaurant as well as catering services.