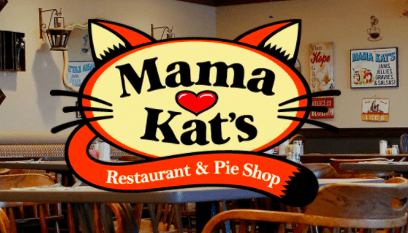 Dining
Mama Kat's: The Perfect Homemade Breakfast
By
|
Tucked away in a corner in San Marcos, is quite possibly the best breakfast and pie shop establishment you'll ever eat at. Mama Kat's is a family owned restaurant that is quite popular in the San Diego area. They are mostly known for their delicious homemade pies and impeccable service and hospitality. Mama Kat's was created by Kat and her son Michael in 1994, causing them to take a leap of faith in buying a restaurant. Michael and his wife keep the restaurant up and running, and have created a true family environment at their restaurant. Kat has over 40 years of experience in the restaurant industry, and uses her knowledge to make sure Mama Kat's is always represented as a positive place to be a part of.
Kat has created a second home to many people and families that reside in the San Marcos area. Kerry Lindsey, a San Marcos local and dedicated Mama Kat's fan says, "I've been going to Mama Kat's since I first moved to San Marcos my freshman year of college; since then I've tried pretty much everything on the menu. I've yet to try something I don't like. There's a grandma's house vibe in the restaurant and going on in the kitchen in the amazing flavor in all the food! Those chicken and waffles never let me down. Any time I want good, real home cooking and great service, I know Mama Kat's is just down the road. Get there early on the weekends, there's always a line and for a good reason!"
If you've gone to Mama Kat's, it's a well known concept to get there early. Usually on the weekend the wait time for a table can be anywhere from 45 minutes to over an hour. Don't let this scare you away, next door Mama Kat's has created a cozy lounge area with fun activities to partake in while you wait. There are games such as corn-hole and hopscotch, along with a fun store that you can buy mugs, T-shirts, and other little trinkets at. This little creation will keep you busy while you wait — one hour will feel like 15 minutes, and your kids will absolutely love it. The lounge is the perfect place to spend time together before your meal, and you can relax as you watch your kids run around and play. There is also a little place outside where you can purchase succulents, so enjoy exploring all of the plants that are available at the lounge. If you don't feel like waiting, you can always order food to take home, and your kid will enjoy the fresh breakfast with impeccable flavor.
Mama Kats is that little breakfast place you've been searching for, that will fulfill all of your breakfast and lunch time cravings. From chicken and waffles to ginormous omelets, there's no way you'll leave this place with anything but a smile on your face. Be a part of the family environment and make Mama Kat's a weekend tradition with your family.