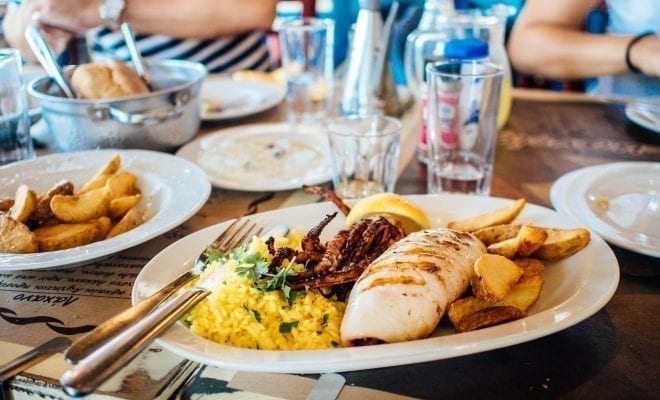 Dining
Carlsbad's Iconic Windmill Building to Become a New Food Hall
By
|
The iconic windmill building located on Palomar Airport Road in Carlsbad will soon become a brand new food hall, complete with 11 restaurant concepts, including a full bar and a place for children's games. The space, formerly occupied by a TGI Fridays restaurant, will become the Windmill Food Hall, with 12,000 square feet of space for new eating establishments.
James Markham is the brains behind the move to transform the iconic building into a new space for restaurants. He has quite the amount of experience behind him, having worked developing several national chains including Pieology, Project Pie and MOD Pizza. In addition, he has worked on developing new local places including Crackheads, Rolled Up, Doughballs and Jarfood. Markham has been praised by numerous establishments and trade publications, some of which include Restaurant Hospitality, Business News Daily, Fast Casual, Pizza Marketplace, and PMQ Pizza Magazine.
Markham has even been called by Entrepreneurship Magazine as being "the Johnny Appleseed of custom quick-serve pies." However, with this foray into food halls, he is hoping to improve upon the concept. In a recent interview, he said, "I think that food halls are here to stay. Most of the stuff I do is a little different than everyone else. Food halls now are daytime-driven, dependent on the lunch and early-day weekend crowd. None of them have created an atmosphere that draws people in at night. We plan on doing that."
So far, the Windmill Food Hall will have 11 food-service eateries, with a wide range of vendors. Some of them will be Markham's own concepts, including Crackheads and Doughballs. Markham, however, hopes to bring forth more farmers market vendors and local food trucks, in the hopes to allow a greater representation of local vendors.
In keeping with the family-oriented vibe, their will be children's games available for families to allow their kids some play time while they enjoy their food. These will include Skee-Ball, vintage coin-operated video games, Ping-Pong, Jenga, and other fun play items.
Another exciting characteristic of the food hall will be a single-point payment system, which has been used at the previous KABOO festival, as well as local bar and restaurant Barrel Republic. When you arrive at the check-in desk, you will be given a key fob that will be synced to a card on file. This payment system will make it easier for large parties, and free up time for servers and bartenders to serve up the patrons food.
The Windmill Food Hall will open at 890 Palomar Airport Road, west of the Carlsbad Flower Fields and Legoland. It will one of three food halls now in the works in San Diego County. This summer, their will be a new food hall opening in Little Italy. Another will open in Sorrento Valley, and will be called the Park Commons, which will include multi-concept food stations with cuisines from all over the world. This new trend of food halls is an exciting time for those who want to experience a full nights of fun when going out to get a meal.