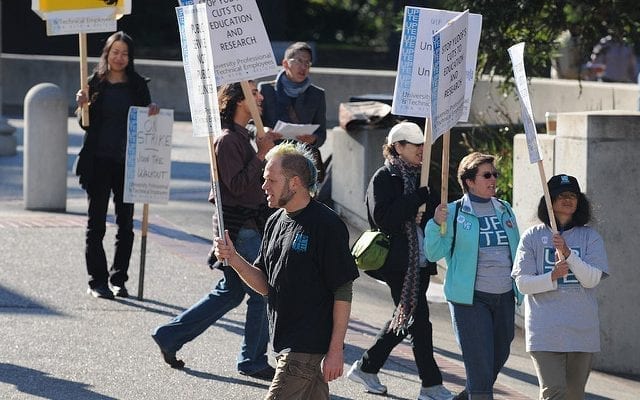 UC union workers striking against fee hikes (2009)
News
UC Workers Begin 3-Day Strike
By
|
50,000 workers spread across the University of California school system are prepared to strike this week, involving custodians, gardeners, cooks, trucks drivers, lab technicians and nurse aides. The strike could potentially cause disruptions to food preparation, campus maintenance, and even surgery schedules at some medical facilities within the UC system. The 10 campuses in the UC system will remain open, along with the five medical centers. Most classes scheduled are to continue to go on as planned, but members of the UAW Local 2865, which represent graduate student workers who teach and tutor, may support the strike leading to cancellation of some classes.
The strike is planned by the American Federation of State, County, and Municipal Employees Local 3299, which is the largest UC employee union. Last year, the union and university were unable to reach an agreement regarding an increase in wages, healthcare premiums, and retirement terms.
Two other unions have announced they will be joining in on Tuesday and Wednesday. 14,000 members of the California Nurses Assn., who work at UC's medical centers and student health clinics will walk off the job, along with 15,000 members of the University Professional & Technical Employees, including clinical social workers, physical therapists, physician assistants and researchers.
The union has organized a "patient protection task force" which will see members leaving the picket line if needed to respond to life-threatening patient emergencies. As per UC's request, a Sacramento County Superior Court Judge issued a temporary restraining order barring essential medical personnel, including pharmacists and respiratory therapists, in the effort to uphold public health and safety.
The AFSCME is pursuing a multiyear contract with an annual wage increase of 6 percent, no increase in healthcare premiums, and a continued retirement age of 60 in order to qualify for full pension benefits. UC previously offered workers an increase of 3 percent over four years and an annual cap of $25 for any monthly premium increase, according to UC spokeswoman Claire Doan. It was also proposed to raise the retirement age to 65 to qualify for full benefits, but this would only apply to those who chose a pension instead of a 401(k) plan. Doan said that these offers were rejected by the unions without initiating a member vote.
Doan wrote in an email to the Los Angeles Times "The university cannot justify to taxpayers such an excessive raise, no matter how much we appreciate our service workers. A strike will only hurt the union's own members who will lose pay for joining this ill-advised three-day walkout, while negatively affecting services to patients and students."