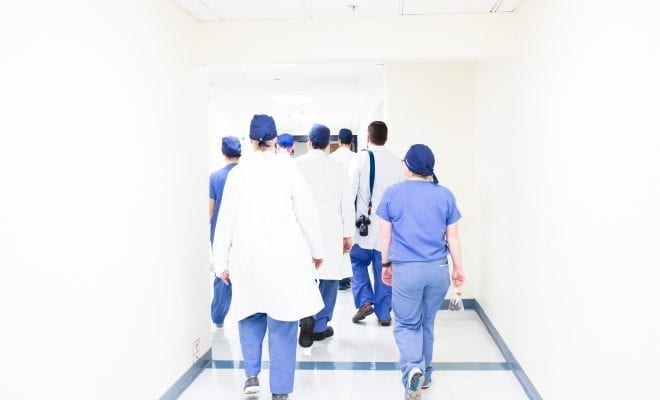 News
Thousands Strike at University of California Hospitals
By
|
Nearly 15,000 employees at the five University of California medical centers started a three-day strike amidst disputes regarding job security and pay raises. The sudden displacement of workers has resulted in a widespread cancelation and rescheduling of thousands of patient surgeries and appointments.
Thousands of picketers can be seen outside the medical centers in San Diego, Irvine, Davis, San Francisco, and Los Angeles, wearing green-shirts and carrying signs that said: "End Outsourcing". Joining them were nearly 24,000 other California union workers, including gardeners, cooks, and truck drivers who decided to stand in solidarity behind the strikers' cause.
While emergency rooms remained open during the strike, officials have said that it will still affect thousands of patients who require health care services. UC San Francisco hospital's chief operating officer, Sheila Antru said more than 4,000 appointments needed to be rescheduled, including 241 surgeries including several "high risk" operations. Some patients, including children, were sent to other hospitals.
To be able to meet demand, nearly 500 temporary employees were brought in, including respiratory therapists, pharmacists, social workers, and housekeepers. Artum told news sources, "My focus is that we get through everything with the usual great care we have."
The union has said that it will maintain a "patient protection task force" which will be ready to respond to any emergency services in the event of a medical crisis. This has been the second instance UC Medical Centers' employees have gone on strike, since patient care workers being without a contract since December. Talks and meditation have since stalled, with the university planning to impose new employment terms next month, according to union spokesman John de los Angeles.
Union members have demanded that the university cease outsourcing low-wage work, claiming a widening gap in income between workers at UC hospitals, clinics, and research facilities. While the new employment deal, planned to be implemented next month, includes a 3%/year raise for the next four years, in addition to offering a revamped health plan, union members are demanding an 8% annual wage increase. UC Office of the President spokeswoman Claire Doan has called this "unrealistic and unreasonable."
Despite this, union members are holding firm in their demands for a better wages. De los Angeles argues that the new employment terms proposed by the UC do nothing to address the threat of replacing their jobs with cheaper outside labor, a concern that has been echoed by thousand of workers within the UC system.