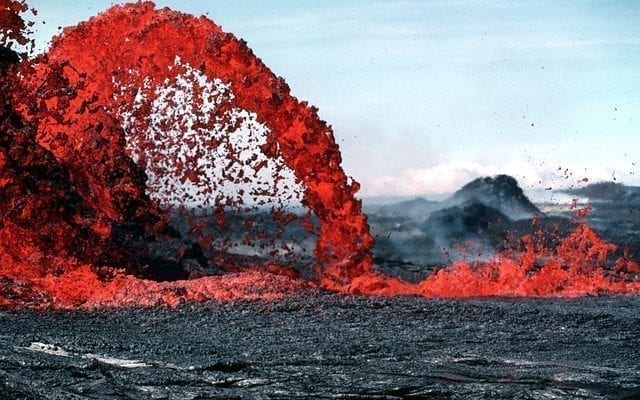 News
Volcano Eruption in Hawaii Prompts Mandatory Evacuations
By
|
Late yesterday, residents on the state's Big Island witnessed the eruption of the Mount Kilauea volcano, prompting the governor of Hawaii to declare a local state of emergency for everyone within the general vicinity. Though the volcano has been experienced periodical eruptions since 1983, this particular instance has seriously  threatened neighborhoods with blazing-hot lava on the eastern edge of the island.
A crack measuring 500 feet formed in the lower-elevation neighborhood of Leilani Estates, where geysers of lava shot up to heights up to 100 feet. Leilani Estates is located about 25 miles east of the volcano's highest point, where residents reported cracks in the ground earlier this week. Lava flows erupted for two hours, followed by several pauses. The lava traveled 33 feet from the crack, and high levels of toxic sulfur gas was noticeable.
So far, experts warn that more cracks could appear, but it is near impossible to predict where they'll pop up. Authorities are warning those who live downhill are at serious risk of being overwhelmed with lava flow. As of late, there have been over 300 earthquakes detected near the volcano, with a magnitude 5 quake felt shortly before the eruption of Mount Kilauea. This eruption comes shortly after a volcanic crater vent in the area collapsed, sending lava running down the volcano's slopes.
So far, 1,700 residents have been ordered to evacuate their homes, but more than 10,000 people live within the vicinity of the volcano, so that number could climb if eruptions continue. Governor David Ige has signed an emergency proclamation releasing disaster funds and calling upon the National Guard to assist with safely evacuating local residents. Evacuees are heading to shelters until it is deemed safe to return to their homes. Over 100 people have been reported to be staying in shelters currently, with others staying in their cars in safe zones.
Matthew Purvis, a pastor in the town of Pahoa told the New York Times "People are scared. It's not just evacuating people, it's their things and their animals and their livelihoods." Mr. Purvis was reported to have been driving his van through the affected neighborhoods, assisting his fellow neighbors in fleeing.
"I don't think people thought this would actually happen. It was just a moment's notice. It's pretty wild."