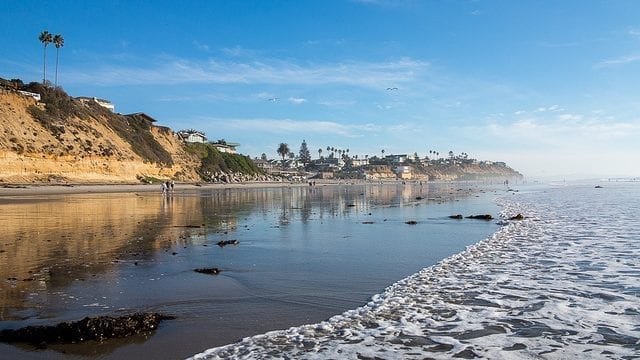 Moonlight Beach, Encinitas from Tim Buss via Flickr CC by 2.0
News
San Diego Beaches Ranked Among Top in California
By
|
Heal the Bay is an environmental non-profit dedicated to protecting the California coastline and implementing smarter ways to take care of our beautiful beaches. Each year, they release their California beach report, which details both the notoriously dirty beaches and the top-rated throughout the state, and this year, San Diego County had the most beaches on the list's honor roll with 12 locations!
Beating out Orange County's 10 beaches and Los Angele County's 2, San Diego County swept this year's Heal the Bay Beach Report. North County carried five of the locations with beaches in Oceanside, Carlsbad, Cardiff, Encinitas, and Solana Beach. All 12 of the San Diego beaches on the honor roll earned an A+ for water pollution, which is tested throughout the year regardless of the weather.
Another great accomplishment is that San Diego avoided the Beach Bummers list, which ranks the 10 most polluted beaches throughout California based on harmful bacteria levels. Some of these beaches included San Clemente Pier in Orange County and the city beach in Long Beach.
Overall, California beach water quality slightly dropped in 2018-2019, mainly driven by increased rainfall that causes more bacteria-ridden runoff to be carried into the sea via storm drain systems. Despite this, 94% of monitored beaches in Southern California earned A grades during the busy summer season.
Southern California by far had the most beaches on the report's honor roll, with an overall 33 beaches earning this award. This is down from last years 37 beaches, but on average this number is exceptional. Northern California beaches had an overall excellent rating, while Central California beaches had 92% earning an A or B grade.
These findings are extremely hopeful for the future of California's Beaches, especially in San Diego County. Our beaches have consistently ranked high among the rest of Southern California, and with a continued effort to keep our beaches clean, we can hope to enjoy our beloved beaches for future generations.