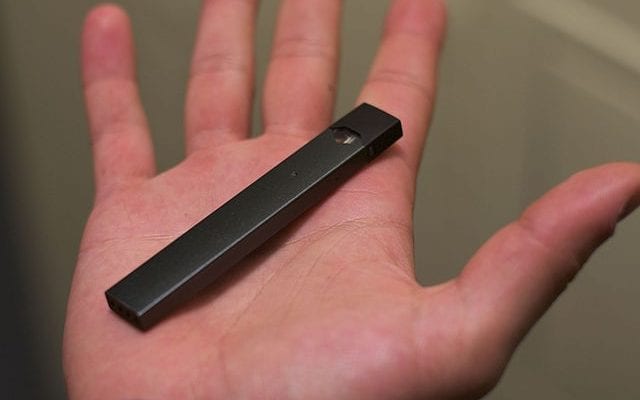 Juul in hand by Myles Clarke via CC 4.0
News
Juul Users Sue Over the Popular & Addictive E-cigarette
By
|
Juul Labs, the maker of the e-cigarette that has become wildly popular with teens and young adults is now facing three lawsuits from former users who have alleged they have become dangerously addicted. As reported by Nitasha Tiku of Wired, the lawsuits in question allege that Juul's proprietary e-cigarette liquid contains a key ingredient called nicotine salts, which are formed when tobacco leaves are heat-dried. Nicotine salts are said to be easier to inhale than the free-base form of nicotine found in cigars, pipe tobacco, and many other vapes.
One of the suits details a teen that began using a Juul when he was 15, and now he can't stop, "even though it subjects him to disciplinary measures at home and at school." Complaints have been filed in both the US District Court in Northern California, the San Francisco Superior Court, and the US District Court in New York.
There have several recent studies showing just how addictive these vape juices are when compared to others. Researchers found that the vape juices used in Juul e-cigarettes contained more nicotine and less of the harsher free-base nicotine found in other brands. These findings published in the journal Chemical Research in Toxicology shows that the Juul packs a more powerful kick than other vapes while maintaining a lower profile.
The three suits deliver the same concerns, being that the use of these nicotine salts is much more effective at delivering a powerful dose of nicotine directly into the bloodstream, creating heavier addiction and more serious health problems. However, there are some that believe this data is being over-interpreted, especially without knowing the exact process by which the nicotine is produced. Gideon St. Helen told The Verge in an email, "[Without seeing the details of how Juul conducted these studies, and without studies by independent researchers, these claims and counterclaims are hard to verify or refute."
While all of the complaints have been based around Juul Labs' aggressive branding and marketing strategies in the hopes of reaching a new group of customers who have been smokers before, the company has argued otherwise. The company has insisted that Juul products are meant for adults that want to switch from smoking traditional cigarettes without having to give up nicotine.
This isn't the first time Juul Labs has run into trouble with their popular e-cigarettes. The company is already made it on the radar of the FDA, with commissioner Scott Gottlieb stating that exceedingly addictive qualities of these products are something "…we figure out, and fast."