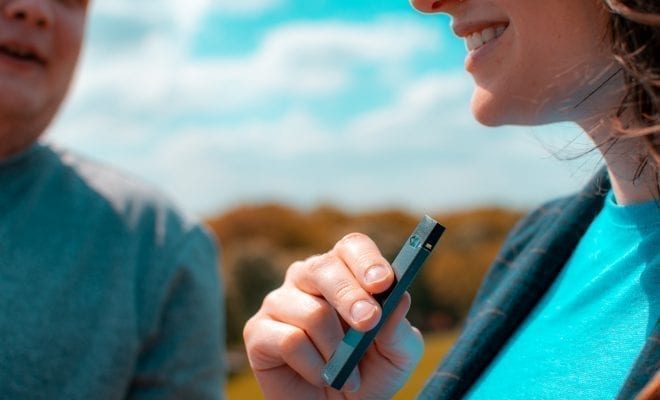 News
FDA Plans to Remove Majority of Flavored E-cigarette Pods from Market
By
|
The Food and Drug Administration is gearing up to implement a ban on flavored e-cigarette products, including fruit and mint pods. Menthol and tobacco-flavored pods will remain available on the market. This is in line with the White House's promise to severely limit the e-cigarette industry in response to an epidemic of teen vaping sweeping across the country.
In the past few years, e-cigarette products have been immensely popular with teens, with many often drawn to disposable liquid nicotine cartridges with fruity flavors. With this measure, health officials hope this action puts a stop to teen usage of such products, and limit the prevalence of substance abuse among the youth of America. 
The ban will go into effect in February, and companies will no longer be allowed to manufacture, distribute, or sell unauthorized flavored nicotine cartridge products. The FDA will be closely monitoring e-cigarette companies that fail to implement appropriate measures that prevent teens from accessing their products.
The ban does not cover the sale of flavored e-liquids for "open tank" vaping devices, commonly sold by vape shops. As these devices are less inconspicuous than cartridge-based e-cigarettes, they are typically used by adults.
"The United States has never seen an epidemic of substance use arise as quickly as our current epidemic of youth use of e-cigarettes," HHS Secretary Alex Azar said in a statement Thursday. Health and Human Services oversee the FDA.
The 2019 National Youth Tobacco Survey found that over 5 million middle and high school students use e-cigarettes to some degree. Nearly 1 million of these teens are reported to be daily users, and the majority of them say that flavored pods are one of the main reasons they choose to do so.
While Azar calls these new restrictions a "smart, targeted policy that protects our kids without creating unnecessary disruption," many medical experts are disappointed by the limited ban. "The Administration's new policy to address the youth e-cigarette epidemic by limiting flavors in some vaping products is a step in the right direction, but does not go far enough," Dr. Patrice Harris, president of the American Medical Association wrote in a statement. "The AMA is disappointed that menthol flavors — one of the most popular — will still be allowed, and that flavored e-liquids­ ­will remain on the market."