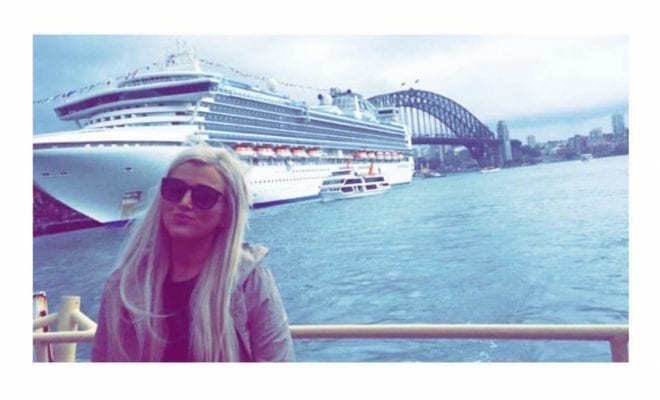 News
Entertainer's "A Blonde Wandering" Gets Catfished!
By
|
Vanessa, San Diego Entertainer's own A Blonde Wandering adventurer, better known as the A Blonde Wandering (@ablondewandering), was recently a victim of a "catfish" incident. If you're unaware, a catfish is someone who uses other people's photographs to start online relationships. Vanessa's story has now gone viral, and has been reported by news organizations worldwide.
As our readers may know, Vanessa has a huge following on Instagram (@blondewandering) and Snapchat (Vaanp)  and has teamed up with the Entertainer to create the video show, A Blonde Wandering. She recently she discovered the horrifying truth that someone had stolen her identity and was doing something not-so-nice with it.
Someone who goes by Ellie Reece had invaded her privacy by creating a Facebook account with Vanessa's pictures from Instagram and Facebook. This mysterious person had been asking men to send naked pictures to her. The person going by "Ellie Reece" also sent out naked pictures of women to these men.
Vanessa has told us that she is horrified that men may think the naked photos they have are of her, when in fact they are of random strangers. She also worries about the women in those photos and their privacy. She said, "I know people will think it's just pictures, but it's my life too and it's really scary to see."
The profile was up for months before Vanessa was messaged on Facebook by another victim of the "catfisher." It is feared that the catfish could have amassed over 1000 photos of men during this time. About a week ago, a man contacted Vanessa on Facebook and asked if she was Ellie Reece. The fraudulent account was finally revealed to the woman who took the original photos. The man who reached out to Vanessa had been talking to the creator of "Ellie Reece" for months beforehand, when he found the real Vanessa.
Fearlessly, Vanessa immediately commented on the pictures of her on the fake account in response to the men who commented. She also discovered that the catfish was asking for naked pictures from a long list of men. It is yet to be determined why this impostor wanted a large collection of naked pictures of men.
After she warned the men they were in fact talking to a "catfish," not her, her first instinct was to warn Facebook and inform her followers. By mistake, Facebook deleted Vanessa's real Facebook account instead of "Ellie Reece's" fake account due to an "identity mistake." It took three days for Facebook to clear up the mistake and remove Ellie Reece from the network.
Vanessa's story is exemplary of the fact that catfishing is a serious issue to be aware of. It's something that can happen to anyone, and can be discovered when you least expect it. What we learn from our favorite travel blogger is that it is even more important how you react. Vanessa took strong, deliberate actions against the catfisher and continues to raised awareness about the issue of "catfishing" over her social media platforms.