Lifestyle
Diary of a Blonde Wandering: Nairobi, Kenya
By
|
Welcome to my travel diary: Diary of a travel blogger. I'm a travel blogger and an international flight attendant and I'm excited to be able to share with you my travel diary and hopefully, in some small way, I can inspire you to see some of the world in any way that you can. I've done lots of great things this year, and I will share these stories with you. From hiking Table Mountain in Cape Town, South Africa to taking a helicopter tour of the Grand Canyon, it surely has been an eventful 2018. Another great adventure was visiting Kenya.
Wildlife in Nairobi, Kenya
Going on an African Safari is definitely one that tops a lot of bucket lists. Tons of tourists flock to North Africa every year in the hope of getting a glimpse of at least one of the "BIG FIVE" (lion, leopard, rhinoceros, elephant, and Cape buffalo).
I've visited Kenya a number of times now and ventured out on an all day safari. I'm not sure what to say, other than it was simply amazing. The thing about a safari is you're obviously not guaranteed a glimpse of any of the Big Five as you're observing them in their natural habitat.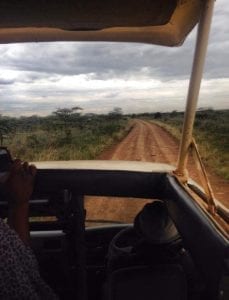 We spent the whole day driving around and saw a number of different animals. As it was nearing the end of the day though, we still hadn't seen any of the Big Five. We got out and walked under the guidance of a ranger who had one gun as protection for about 10 of us. He took us down near a river that had been the last known sighting of some Hippos. We waited around for a bit to see if we could get a glimpse, but saw nothing. We returned to our Jeep disappointed and began to make our journey back out.
Driving down the muddy track there was a Range Rover stopped ahead of us. Someone on the roof of the vehicle and people out the window were frantically taking photographs. At first we were wondering what they were looking at. Then, all of a sudden, there he was, one of the Big Five, a Lion — mouth open and roaring in all his glory. We couldn't believe it. He was so close to us and seemed to not care one bit that he had an audience. I thought it was crazy as we had just been out walking not far from where he was sat.
I would have loved to have seen elephants on safari, but nature didn't cooperate. So instead, we decided to visit the David Sheldrick Wildlife Trust, "the most successful orphan-elephant rescue and rehabilitation program in the world." At the DSWT they have hand-raised over 150 infant orphaned elephants. We were allowed to observe the keepers feeding of the baby elephants, while one told us the story of each of their rescues. We watched as they got to play around in the mud with each other and then had the opportunity to buy some souvenirs and donate towards the fantastic program.
We then finished our day with a visit to the African Fund For Endangered Wildlife, Giraffe Sanctuary. You can feed the friendly giraffes here and even get a cheeky kiss from them. If you'd like to learn more or find out how you can donate or even foster an elephant and help in the fight against poaching you can find out more here. As for the giraffes, read more here.