Lifestyle
This Weekend in San Diego: Things to Do on a Rainy Day and More!
By
|
A lot of San Diegan's have a hard time "staying in" when we live an active lifestyle, so when it rains it seems as if the only option is to be stuck indoors, but that isn't exactly the case as we have some fun ideas to keep you moving this weekend!
Try these ways to embrace the upcoming storms that hit us Thursday to Sunday!
SLUMBER PARTY DURING THE DAY
Grab the popcorn, favorite candies, cozy socks or even bust out the robe. Might as well because the rain is going to be hitting us hard this weekend. Call your friends and make the most epic movie day in imaginable. We are talking forts and all! Netflix and actually chill.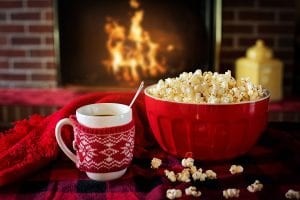 Don't forget the pizza! Click here for specials 
DO YOU WANT TO BUILD A SNOWMAN
Not down with the rain? But ok with some snow? Check out Mount Laguna and surrounding areas because they are going to get dumped on with some in the forecast this weekend. Grab your sleds and warm clothes (most of us Californians don't have this sort of clothing) but you will need some gloves at least if you want to build a snowman without your fingers freezing off.
Julian is a good place to check out for some good food and snow click here for more info
BALBOA PARK MUSEUMS
Sure, an outdoor stroll in Balboa Park is a truly an unforgettable San Diego experience, but not so much when it rains. There are plenty of indoor activities to take in at the landmark as well. Balboa Park is home to 15 major museums, including the Museum of Photographic Arts, the Reuben H. Fleet Science Center, the San Diego Air & Space Museum, the San Diego History Center and the San Diego Museum of Art, just to name a few.
Most museums are open daily, many beginning at 10 a.m. Click here for more info on specific days and hours of operation.
INDOOR ROCK CLIMBING
Want to climb a mountain but you can't because it's pouring rain out? We have you covered. Indoor rock climbing is fun for just about any age. Try it out as it is not only a good time, it is fun with friends and family.
This is a good place to start click for more info at Solid Rock Gym
INDOOR SKYDIVING
Jumping out of a plane not really on your fun list of things to do on a Saturday afternoon but bored of the rain and looking for some excitement? You have to check Indoor Skydiving with your friends.
Check out iFly Indoor Skydiving in Mission Valley offers the airborne experience, indoors, in a safe, controlled space. First-time flyer packages start at $79.95 per person. The business is open daily.
ROCKIN INDOOR JUMP HEAVEN
This place will make you feel like a kid again and its a great workout! Lots of fun. So instead of stairclimbers and weight machines, go to a place where you can soar in open jump arenas, play trampoline dodgeball, do flips and somersaults.
Seriously? Grab the kiddos and get moving or jumping! This is the perfect thing to do child or an adult on a rainy day and will be sure to wear the little ones out and save them from their boredom at home.
Check out Rockin Jump for more info
CINEPOLIS LUXURY CINEMAS
Who doesn't want to be waited on hand and foot while enjoying the latest film on the big screen, did we mention automatic recliner chairs, gourmet food items on the menu, adult beverage +21 of course, and you can even have a sundae brought to you! It will forever change how you "go to" the movies.
Cinepolis Luxury Cinemas Info Click here
SUNDAY FUNDAY WHERE TO WATCH THE GAMES
A fun place to check out for good food, good company, craft beer, and lots of TV's to cheer on your favorite team, hands down has to go to The Regal Seagul in Leucadia.
For more info on the Regal Seagul Click Here
Whatever it is that you all choose to get into this weekend, be sure to have fun but be safe on the roads!