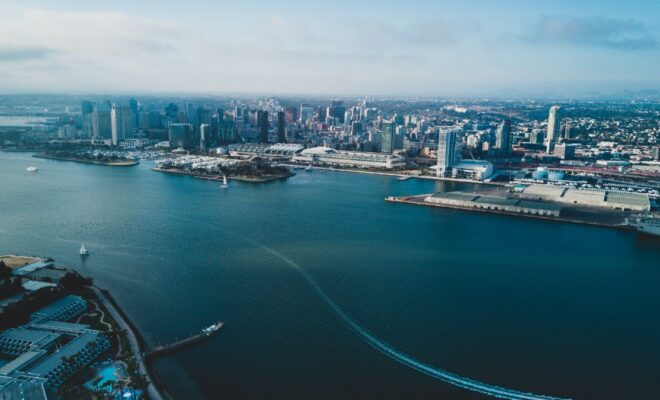 Dining
The Foremost Cheap Date Places in San Diego
By
|
Whether you're dating your spouse or meeting up with your latest Hinge match, planning a date on any budget can seem daunting. San Diego is filled with date options at all price points, ranging from adventurous to romantic. All you have to do is think outside the box and break away from the traditional dinner-and-a-movie date.
Here are a few of our favorite cheap date ideas. Borrow a plan from our list, or use this as inspiration to come up with your own budget-friendly romance.
Enjoy a Concert
While we definitely encourage you to support the arts, sometimes tickets for formal productions just don't fit into the budget. If you want to check out what the San Diego music scene has to offer, consider attending one of the San Diego Symphony's open rehearsals at The Rady Shell. Enjoy a stroll through Jacobs Park and take a seat to listen to the music. Similarly, visit Balboa Park and take in a free organ concert from Spreckels Organ Pavilion. Concerts occur each Sunday afternoon, so you can pair the music with lunch (a less expensive meal than dinner).
Take in the Street Art

Source
There are over 100 murals at Chicano Park, all of which represent the vibrancy of the Mexican-American community. These paintings are spread across seven acres, where you'll also find gardens, sculptures, and places to sit and relax. Once you see the beauty of street art, you'll want to see more; La Jolla and North Park also boast incredible works of public art, so mark your calendars for a future date night.
Go on a Self-Guided Tour
A lot of San Diego's attractions offer self-guided tours, allowing you to learn something new, see something different, and not spend a dime. Step back in time and join the mining community of Julian while exploring the life of a gold miner. If you're an athlete at heart, consider exploring the former U.S. Olympic Training Center, now known as the Chula Vista Elite Athlete Training Center. Self-paced tours will take you through the 150-acre facility including tracks, fields, and dorms.
Think Like a Kid

Source
A lot of activities we enjoyed as little ones are just as much fun today, and a lot are pretty cheap. Take a bike ride through Mission Bay or Balboa Park. Go fly a kite in Seaport Village. Have a picnic at Kate Sessions Park. Catch a flick at South Bay Drive-In or Santee Drive-In. Even if you didn't love these activities as a kid, these fun and youthful ventures are sure to be the foundation of an unforgettable date night.
Explore Nature
Make a game out of date night and go on a scavenger hunt. Check out any of San Diego's many parks, such as Black Mountain Open Space Park or Mission Valley Preserve, and take in the scenery. Look for animals, shapes in the clouds, or types of native plants. Increase the stakes by placing a friendly wager, like treating the other to a cocktail or planning the next date. You can pack some snacks and beverages in lieu of dining out, making for a date both of you will remember.
Be a Tourist

Source
Anyone who lives in a major city knows it's easy to spend years in the midst of a major tourist attraction and yet never see it for yourself. Whether you've lived in San Diego for six months or sixteen years, there's probably a lot you haven't seen, and new experiences are the fodder for great date nights. Watch the yachts pass through San Diego Bay, take in a sunset from La Jolla Cove, or explore the historic buildings in Old Town. Use date night as an opportunity to do something people travel across the country to experience.
If you're seeking a last-minute date idea, look for events happening around San Diego. You can almost always find a free or cheap event to check out, such as fireworks or a parade. Dates don't have to occur at night, and they don't have to include a fancy restaurant or a pricey movie. In fact, the best dates are usually the most creative ones.