Lifestyle
Spooky Stays and Romantic Getaways
By
|
Top Staycations in San Diego
Time off can be an anomaly to some of us – so a week vacation ain't always in the cards. Fortunately, there's a plethora of daycations and staycations right around the corner. Hop on the COASTER and head up to Carlsbad for the day or take the blue line down to San Ysidro to dance around TJ for epic tacos and upscale tequila bars. But if you have the chance to stay overnight, here are three top spots where you can clear the mind and recharge your batteries. From spooky stays to romantic getaways, San Diego has it all.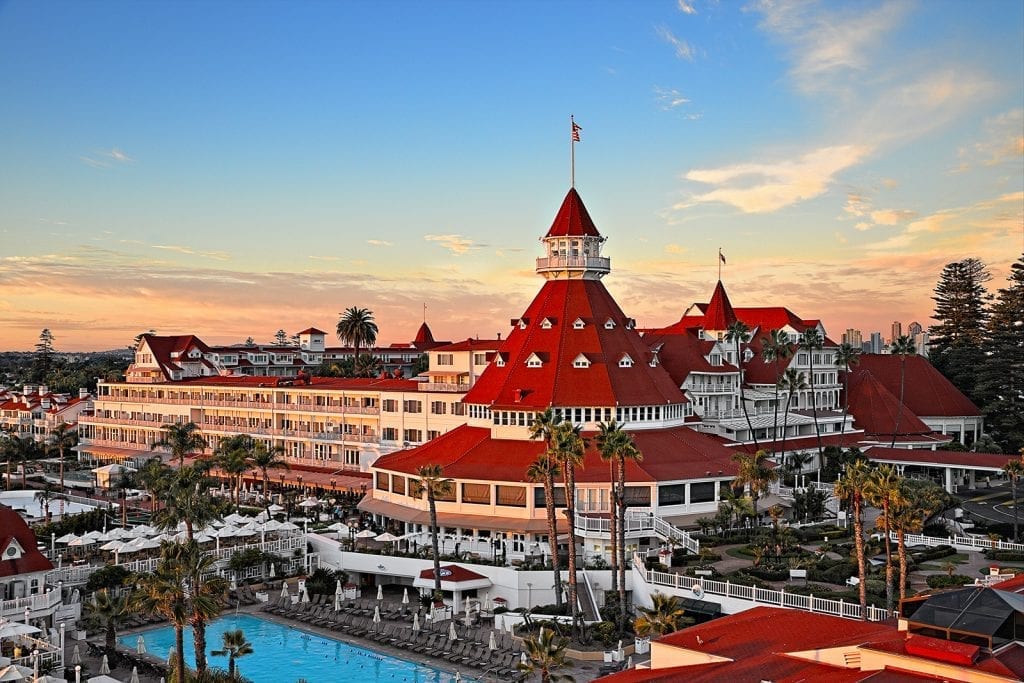 Over the bridge, we go. Just a short 15 minutes from downtown, you're suddenly on an island. Easy enough, right? Right. Start things off with a few tacos during sunset at Beach + Taco Shack. They come out fast, go down quick and you've got the ocean as your backdrop. A little live music and a cold one will quickly put you on 'vacay mode.' My partner in crime and I met up with Gina of The Del for a historical tour of this behemoth of a hotel. Built in 1888, the walls hold stories and secrets – both romantic and haunting. We were cloaked in a warm glow from the dimly lit lighting in the hallways while we listened to tales of Harry Sinclair Lewis and F. Scott Fitzgerald visiting the resort. You quickly become swept away to another time yet have every modern amenity at your fingertips. It's a real gas.
Award-winning spa? Check. Bar serving up craft cocktails and noteworthy libations? Check. Poolside piña coladas and oysters on the half? Checkmate! If in the mood for a historical and luxurious coastal staycation, The Hotel Del on Coronado Island is your spot.
Sidebar – if you like a good haunt, check out their Ghost Tours on Friday and Saturday evenings from 7 – 9 p.m. Don't forget to ask about room 3519 and the infamous spirit Kate Morgan. We did and won't forget it. Boo!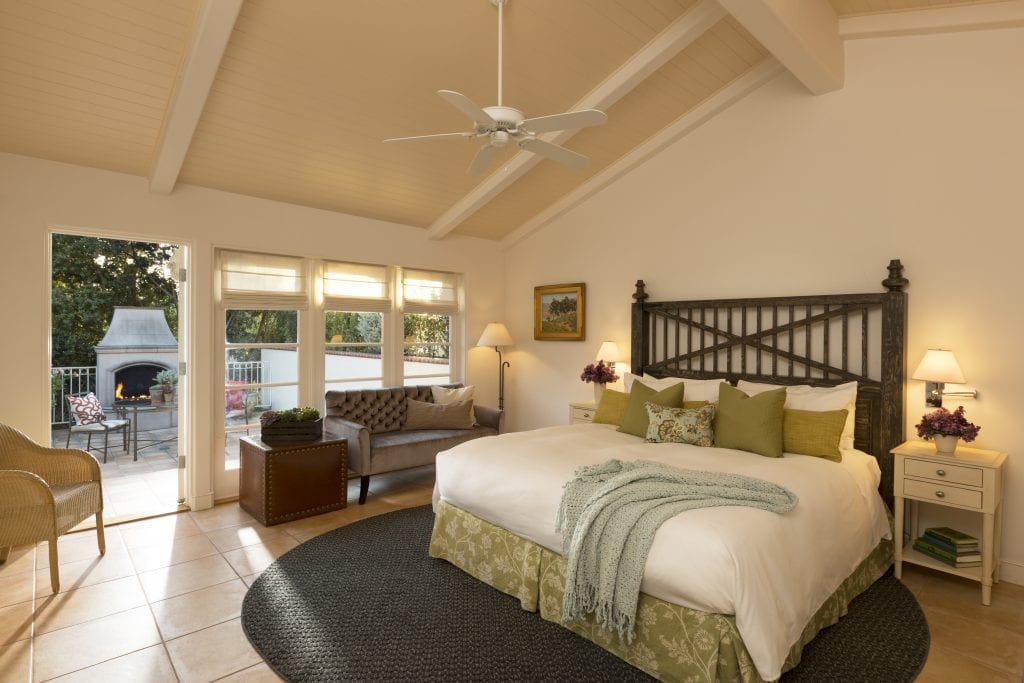 Elegant and romantic, The Inn at Rancho Santa Fe is one classy joint to rest your head and escape the noise of the city. Just 30 minutes outside downtown, jump off the freeway and enjoy driving down a winding road shadowed by canopy trees and blossoming foliage. A few more twists and turns and you're there. We felt like we were walking through the secret garden making our way to the room – beyond the flower blossoms and over the footbridge, there was our abode for the evening. Ah, a fireplace. One of the few things in life that brings me utter joy. And a bed the size of my Golden Hill apartment brought smiles for smiles. We were in for a treat. Once you're here, stay. Dine at Morada and experience a menu crafted by Executive Chef Chris House. Dishes are made with local and seasonal ingredients, so the menus change often. A staple dish from my dinner was the potato wrapped striped bass. My God was it good. Muah!
After dinner, a night cap and a dip in the hot tub is a must before heading back to the room. As the embers from the fireplace die out, slip off to dreamland and enjoy one of the best slumbers you've probably had in some time. Before checking out for the day, don't skip a heavenly spa treatment, downtime in a plush robe and cup of hot tea in the outdoor relaxation lounge. If you had one too many drinks at dinner, this will cure you immediately. Ta-da!
Sidebar – take the fam up for a day before escaping with your sweetheart for a night by reserving your spot to celebrate San Diego King's Day on April 27th. Filled with live music, a Heineken beer garden, family-friendly fun and more, commemorate the birthday of King Willem Alexander in style at The Inn at Rancho Santa Fe. More info here.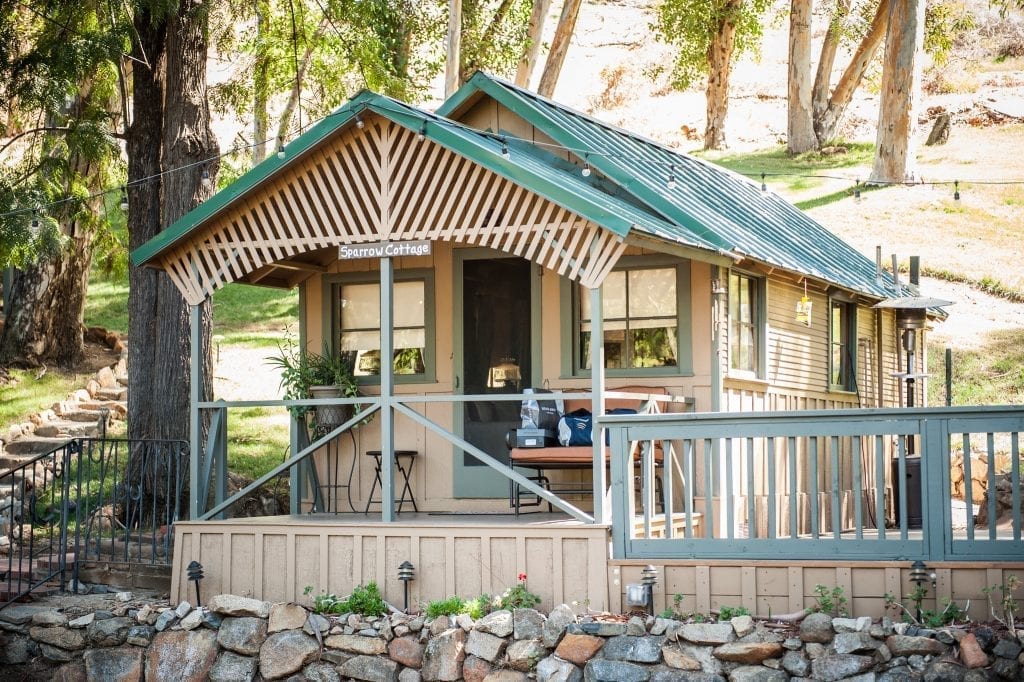 Spanning over 144 acres of land and nestled in the heart of San Pasqual Valley, you'll find The Ranch at Bandy Canyon. This is the spot to slide on some cowboy boots, kick some dirt around and relax in an authentic 1930's lodge. Sans the distraction of television, wi-fi and perfect cell service, you can truly disconnect. Pack a bottle (or three) of your favorite wine, a charc board and a good book – you're set. The Ranch has 15 cozy cottages equipped with kitchenettes, outdoor showers, a lodge with a fireplace (remember my thoughts on a good fireplace, right?), outdoor hot tub and pool. And don't forget about the horses, chickens, pigs and other farm friends roaming around. Giddy up! Surround yourself by majestic views, rolling hills and fresh air when you stay at The Ranch at Bandy Canyon.
Sidebar – book a 60-minute trail ride through Bandy Canyon to check out the property. There are several different packages depending on the mood.