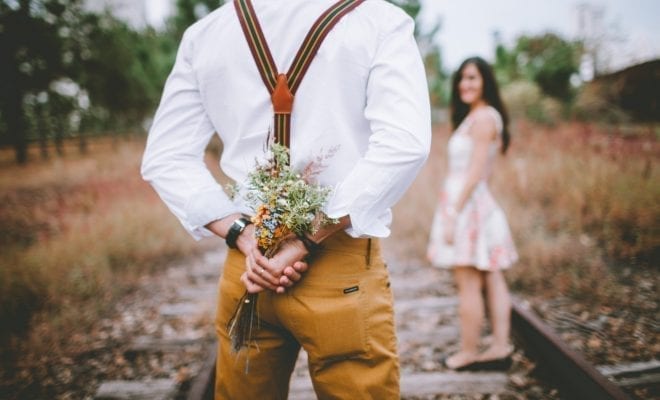 Lifestyle
Best Places to Propose in San Diego
By
|
You have finally found your "forever" other half, and you're ready to take the next step of popping the question of marriage. Everyone wants the moment to be absolutely perfect and unique, and it can be hard to be creative since almost everything has been done before. You want the day to be romantic, and you need to find the best place to propose.
You can put your own twist on anything to make this moment as special as possible. Melissa Reinke from Sweet Blossom Weddings says, "As a wedding planner in San Diego for over 7 years now and over 100 weddings in the books, I have heard of a lot of engagement stories.  But it's one of my favorite questions to ask in the interview process.  Some of the best proposal stories that I hear are the surprises that come from the heart." As long as you are creative, and do something that is meaningful to you both, your girl will be very impressed.
The first thing you need to do, is choose a location. The location will be the platform of your engagement, because this is the perfect way to be creative and sentimental. Melissa says, "On the cliffs off the beach, on the mountain top, on the lake, wherever it may be, think about your relationship and a meaningful spot for the two of you.  Just make sure to plan ahead for weather, conditions." You can find the perfect spot in San Diego, that will start your engagement on a perfect note. If your soon to be fiancé has a special love for the salty sea air, pop the question at Sunset Cliffs. This stunning view has certain spots that you can walk down to receive privacy, and has the perfect coastline in perfect sight. As soon as the sun sets behind the ocean and the sky turns a vibrant pink, get down on one knee and create a special moment for the two of you.
If your favorite girl is more casual, and not into the big romantic gestures, it doesn't mean you can't propose in a special way. Have a picnic with her favorite dish or delicious pasta at The La Jolla Coast Walk Trail. This trail has flowers blooming and overlooks the beautiful scenic ocean. Set up a picnic basket off of the tourist paths so that you can create an intimate moment.
If you are the kind of guy that wants to drop the ring her favorite champagne and have her find it in a fancy restaurant, choose Mister A's.  This restaurant has French culture influences, and is the ultimate romantic setting. Be sure to get a table with a view, and your fiancé will be very impressed. Have her find her new ring in her favorite drink, while having a view of San Diego. Be sure to notify the staff so that they can be a part of the magic, and have one of the employees take a video of the moment so that you can always hold on to this moment.
If your girl drinks a big glass of red wine before bed every night, a winery might be the perfect place to create a proposal at. Take her to Wilson Creek Winery for a delicious meal, complimented by wine, and take her to the bridge over the stream to ask the most important question of your life. This beautiful winery has the perfect ambiance for a romantic day, and your fiancé will get to sip her favorite wine as you get down on one knee.
If you are a couple that loves to travel together, proposing on a gondola ride
 is the perfect way tor relive your travels. You will be directed through the Coronado Cays while cuddling with your girl, and you will have the mindset that you are truly in Italy. Create romance with this special gondola ride, and make this moment intimate in the middle of the Cays.
Proposing is exhilarating and can be absolutely terrifying. A last word of advice from Melissa is, "Remain calm.  I've heard many times how the person gets sweaty palms, starts acting 'off or weird,' starts being non-communicative, which is a big no-no during this process. Just try to remain calm during this time." Have confidence in your proposal choice, and get ready to start the rest of your life, with your significant other.