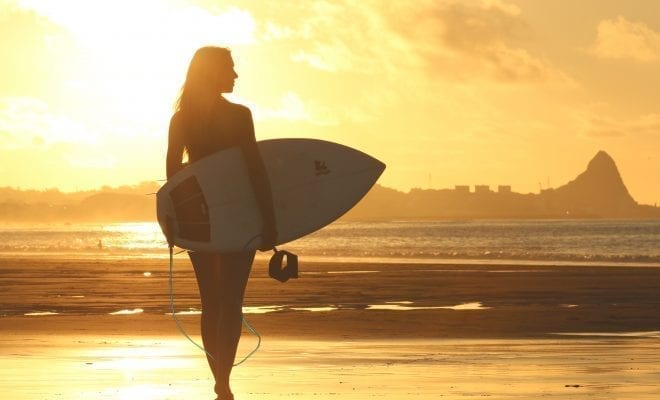 Lifestyle
Best Surfing Spots in San Diego
By
|
San Diego has sunny beach weather for a majority of the year, which means that surfing is usually a popular sport. Whether you are a self proclaimed professional or just starting out on your surfing journey, this sport is the perfect way to get in touch with your San Diego roots. You can make every day an adventure, and every day a beach day.
Black's Beach
All of the San Diego local surfers know that this is a hot spot all year long. The waves are some what crafted in in a long breaking design, which means these waves will give you the ultimate ride. The adventure to get down to Black's beach, is a hike down a cliff that will start your surf session with some intense cardio.
Trestles
This beach is located between San Diego County and Orange County, and is quite well-known. To enter the beach, you must venture on an enduring walk, but due to the beaches popularity, you will most likely never walk alone. The waves are usually slow and steady, which is perfect if you are just starting to learn the sport, or want a relaxing day of surfing.
Swami's
If you prefer your surfing sessions to be more fast paced and more riveting, Swami's is your perfect match. This popular beach is always swarming with locals, and has larger waves that are perfect for anyone who religiously surfs. If you are a beginner and looking for a challenge, Swami's is the perfect place to try out your new skills on your board.
Sunset Cliffs
Take the stairs down to the sandy beach and get ready to catch vast waves. The paddle out will be simple, and you'll be able to catch the perfect ride. Be careful to surf in one of the non-rocky areas, and be aware of your surroundings. When the waves are big, you will find all the locals running towards sunset cliffs, to be the first to catch the best waves possible.
Cardiff
This expert level surfing beach contains reefs on both sides, and is the perfect place to test your limits. The waves are better on the south end swells, and will keep your surging session fast paced and exhilarating. This expert level beach, is perfect for anyone who is looking for a challenge, and an adrenaline-charged ride.
La Jolla Shores
La Jolla Shores is the perfect place to learn how to surf; these gentle waves will roll with ease, and allow you to further your strength on your board. This beach will also help you gain confidence with surfing, as it is the best place to practice and learn. There are numerous surfing schools and classes here, and for good reason. The easy rolling waves make new comers more comfortable, until they are ready to explore the breaks at Cardiff or Swami's.
If you are motivated to try new things and step outside your comfort zone, any of these beaches will allow you to become a better surfer. If you are just starting out, make sure to go to the beaches with smooth long waves, that will help you build your skills. After enough practice, make your way out to Cardiff and show everyone just how confident you are.