Entertainment & Events
Where to Watch the Game
By
|
Football season is finally here, and we couldn't be happier with every weekend being jam packed with games. From college football to the NFL, there's nothing like catching a game at your favorite local hangout spot. We've rounded up the best deals and places around town for you to enjoy your next game day filled with ice cold beer and some good grub.
Bankers Hill
Drink Specials: Happy Hour 4-6 pm daily
Be the MVP this season and bring your friends along to this Bankers Hill gathering spot. The Corner Drafthouse is ideal for beer connoisseurs and football fans alike. The brewpub offer 70 of the best craft beers on tap. They are known for their wide selection of brews, but people come back for the massive burgers and comforting fare like their buffalo cauliflower and chicken lollipops. Inside, you'll find seven flat-screen TVs, so you won't miss a single fumble! Bonus Points: Stop in any day, weekends included, from 4 p.m. to 6 p.m. for $2 off craft beer, libations, house wine, and select smalls.
Carlsbad
Drink Specials: $14 Mimosa Flights; $7 select 28 oz draft beers; $5 bloody mary
With two locations in San Diego, Draft Republic is a great spot to kick off the party, whether you head to La Jolla to watch on their 100-inch projection screen or enjoy the game in Carlsbad on one of 50 TVs. It doesn't get much better than feasting on the 1/2-pound Draft Republic Burger layered with American cheese and house-made pickles, paired with a local IPA on draft. Guests can also participate in their own game day action with Draft's variety of table games, including foosball, billiards, shuffleboard and ping-pong.
Drink Specials: $2 Off Draft Beer
Food Specials: $5 & $10 Small Bites
Named after the seven miles of adjacent Carlsbad coastline, 7 Mile Kitchen offers handcrafted pizza and gourmet burgers by Executive Chef Julian Quiñones. The restaurant keeps the ball rolling with a selection of San Diego's favorite brews. Don't pass up this Carlsbad gem which boasts three flat-screen TVs, outdoor seating and stunning coastal views, all of which make it the perfect spot to watch the game and relax with friends and family before or after the game. If you're looking to pair a burger and one of their ten craft beers on tap, their elevated burger menu alone will have you doing a touchdown dance. Happy hour is offered daily from 4 p.m. to 6 p.m. They've got you covered with an assortment of $5 and $10 small bites plus $2 off draft beer, well drinks, wine by the glass, and specialty cocktails, and half off house blonde beer and house wine by the glass. Bonus Points: Celebrate Monday night football with happy hour from open until close.
Del Cerro
Drink Specials: $4 Bud Light Drafts
Food Specials: $3 Pulled Pork Slides; $6 quarter pound polish sausage
This family-friendly establishment serves up slow-smoked Southern BBQ classics, burgers, and hearty sides to enjoy while watching the big game or playing one of a retro arcade game. Del's tailgate specials include $3 pulled pork sliders, $6 quarter-pound polish sausage and sauerkraut, and $4 Bud Light drafts.
Downtown
Not only is the Gaslamp District iconic barleymash opening at 9:00 a.m. on Sundays during football season, but the high-energy spot will also be hosting a season long, NFL Rewards Program you'll want to be a part of. Football fanatics can join barleymash to watch their favorite teams each Sunday for chances to win awesome prizes like an iFly Indoor Skydiving Adventure for two, gift cards, Beats Wireless Headphones and more! To be eligible for the grand prizes – an Apple iPad Pro and Nike Black Vapor Untouchable Elite Custom Jersey – which will be announced week 17 of the season, you must check-in for a minimum of at 10 out of the 16 weeks of football!
Love to watch football but trying to avoid the yelling fans and spilled beer? Del Frisco's upstairs bar offers an intimate experience for patrons with tailored service and high-end spirit options. Watch the game on the bar's flat screen while enjoying game day treats like cheesesteak egg rolls with sweet chili & honey mustard sauce and beer-battered white cheddar cheese curds.
Drink Specials: $7 shots of Jagermeister
Food Specials: $9 Breakfast Burrito; $11 Chilaquilas; $15 Cheeseburger
Inspired by the team's colors, the restaurant will offer "Shots of Darkness," shots of Jägermeister with edible silver glitter, for $7 each. A full Raiders-themed Sunday brunch menu will also be available, including: Raiders Breakfast Burrito, scrambled eggs, bacon, chingón cheese blend, french fries, avocado and sour cream wrapped in a flour tortilla, priced at $9; Chucky Chilaquiles, corn tortillas simmered in a choice of red or green salsa, two eggs, avocado, chingón cheese blend, crema and refried beans, priced at $11; Reign in Hell Cheeseburger, a sirloin patty topped with al pastor, Swiss cheese, refried beans, chipotle mayo, lettuce and tomato, served with french fries and priced at $15; and more.
Green Bay Specials: $4 Resident Perky Blonde Pints, $5 Fireball, $18 beer buckets (Coors Light or Miller Lite $10 Beer Bratwurst, $6 Cheese Curds
Sun Devils Specials: $4 Resident Perky Blonde Pints & Coors Light, $5 Screwball & Four Peaks, $8 Devilrita, $18 beer buckets (Coors Light or Miller Lite $11 Devil Burger, $6 Wings, $12 Tot Nachos
Bootlegger – San Francisco 49ers & University of Alabama Crimson Tide
Drink Specials: $7 Aluminum Coors Light Pints with $4 refills- Keep the Cup!, $10 Deer and Beer, $7 Yellow Hammers & Alabama Slammers
Food Specials: $11 Bama Rib Basket, $12 Wings, $13 Poke, $13 Chicken & Waffles, $12 Sliders
Drink Specials: $15 Coors Light/Budweiser Buckets; $20 Corona Buckets; $22 TRULY Buckets, $26 Sculpin buckets
Cowboys fans can head to Union Kitchen & Tap Gaslamp for a one-of-a-kind viewing experience you'll only find at the official Cowboys bar of San Diego! Fuel up for game-time with Chips & Salsa, Buffalo Shrimp Popcorn, Bacon-Wrapped Corn Dogs, BLT Flatbread and Firecracker Wings.
Drink Specials: $3 Bud Light, $4 Stella; $5 Craft Beer; $10 Deer and a Beer (Jagermeister specials); $18 Bottomless Mimosas
Food Specials: $7 Select Appetizers
A dynamic venue featuring classic design touches that incorporate some of the building's original elements from the late 1800s. Relying on high-quality and locally sourced ingredients to produce balanced, approachable American dishes with a seafood touch is what makes this place great, and everyone knows a good meal is an absolute must when watching football.
Drink Special: Beer, Champagne, sangria, cocktail, specials
Downtown's favorite country hangout, The Deck at Moonshine Flats, will be serving up specials every Saturday and Sunday in support of their favorite teams, the USC Trojans, the San Diego State Aztecs, and the Los Angeles Rams — with extra specials when the Rams score and win! The specials, which are served Saturdays from 11:00am to 8:00pm, and Sunday from 9:00am to 6:00pm, include beer, champagne, sangria, cocktails, and brunch specials.
Bub's at the Ballpark, named one of San Diego's best sports bar by USA Today 10Best, features over 25 HD plasmas throughout the bar, ensuring you catch all the action. Subscribing to both NFL and College Football packages, Bub's adopts a community seating policy during all Football games, allowing everyone the chance to root on their favorite teams. In addition to screening the games, Bub offers specials on drinks and bites, making it the ultimate place to cheer for your team. Bub's is 21+ during games.
Encinitas
Drink Specials: $5 Pint (Latitude 33 Lager); Happy Hour 4-6 pm daily
Take in the ocean air on the back patio at the Bier Garden Encinitas and enjoy the rustic, coastal vibes with a brew in your hand. Located on the historic 101 in Encinitas, this local favorite offers 25 rotating 'beers on tap. If your team is playing early, they open at 9 a.m on Saturday and Sunday for drinks ONLY and brunch begins at 10 a.m. Unleash your inner carnivore with their Meathead Bloody Mary ($15) loaded with a juicy chicken wing, meaty pork riblet, and beef slider. If it's after 2 p.m., trade the bloody for $5 pints of Latitude 33 Lager while the games are on and order the appetizer trio full of wings, ribs, and sliders! Their happy hour runs every day of the week from 4 p.m. to 6 p.m. and offers $2 off craft beer, libations, house wine, and select smalls. Bonus Points: On Monday nights, enjoy half off select bottles for Monday Night Football.
Kearny Mesa
Drink Specials: $5 Pints (Madewest Standard & IPA); $12 Build Your Own Bloody Mary
Food Specials: $9 Convoy Fries, $8 Pretzel Bucket; $10 Sliders; $10 Wing Platter
La Jolla
Drink Specials: $12 Mimosa Flights; $5 select 24 oz draft beers; $5 bloody mary
No one has time for waiting for a bartender to be pouring your drink when football is on. It's time to take matters into your own hands on gameday, and Draft Republic is the place to do that.
La Mesa
If you're looking for some game-on-game action, Coin Haus is the place. With 50 self-serve beers on draft, over 30 arcade games, and 6 flat screens, this lively "beercade" is the perfect spot to catch some game action. Nothing will get you through half-time faster than a match of foosball to see who "pours" the next round when the game starts back up.
Mission Beach
Drink Specials: $4 select drinks
Food Specials: $6 select snacks
What better way to celebrate game day than by going the whole nine yards with an ocean view, Texas-style bbq, and a vast selection of beers on tap at Coaster Saloon. Located in Mission Beach across from the Belmont Park Roller Coaster, football fans can catch game day deals on Sundays, Mondays and Thursdays with $4 drink specials, $6 eats and more. Catch every kick-off and tackle on one of their many flat screens, and cap things off with a game of foosball or jenga.
Drink Specials: $3 Bud Lights; $4 Bon & Viv Spiked Seltzer; $5 Konas
Are you ready for some football?! Throughout the season, Miss B's Coconut Club will be featuring football specials available during all college and NFL games. Enjoy $3 Bud Lights, $4 Bon and Viv Spiked Seltzer and $5 Konas, and plan to come by the Mission Beach bar and eatery for Football Brunch on Saturdays and Sundays 'till 2:00 p.m.!
Drink Specials: $4 Corona cans; $20 Bucket of Coronas;
At Sandbar, you'll feel as though you're seated right on the 50-yard line when you stop in to catch a Sunday game. There is no bad seat in the house at this Mission Beach hotspot showing the RedZone, so you won't miss a minute of the action. Guests can buy raffle tickets to win sweet prizes like concert tickets, beach cruisers or a big screen TV! Drink specials like $4 Corona cans for $20 buckets of Coronas. Chow down on their well-loved Mission Nachos that chips piled high with mixed cheese, beans, salsa fresca, soyrizo-queso dip, sour cream, jalapeños and guac – and chicken or carne asada for a few extra bucks. Yum!
Normal Heights
Drink Specials: $4 Busch, $5 Bud Light, $6 Stella, $7 Golden Road, $* Philly Special cocktail, $5 Jim Johnson cocktail
Food Specials: $13 Philly Cheesesteak, $13 Pretzel Sammie, $13 Eagle Fries, $10 Cheesesteak Egg Rolls, $8 Philly Pretzel, $11 Chicken Tenders
North Park
Kick off Monday Night Football at North Park's Louisiana Purchase! September 9th marks the start of MNF, but every Monday evening throughout the season, Louisiana Purchase will offer a special menu consisting of steaks, burgers and wings, while the game is playing. You won't miss any of the action at this intimate spot, that also serves craft cocktails, beer and wine.
Ocean Beach
Drink Specials: $4 Bud Light, $5 Tito's Vodka, $6 Pacifico Mugs, $12 Bottles of Champagne until 2PM
Pacific Beach
Food Specials: $7 Hangover Burrito
Will open at 10am each Sunday, and will offer 10% off to all guests wearing their favorite team's gear. They will also add a new menu item just for this—the Hangover Breakfast Burrito will be offered all day Sunday for just $7. The location offers multiple 4K TVs, as well as a giant screen for a great watching experience.
Drink Specials: $4 domestics (Tecate, Coors Light, Pacifico), and $10 shot + beer (Pacifico and Cazadores)
Food Specials: $12  Carne Asada Fries; $15 Touchdown Platter
Enjoy watching the next game by the beach by visiting Duck Dive all season long. Keep the game day fun going and your crew well-fed with their football specials. Located at 4650 Mission Blvd in the heart of Pacific Beach, Duck Dive should be on your go-to list of where to frequent during the big game.
Searching for a place to snack your way through Sunday football? Look no further than Mavericks Beach Club, a top PB party destination located along Grand Avenue. Share a bowl of shoestring Buffalo Fries piled high with buffalo chicken, chopped celery and ranch dressing. Or opt for the Mahi Mahi Ceviche – crispy corn tortillas topped with chipotle aioli, avocado, crispy leeks, pico de gallo, lime crema, cotija cheese and chives.
Drink Specials: $4 Busch, $5 Bud Light, $6 Stella, $7 Golden Road, $* Philly Special cocktail, $5 Jim Johnson cocktail
Food Specials: $13 Philly Cheesesteak, $13 Pretzel Sammie, $13 Eagle Fries, $10 Cheesesteak Egg Rolls, $8 Philly Pretzel, $11 Chicken Tenders
The energy is always high at The Local PB, and that level is only amplified during football season. Bills fans are known to be a rowdy bunch, and they sure do love their team. Spend football Sunday amongst fellow Bills fans, and make sure you grab yourself a drink and some food.
Drink Specials: $4 Drafts/ $14 Bud Light or Michelob Ultra Pitchers; $5 Drafts/$16 Goose IPA; $10 bloody mary bar; $4 Mimosas; $5 Jameson Shots
This classic Pacific Beach hangout spot is a great spot to catch a few games and enjoy the cool breeze near the beach.
Drink Specials: $5 Smirnoff Bloody Marys, Fireballs Shots, Jager and 14-oz Pacifico Drafts, $6 Bubble Stash IPA Cans, $8 Basic Beach Boilermakers $20 Bush Light Buckets, $25 Coors or Bud Light Buckets, $25 Truly Buckets and $15 PBAH Pitchers.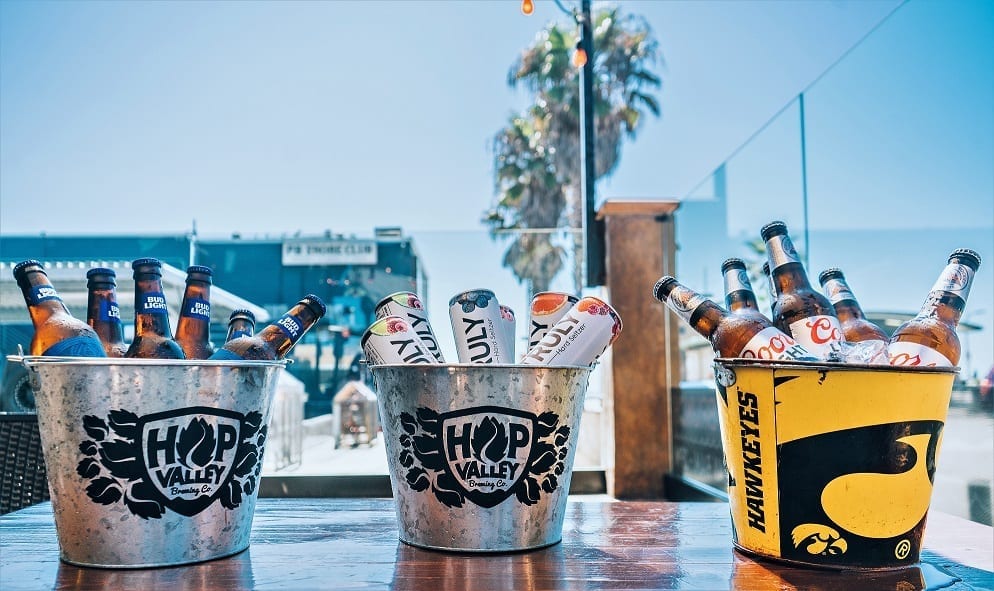 PB Ale House knows a thing or two about keeping the drinks flowing and the spirits high. Head over here for a football Sunday that will instantly be one for the books.
Drink Specials: $4 Bud Light and Shock Top Drafts, $16 Pitchers, $4 Orange Crush Shots, $5 Bell's Drafts/$20 Bell's Pitchers, $6 "The Harbaugh" Jack Daniels Whiskey Sours, $7 Sumters Legacy
You can't beat the killer deals at Backyard Kitchen & Tap for your next football game. With greats deals on ice cold beer, and plenty of screens to catch the game, it's looking like the place to be.
Drink Specials: $4 Budweiser, Naturdays and Michelob Ultra
Featuring a full outside lounge, Waterbar is the perfect mix of style and relaxation when catching some football.
Moonshine – San Francisco 49ers
Drink Specials: 2 for 1 Buena Cervezas, $5 Titos, Jack Daniels, Milagro, and more, $20 Bud Light and Budweiser buckets, and $25 Whiteclaw, Stella Artois, and Elysian Spacedust buckets
Moonshine Beach in Pacific Beach takes football season seriously, broadcasting the game on the big screen. An official 49ers bar, Moonshine Beach invites you to spend Sundays in Niner Nation cheering on San Francisco while enjoying food and drink specials.