Entertainment & Events
This Weekend in San Diego: 9/7-9/9
By
|
As the summer nears its end, and we recover from the post-3-day weekend blues, the weekend is quickly approaching, and we have rounded up the best events happening in sunny San Diego. Hip-hop legends Laryn Hill and E-40 are stopping in San Diego for some highly anticipated performances. Don't miss out on the many festivals going on, like the Greek Festival, Blues Festival, and tons of beer and wine festivals.
Friday, September 7
The Hotel del Coronado will host horse mounted platers as they compete in Polo America's third annual Beach Polo Cup. The three-day tournament will feature four teams of world-class players from Argentina, Mexico, Switzerland, and the U.S. The event will also include daily fashion shows, designer boutiques, a hat contest, and a sand sculpture contest and more. Times and ticket prices vary, get yours here.
Kick off your summer weekends in style every Friday evening at Balboa Park's hottest after-hours event from 4:00 -8:30 pm. Visitors of all ages can enjoy live entertainment and activities for kids while eating gourmet dishes from a rotating selection of more than a dozen popular food trucks parked on the Plaza de Panama and El Prado walkway. Throughout the summer, Food Truck Fridays will present different musical performers or DJs each night in the Plaza de Panama.
A centuries-old native American tradition is being held at Sycuan Indian Reservation. This weekend, join the many people who will gather to sing, dance and celebrate friendships at Sycuan's annual Pow-Wow. Originally a Pow-Wow or "celebration" as it was once called, was held in the spring to welcome the beginnings of life. It was a time for people to get together, sing, dance, renew old friendships and make new ones, and a time for young people to meet and court. The event is free to attend but guests are warned, "There are no spectators at a Pow-Wow, everyone is a participant!"
Saturday, September 8
Taking place at the Embarcadero Marina North Park, the AimLoan.com San Diego Blues Festival's daylong fundraising event will be held from noon – 8:00 pm. Proceeds will go to the Jacob & Cushman San Diego Food Bank's hunger-relief programs. Saturday's lineup includes Kenny Neal, John Nemeth & The Blue Dreamers, Lightnin' Malcolm, The Sons of Soul Revivers, and more including local San Diego acts. Headlining is Billy F. Gibbons, Rock and Roll Hall of Fame inductee. Ger your tickets here starting at $30.
Celebrate Greek culture at the Cardiff Greek Festival filled with fun, music, food, and entertainment. This two-day family event will include cooking demonstrations, Greek wines & spirits presentations, and tons of delicious Greek dishes for vegetarians and vegans. Check out their new wine bar while you enjoy live Greek entertainment, church tours, and more. There is a $3 entry fee for those over 12; free for active-duty military, police, and firefighters with ID).
Head to Bayside Park in Chula Vista from noon – 8:00 pm for a day filled with live entertainment, local art, food, drinks, and more to celebrate and support the LGBT communities in Southern San Diego and northern Baja California. Brought to you by the South Bay Alliance, a nonprofit for LGBT youth and aging members of the community from both sides of the border to find support and safety. There will be dancing, djs, kids activities, and a beer and wine garden, and various water activities at this FREE event.
English singer-songwriter, Jade Bird has graduated from opener to headliner and will be taking the stage at the Cashbah for her San Diego fans. Not even 21 years old, foreign-born Jade Bird has performed at major U.S. festivals like Stagecoach, Firefly, and Bonnaroo. Ahead of her full-length debut coming soon, Bird has released singles that have amassed over a million Youtube views and climbed their way to a top spot on Billboard's Alternative Songs chart. Don't miss your chance to see her live at the Casbah this Saturday at 8:30 pm. Get your tickets here starting at $14.
Head to the Holiday Park in Carlsbad this Sunday from noon – 4:30 pm for some of the finest craft beers from San Diego County and beyond as well as music, entertainment, games, and food vendors. Plus, 100% of all proceeds from Carlsbad Brewfest are given to local and regional charities. Get your tickets here starting at $55.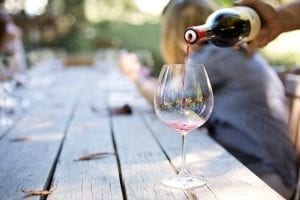 Wine lovers, enjoy glasses of Pinot, Rosé, Merlot and more with sweeping views of San Diego Bay from the Cohn Restaurant Group's coastal Mexican restaurant, Coasterra. The restaurant's ballroom will be transformed for the Coasterra Wine Festival from 1:00 – 4:00 pm. Guests can partake in blind tasting challenges, wine blending tutorials, grape crushing and more at the Coasterra Wine Festival. The event will also feature small hors-d'oeuvres and a live taco station to accompany tastes of vino. Tickets cost $36 and can be purchased here.
Check out the healthiest bar crawl yet at this event that features a one-hour rooftop barre class from 10 Barrel Brewing and Barre Body Studios. Afterwards, enjoy a complimentary brew from 10 Barrel and a complimentary cocktail from You & Yours Distillery. The event is taking place from 10:00 am – 1:00 pm. Get your tickets here for just $25.
Sunday, September 9
Happening every Sunday, the Lane Field Park Markets showcase the creative food, drink, art and craft scene in San Diego. Set in the beautiful park opposite the Bay in Downtown San Diego, with live music, picnic areas and lawn games, in a relaxed family friendly atmosphere. The Markets feature some of San Diego's established restaurateurs, retailers and vendors as well as up and coming creators, launching the careers of local new talents. Plus, new vendors, activities, performances and pop up installations are introduced weekly. Check out this free event this Sunday from 10:00 am – 4:00 pm at the Lane Field Park.
Bay Area legend and icon in the hip-hop world, E-40 is coming to San Diego to perform at the House of Blues at 7:00 pm. Hip-hop fans can watch this Northern California native and inventor of hyphy music perform some of his Bay Area anthems. Tickets start at just $30, get yours here.
R&B icon Laryn Hill's 20-year career has seen ups, downs, controversy, scandals, and a brief stint in prison for tax evasion. Nonetheless, she has become a household name and her songs like "Doo Wop (That Thing)" and "Lost Ones" echo 90s beats paired with meaningful lyrics that can still make you move today. She'll be making a stop in San Diego as part of The Miseducation of Laryn Hill 20 Year Tour. Don't miss your chance to catch the lovely Laryn Hill take the stage at SDSU's Open Air Theatre this Sunday at 6:30 pm. Tickets start at just $75, get yours here.
It's no surprise that dog-friendly San Diego has created a surf competition for our K-9 companions. From 8:00 am – 2:00 pm, head to the Del Mar Dog Beach for the cutest surf competition on the west coast. There will even be a costume contest. More than 70 pooches will compete for the title of "Top Surf Dog". All proceeds benefit funding for orphan pets and community programs provided by the Helen Woodward Animal Center. Registration fee is $35; FREE for spectators.