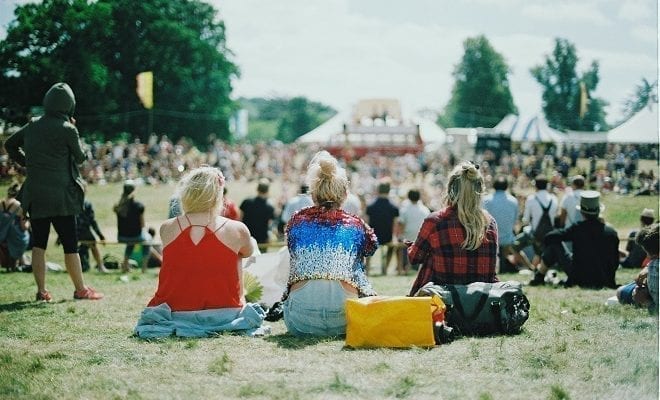 Entertainment & Events
This Weekend in San Diego 9/14-9/16
By
|
Never a dull moment in San Diego… or a dull weekend. From the thriving nightlife with the trendiest hangouts to relaxing days on the beach or walking around your favorite street fairs, the variety of activities ensures that there is always something for everyone.
Friday, September 14
It's no secret that this weekend is Del Mar's KAABOO festival. If you have tickets to this sold-out show, get ready for a weekend filled with good food, great music, and an overall awesome time. The diverse line up from QuinnXCII to Gucci Mane, to Katy Perry is just a few of the big names making their way to the stage this weekend. Aside from music, there are numerous comedy shows and all the beer and cocktails you can drink. Don't miss out on your chance to embrace one of the best times of the year, dancing through three days straight with your best friend in the perfect San Diego weather.
You don't have to travel far to get a taste of your favorite liquor. This Friday, starting at 6 pm you can grab your whiskey loving friends and make your way to Vom Fass, a unique space that specializes in oil, vinegar, sprits, liquors, and all things wine, located in the HUB in Hillcrest. You will be able to sample taste American, Irish, and Scotch whiskies.  Don't worry, you'll get delicious appetizers to go with each tasting.
The San Diego History Center is teaming up with Lambda Archives of San Diego to celebrate the LGBTQ community and bring people's stories to life. Located in Balboa Park, this exhibition allows people to connect with this community and will be showed how struggles have brought positivity.  Visitors will hear from people who have been through bullying and torment for ebing who they are, and will shed a light on the struggles they have faced. Speakers will touch base on topics of AIDS, bullying, and the power of standing together. This exhibit runs until December 31st of this year and is open 10am-5pm every single day.
Fallbrook Art Center representing over 23 regional artists selling their fine art glass, ongoing until October 21st. Each artist has a unique touch and are experts when it comes to color and technique with this craft. You can find anything from paperweights to sculptures, to jewelry and vases. Bring your friends out and explore the numerous different designs and pick out a truly unique piece that will support your love for art.
San Diego is one of the top destinations for nightlife and restaurants, and there's a good reason for this recognition. Located at the Hard Rock Hotel in San Diego, you can experience the Gold Rush era as you are transformed back in time. On this walking tour, you will also be able to experience at 4 extremely popular restaurants located in the local area. Sip on signature cocktails and enjoy getting a little history lesson of your favorite city. Tours take place every Wednesday – Friday at various times. Get your tickets here.
Enjoy the baseball season all weekend long with your favorite San Diego Padres. Located at Petco Park, make sure to show up Friday between 4:30 pm- 7:30 pm for the pre-game happy hour, with $5 drink specials and live music. Sunday is a special game, honoring Military Appreciation Day, Kids Run the Bases where children 14 and younger can run the bases after the game, and Compadres Kids Sunday signings where two Padres players will sign autographs for kids 14 and younger. Don't miss out on this very special, Padres weekend.
Start your weekends early at the National Comedy theatre from Thursdays through Sundays every weekend. Join the comedy party and expect a night of improv and interact with the performers as they act out everything you suggest on stage. Support local performers and enjoy a relaxed night laughing at San Diego's longest running show. For the last two decades the National Comedy Theatre has dedicated its passion to the community, so make sure to show your support!
Get "hoppy" it's the weekend and spend your Friday indulging in the best local breweries around, while cruising off into the harbor. This beer and dinner cruise changes its tasty beers every month, to provide you with variety. Green Flash Brewing is the host for September, and their tasty IPA's will have your mouth watering all weekend long. From food stations, to rotating beer flights and meet and greets with owners, this is a beer lovers fantasy. Get your tickets here.
Get your country on this weekend and see this epic concert mash up at the Mattress Firm Amphitheatre this Friday. These signature beats will set the mood for this September night, as you sing along to your favorite songs. Rascall flats is compiled of Gary LeVox, Jay DeMarcus, Joe Don Rooney, who now have a total of 10 albums. Their pop-country sound has made them unique and has created a very dedicated fan base. Dan + Shay is made of up of, well, Dan and Shay! This dynamic duo released their newest album in June, and are ready to bring these beats to you live. Spend your Friday night dancing to your favorite songs, and sipping on an ice cold beer. Show starts at 7:30 pm. Get your tickets here.
Saturday, September 15
This Saturday and Sunday from 10:00 am – 6:00 pm, thousands are expected to attend Old Town's annual free art festival. The Old Town Art & Craft Show will feature the work of more than 100 local, national and international artists. In addition to browsing artisan goods, guests of the 14th annual festival can enjoy cuisine from local restaurants, sip on craft beer and local wine in the beer garden and enjoy live music through the streets of Old Town.
This Saturday from 1:00-7:00 pm at the Menghini Winery, take a trip to the small town of Julian for an end-of-summer musical celebration. The Julian Music Festival celebrates more than 40 years of music in the quaint, mountainous town. Bring a lawn chair or blanket to take in sounds of Americana, contemporary jazz, folk and more. Tickets to the festival at 1150 Julian Orchards Rd. cost $20 at the door or $15 in advance. Children $15 and under are free.
This "open-house" style event, is interactive for kids and held at the Santee Historical Society and Museum. Your children will be able to meet firefighter heros and the fire engine, which will have your child grinning way too big. You can explore the displays of fire equipment and take your little one on an adventure they won't soon forget. Starting at 10am, get your Saturday started with an adventure that you and your family can enjoy, together.
Taking place at the Town Center Community Park East, guests that attend Santee's fundraising festival will be treated to a night of bluegrass music, food, and drinks. A $52 ticket to the event gets guests unlimited food samples to the dozens of participating restaurants, pours of beer and wine, plus live bluegrass music from Vulcan Mt. Boys and MohaviSoul.  Get your tickets here.
Every Saturday, make your way down to the farmer's market between 12:00 – 4:00 pm for a day surrounded by delicious food and incredible finds. This non-profit is dedicated to deliverer organic fruits and vegetables, cheese, almond butter, and other tasty foods that are fresh and will make your taste buds, very happy. They support local famers who sell their product directly to the consumer, showing appreciation for our community. Enjoy beautiful Saturday outside exploring your local farmers market!
Every Friday and Saturday from 12pm-3pm, enjoy a unique walking tour, filled with foods and stops at at Royal India, Berkeley Pizza, NaPizza, The Rooftop Bar, Davanti Enoteca, and Le Parfait Paris. Starting at $47, this foodie heaven is the perfect night out that you and your friends have been craving. Learn about the history of every restaurant and gain knowledge of the delicious food in your area, while tasting your new favorite bites.
Spend your weekend with wine in one hand, and of course, wine in the other. Step outside your comfort zone and partake in a calming workshop and invite your friends to come with you so you can all create your own unique Kokedama. This is a traditional Japanese art form, where plants are held together by moss. Create a beautiful masterpiece while learning about another culture and sipping on your favorite white. The event takes place this Saturday starting at noon sharp.
Sunday, September 16
This weekend-long event is San Diego's boat racing tradition for family-friendly events. Powerboats will race along a 2.5-mile course on San Diego Bay as spectators take in the 54th Annual San Diego Bayfair from East Vacation Island, Crown Point, and Fiesta Island. On top of races, the weekend-long event will feature a beer garden, a large vendor area, a kids' zone, and a barbecue competition on Saturday. Tickets to watch a day of races start at $25 or a three-day pass, which includes entrance to the barbecue, is available for $45. Children under 12 are free.
The seaside Oceanside Harbor weekend is filled with family-friendly activities for this free, two-day event celebrating the end of summer. At this two day event, there's nonstop action, kicking off with a pancake breakfast, followed by a fishing derby, and a swim marathon. Don't miss the dozens of arts and crafts and vendor booths, a beer garden and more. Check out the full schedule here.
The annual celebration will start at 8:45 am this Sunday. This event brings joy and remembrance to hospice patients and their loved ones. The LightBridge Hospice Community Foundation's mission is fun programs and services, such as music and memory programs and integrative therapies. Join in on the fun while enjoying refreshments and a vendor village where you can relax after your event.
This Sunday, spend the day outside in the sunshine at the Train and Song Festival. Celebrate the San Diego railroad heritage by witnessing the Bladwin Steam Locomotive back in action, that was originally built in 1907.  Performances will be at 11am and ending at 5pm. This unique festival will show your support for local history, while this non-profit community supports preserving the folk arts in Southern California.