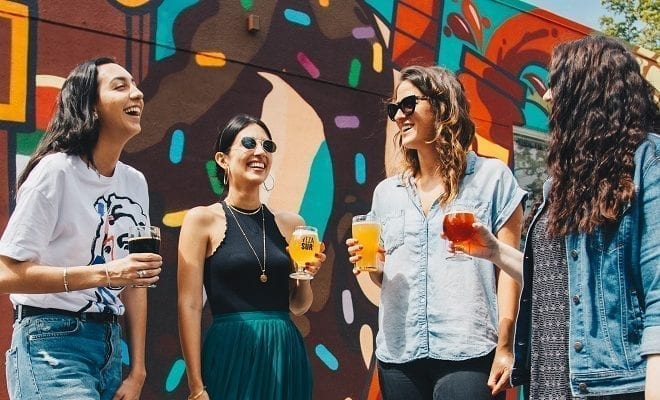 Entertainment & Events
What to Eat & Drink at KAABOO
By
|
With KAABOO Del Mar right around the corner, it's time to get ready for a weekend filled with great music, good people, and a ton of adventure. Three days of dancing and enjoying the electric atmosphere of this festival calls for some serious fueling up to keep the energy levels high. Check out these on-site and near places to grab some grub and drinks to keep you ready to dance through the night.
KAABOO is full of delicious food vendors and celebrated chefs cooking up some tasty food for you to enjoy. This year, the festival is bringing patrons closer to the chefs than ever before with the new Palate area, complete with countertop spaces allowing for intimate engagement between the chefs and their teams. Check out this area to get dishes personally cooked by celebrity chefs including Brian Malarkey and Michelle Bernstein.
There are plenty of phenomenal eateries on the festival grounds as well. Feeling a sandwich? Board & Brew has you covered, just be sure to snag some extra special sauce, which tastes good on literally anything.
Dang Brother Pizza will be there with their signature fire engine mobile pizza wood-fired ovens serving up piping hot pies with all the fixings you could ask for. Grab a craft beverage via one of their taps connected to their mobile oven rig to go along with your pizza, and you're in for a blast of flavor.
Want some Asian inspired cuisine? Bling Bling Dumpling will be serving up their innovative menu featuring fusion dim sum along with delicious dipping sauces, fresh organic salads, and sweet bites. Whether you're a vegan or a meat lover, they got you covered.
Sweetfin Poke Bowls is there to feed your poke addiction, offering more customizable options for your bowl then what you'll even know what do with. Be sure to grab an order of their taro chips for a nice crunch to pair with your fresh bowl.
Other vendors on-site include Broad Street Oyster Co., Red O Mexican Cuisine, Searscuker, Crab Hut, Mariposa Ice Cream, Rita's Italian Ice, The Dirty Cookie, Corn Dogs Gone Wild, and much more.
What meal is complete without an ice-cold beverage to go along with it? Check out these intricately hand-crafted cocktails from some of the on-site vendors. Plus, they are going to have two fun activations – the Hendrick's Gin 3-story bar and the Monkey Shoulder Monkey Mixer
Hendricks Gin
Cucumber Southside
1.5 parts Hendricks Gin

.75 parts fresh lemon

.75 parts simple syrup

Garnish with mint leaves and cucumber wheel
Peculiar Peach Punch
1.5 parts Hendrick's

1 parts ginger peach tea

0.75 parts fresh lemon juice

0.5 parts crème de peche liqueur

0.5 parts simple syrup
Hendrick's and Tonic
1.5 parts Hendrick's Gin

4 parts Tonic

Garnish with an English Cucumber slice
Monkey Shoulder Blended Malt Whisky
Mixed-Up Monkey (served from the Monkey Mixer)
1.5 parts Monkey Shoulder

0.75 parts Mint simple syrup

0.5 Parts Fresh Lemon Juice

3 Parts Club Soda

Garnish with mint sprig
Monkey Smash (served at the bar next to the Monkey Mixer)
1.5 parts Monkey Shoulder

1 part Fresh Lemon Juice

0.5 part Simple Syrup

1 part Abricot du Roussillon Liqueur

1 dash of Angostura Orange Bitters
Ginger Monkey
1.5 parts Monkey Shoulder

4 parts Ginger Beer

Garnish with orange wedge
Flor De Cana Aged Rum
Basil Mojito
1.5 part FDC 7

1 Basil Sprig

.5 part fresh lemon juice

.25 part fresh passion fruit juice

. 5 part simple syrup (1:1 ratio)

2 parts club soda

Garnish with a Lemon Wedge, Basil and sugar cane stick
Flor de Cana 12 Year Old (poured directly from bourbon cask using dipping dog)
1.5 parts Flor de Cana 12yo

2" ice cube
Flor de Cana & Pineapple
1.5 parts Flor De Cana

4 parts pineapple

Garnish with a Lime wheel