Entertainment & Events
This Weekend in San Diego 9/13-9/15
By
|
Filling your weekend with wine, music festivals, and delicious eats. The highly anticipated KAABOO Del Mar returns for three days of live music, comedic entertainment, art and more! For those who can't wait for Halloween, rock out at the Friday the 13th Zombie Party in Oceanside. Oyster lovers can attend Oysterfest at Maretalia in Coronado featuring unlimited oysters! There's tons to do and such little time!
Friday, September 13
Get ready to boogie all weekend long at KAABOO in Del Mar. Jam out to popular artists like Mumford & Sons, Black Eyed Peas, One Republic, and so many more. Enjoy the delicious food demonstrations, craft cocktails, art installations, galleries, and more at the 3 day event. Tickets are still available, get yours here.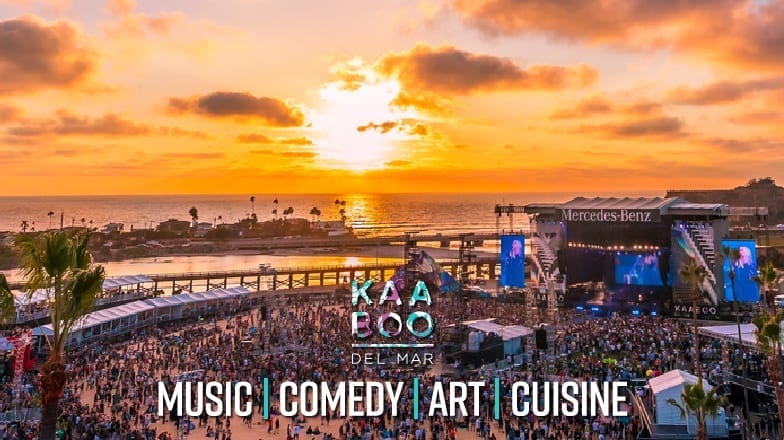 Oceanside's 333 Pacific will host a 6-course wine dinner featuring paired red and white wines from Paso Robles favorite, DAOU Vineyards & Winery. To pair with the wines, diners will also enjoy the best from the surf. Tickets are $90. For reservations, please call 760-433-3333
Ethan Bortnick is a talented pianist singer, composer, songwriter and musician who at age 9 was listed in the Guinness World Records for "The World's Youngest Solo Musicians to Headline His Own Concert Tour." In July 2011 (age 10), he became the youngest headliner at the Las Vegas Hilton. This Friday, head to the California Center for the Arts, Escondido to witness Ethan fill his audience with a sense of wonder and awe. This is a must-see for the entire family. Tickets start at just $28, the show begins at 7:30 pm.
This Friday come out to Black Plague Brewing in Oceanside to taste some of their new beer releases and to party on this superstitious Friday. Wear your favorite zombie head or T-shirt and sip on your favorite brews.
Saturday, September 14
Come splash at the Mission Bay Yacht Club and sip on your favorite brews while raising money for veterans at the same time. This fun event features relay races including Khaotic Kayak and SUP Pandemonium competitions, a community paddle with vets, tons of great raffle prizes and beer. The event takes place from 8:00 am – 2:00 pm at the Mission Bay Yacht Club
Coronado's Maretalia Italian Coastal is hosting their first annual Oysterfest! The event will include unlimited oysters, small bites, and bottomless Lillet® spritzes and Campo Viejo™ Prosecco from 12-3 pm. In addition to unlimited food and drinks, guests will mix & mingle to live music by Jenny OHenny. Tickets are just $50. Get yours here.
Santee is hosting Beer, Wine, Dine, & Let the Bluegrass Shine at the Town Center Community Park East starting at 5:30 p.m. Purchase your $50 ticket for unlimited food and beverage samples to benefit the Santee Teen Center, park improvement projects, and the Recreation Scholarship Program. Designated driver tickets are $35.
The 3rd Annual Taste of San Marcos features a collection of the best bites & sips from the growing culinary and beverage scene in San Marcos. Enjoy an array of delectable eats from local culinary masters and unlimited sips of amazing craft brew, cider & wine from local & independent acclaimed wineries and breweries. Plus, live music from Jesse Ray Smith. The event is from 1 – 4 pm; tickets start at $35.
The Old Mission Beach Athletic Club (OMBAC) is calling all surfers to grab their vintage longboards and paddle out for a nostalgic competition at the North Side of Crystal Pier in Pacific Beach benefiting the Prevent Drowning Foundation of San Diego. Spectators are encouraged to grab their binoculars to view the competition from the pier, which provides them with a "bird's eye" view. The 26th Annual Classic Longboard Surfing Contest will take place on Saturday, September 14 and is an opportunity for surfers to gather and pay homage to the "Golden Age" of surfing. All contestants must surf on longboards made in 1969 or older, nine feet or longer, with no leash.
Old Town San Diego State Historic Park will host its annual festivities for Fiestas Patrias, or Mexican Independence Day. The free celebration begins with the ceremonial ringing of the bell at the historic Casa de Estudillo, followed by a parade, live entertainment, games, and activities representing what early settlers enjoyed in San Diego in the 1800s.
Sunday, September 15
Spend Sunday the right way—come to The Spa at The Inn at Rancho Santa Fe and enjoy an 80-miute yoga session that lets you stop and sip some delicious wine. Enjoy 6 tastings along with your yoga class to truly put your mind into total relaxation, starting at 3 p.m. for $40.
Enjoy the September night with delicious snacks at Rooftop Cinema Club located at the Manchester Grand Hyatt. The Mighty Ducks (1992) will be playing this Sunday with food and drinks available, and tickets starting at $17.
Tahona – a mezcal-focused tasting room and restaurant in Old Town San Diego – has been celebrating Mezcal Week, an entire week dedicated to the agave-based drink. This Sunday, the eatery will offer a special mezcal-themed brunch, with live music from 11 a.m. to 2 p.m. Tahona will keep the party going with an hour-long blind tasting event at 6 p.m., and a live Spanish guitar set from Sol y Sambra from 6 p.m. to 9 p.m. A late-night Happy Hour with deals from 8 p.m. onward round out the mezcal celebration.
San Diego Melanin is taking over the STK Rooftop. Over 600 young professionals will be in the building so secure your finest DRIP and close out the summer. Enjoy great cocktails, a taco bar, and music by Dauche and Mister Hek. Tickets start at just $15, get yours here.
Head to the Bay Side Park for a fun day in the sun celebrating the LGBTQ+ community and all of its diversity. Enjoy the beautiful Chula Vista bayside, live music, great food and drinks along with bay activities.