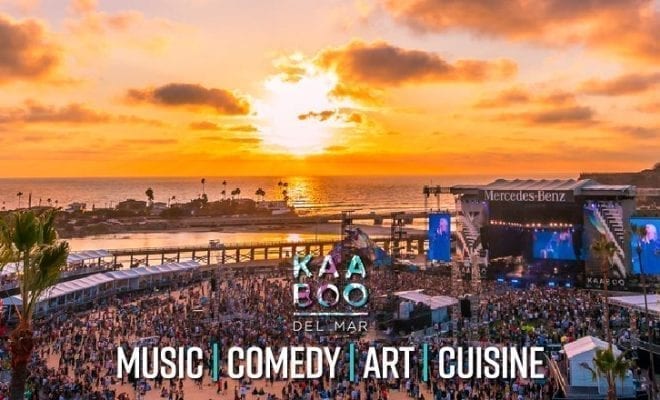 Entertainment & Events
What To See at KAABOO Del Mar 2019
By
|
KAABOO Del Mar returns to the racetrack for three days of live performances, comedic entertainment, art installations, culinary showings, and more. The unique experience combines music, comedy, food, and art for a weekend filled with Instagrammable moments, delicious eats, and a damn- good time. Transforming Del Mar into a sensory oasis, San Diego's biggest festival, KAABOO Del Mar, is the place to be to bid farewell to summer. This year, the trendy event boasts a musical line up of both classics and newcomers – which we have seen in past years. Appealing to fans of all musical genres, the festival is sure to have something for everyone to enjoy. Here is what not to miss this year at KAABOO Del Mar.
The Music
The musical lineup never fails to impress, with hip hop veterans Snoop Dogg and Black Eyed Peas leading the evening performances at the USAA Grandview stage. Snoop Dogg, who performed at KAABOO back in 2015 will be returning with Wu-Tang Clan Friday evening at 7:35 pm. On Saturday, the Black Eyed Peas will grace the same stage with new frontwoman, Jessica Reynoso at 8:05 pm.
The Sunset Cliff Stage offers attendees a stellar lineup, with Kings of Leon headlining Friday night's performances at 8:25 pm. The Tennesse natives who also happen to be brothers formed the band with their cousin in 2002. Kings of Leon shot to fame in the late 2000s after hits "Sex on Fire" and "Use Somebody" gained international attention; both were released on their 2008 album, Only by the Night. Preceding the band is country star Maren Morris at 6:25 pm. Morris famously provided vocals for the 2018 hit, "The Middle", a collaboration with Zedd and Grey that received three Grammy nominations. On Saturday, don't miss rock band One Republic ("Apologize" ft. Timbaland) hit the stage at 6:25 pm, followed by 90s legends, Dave Matthews Band ("Crash Into Me") at 7:55 pm.
Sunday night, the ladies are leading the evening, with nine-time Grammy Award winner, Sheryl Crow (All I Wanna Do) performing at the Sunset Cliffs stage at 5:25 pm. Then, head over to the BMW Encinitas Trestles Stage to catch southern California native and "Bubble Toes" singer Colbie Caillat at 6:05 pm. Mumford & Sons, whose hit song "Little Lion Man" from their Sigh No More album earned them 3 Billboard Music Awards in 2011, will be closing out the festival at the Sunset Cliffs stage at 7:20 pm.
The Laughs
In between grubbing your face off and dancing your feet off, you can laugh your a** off, too! KAABOO's Humor Me Stage will feature an impressive roster of veterans and rookies in the comedy scene. The live performances will be hosted by MK Paulsen, a Texas native whose blog featuring a professional newborn baby photoshoot with a Chipotle burrito went viral in 2016. On Friday, catch Kevin Smith, the latter half of the stoner duo, Jay and Silent Bob. The filmmaker, actor, comedian, and podcaster will be cracking jokes at 6:25 pm. The last live performance on Friday night will be by Pete Holmes & Friends at 11:00 pm.
King of shock humor, Tom Green opens the Saturday funny festivities at 1:45 pm. He is followed by Silicon Valley star, Jimmy O. Yang at 4:00 pm. Bert Kreischer will hit the stage for some late-night laughs at 11:00 pm. His standup special, Bert Kreischer: Secret Time is currently streaming globally on NETFLIX. On Sunday, long-time host of America's Funniest Home Videos, and Full House dad, Bob Saget will be performing at 4:20 pm, followed by Whose Line Is It Anyway alum, Wayne Brady at 6:25 pm.
The Art
The festival is filled with contemporary art installations, photo booths, display art, and more throughout the grounds. Everything from pop art, jewelry, photographic pieces, decor, and more can be purchased at the festival. Additionally, guests can feast their eyes on eye-popping murals as they walk the festival grounds. Local artist Carly Ealy is known for her giant works of seductive and celestial images of human life, spirituality, and the natural world. Her work can also be seen in various parts of San Diego
Other local artists include exhibits by the San Diego Museum of Art located in Balboa Park and Sparks Gallery, downtown's boutique space that hosts contemporary pieces by local artists.
For the full list of performers and entertainment at KAABOO Del Mar 2019, click here.