Entertainment & Events
This Weekend in San Diego 5/31-6/2
By
|
As we kiss the holiday weekend good-bye and return to our regularly scheduled 2-day weekend, summer is in the atmosphere. This weekend marks the first weekend of June, and San Diego is giving you the perfect balance of relaxation – with fun hiking trails (Saturday is National Trails Day) and alcohol-fueled festivals. There's something for everything this weekend. Check out what's on the agenda below!
Friday, May 31st
See Princess perform their live narrative video album Out There at the eXit pARTy on Friday, May 31. Princess debuted Out There this spring at the Andy Warhol Museum before touring to the New Museum of Contemporary Art, Museum of Contemporary Art Cleveland, Wexner Center for the Arts, The Bass, and many other institutions. The eXit pARTy performance will be the final stop on their tour. eXit pARTies are free for Members and $25 for non-members. Ticket price includes one complimentary craft cocktail from Snake Oil Cocktail Co., live DJ sets, and art-making activities on the Figi Concourse.
The highly anticipated Food Truck Fridays program returns May 31 for 18 straight weeks of great food, free live entertainment, and family-friendly fun. More than a dozen carefully curated gourmet food trucks will be parked along the El Prado walkway every Friday, through September 27, from 4:00 pm to 8:30 pm.
This event is for seniors, families, and adults who are interested in learning how to live a healthy lifestyle. There will be prizes, refreshments, and good conversation at the La Jolla Community Center at 10 a.m.
Enjoy a weekend cruise around the bay with Horn Blower Cruises and Events. Enjoy delicious drinks and dining as you feel like a millionaire for a night with your best friends by your side, and a drink in your hand.
Head to the Pechanga Arena this Friday to check out live performances by HALSEY, Ellie Goulding, Bebe Rexha, CNCO, Ally Brooke, NCT 127, Bryce Vine, FLETCHER ,and AJ Mitchell. Tickets start at just $56.50. Doors open at 4pm; show begins at 6pm.
Saturday, June 1st
Come on out to support the American Liver Foundation while enjoying UNLIMITED beer samples, food samples, and live music. Purchase a designated driver ticket for only $25 which includes Waterloo sparkling water and 8 food samples if you aren't a big drinker. There will also be music courtesy of Half Car Garage, Jenny & James, Andrew Barrack and DJ INDO from Z90 whom will all be performing at this year's Sip N Savor on June 2nd. Tickets for general admission are only $50 which includes unlimited beer/cider/Boochcraft tastings and 8 food samples. VIP tickets get an extra hour of drink samples as well as additional unlimited cocktail/spirit tastings for $80.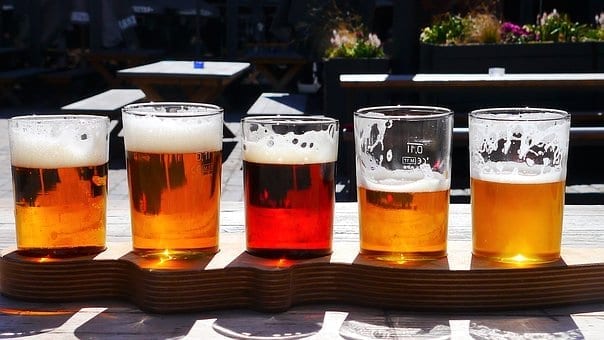 San Diego Bay Festival will be hosted by Music Box and DM events. The festival with national headlining entertainment is expected to draw 7,000+ attendees. San Diego Bay Festival gives attendees an opportunity to enjoy the first of San Diego's summer sun. Delicious specialty foods, craft beers, craft cocktails, and fine wines will all presented by local restaurants, bars, and nightclub staff. Local arts and crafts, as well as corporate booths, will be on sale throughout the festival.
Start your Saturday off with a brisk 5k at Liberty Station NTC Park starting at 8:30 a.m. Bring your friends and family out to help support this amazing cause and to give back to your community.
Enjoy margaritas crafted on-site, dance to live music, fill up on grub from gourmet food trucks and shop 'till you drop at the marketplace at PACIFIC's Margarita Festival & Grand Tasting Event. The Margarita Festival is a celebration of San Diego's original craft cocktail. Taste margaritas from over 25 of the city's top bars and restaurants all in one place as they battle to be YOUR favorite. Cast your votes and witness who will win the trophy for San Diego's Best Margarita. All tickets include entrance to event, margarita samples from all participating venues and amazing performances. Other food and beverages are available for purchase.
Sunday, June 2
Don't miss the 3rd annual Sip N Savor festival where you will get to snack on tasty food samples, sip on unlimited refreshing brews and enjoy live tunes from great local artists including DJ INDO from Z90, Andrew Barrack, Jenny & James and Half Car Garage!
Catch their live performance at the Belly Up this Sunday at 9pm. Get your tickets here.
Come join us for Shimbashi's 10th anniversary celebration at the Ocean View Deck. Enjoy live Japanese Taiko drumming, a Sake Expo, Japanese street foods, festival games, cultural performances, and more. There will be audience participation with an opportunity for you to play the taiko drums.
In celebration of the urban wineries and the first annual San Diego Urban Wineries Weekend, (May 31-June 2) Barbusa in Little Italy will be celebrating all month long with a special menu showcasing 4 wines from San Diego's Urban Wineries. Available at Barbusa starting May 31st and available throughout the month of June, Barbusa will be a destination to sip all of San Diego's best urban wines in one place. The wines featured will be from Carruth Cellars, showcasing their 2018 Sauvignon Blanc, Negociant Wineries, Charlie & Echo and Gianni Buonomo Vintners, showcasing their award-winning 2015 Barbera.
The only way to enjoy Sunday is to forget tomorrow is Monday, at brunch. Cruise around San Diego with Flagship Cruises and events to create the perfect setting for your Sunday morning brunch spot.