Entertainment & Events
This Weekend in San Diego 11/1-11/3
By
|
It's officially November, and this weekend is full of fun family events and live entertainment. Enjoy delicious food, craft beer, and Dia De Los Muertos celebrations all weekend long.
Friday, November 1
With San Diego being a top microbrewery destination, Friday will kick off the 11th Annual San Diego Beer Week to celebrate the delicious craft brewers. The 10-day festival will feature over 130 independent craft breweries from all over the county. There will be plenty of good music, delicious bites, and pairings.
Friday night, The Escondido California Center for Arts will host a free Día Del Los Muertos event full of fun activities from 6-9 pm. The event will include a traditional blessing by Calpulli Omeyocan, ballet folklórico by Tierra Caliente Academy of Arts, live music, handmade vendors curated by The Movement, and a variety of food trucks to enjoy.
The 8th Annual Beachside Fall fest returns at Belmont Park this month, for guests of all ages to enjoy. The festival is held every Friday – Sunday during the month of November. Fall themed rides and activities will take place every night from 5-9 pm, including a hay maze, cornfield tunnel, free trick-or-treating, pirate-themed mini-golf and more. Buy one get one free wristband will be available all throughout the month of November.
Set sail with us as we embark on this special edition Ballast Point Brews Cruise for a unique experience along the San Diego Bay with Flagship Cruises & Events. This special tacos and beer cruise happens during Dia de Los Meurtos, so the festivities will be high. The cruise features unlimited samples of over 20 different Limited Release and Iconic Ballast Point Craft Beers, including special releases and limited production from SD Beer Weeks. There will be two floors of entertainment including the Sugar Skulls Band playing Modern Rock with a Latin twist. Rock your best "Day of the Dead" attire or come causal. Tickets are $50 per person.
Theodore Lee Croker is an American jazz trumpeter, composer, arranger and vocalist. Born in Leesburg, Florida, Croker is a three-time Echo Award nominee, as well as a Theodore Presser Award recipient. Catch him perform live at the Loft at 8:00 pm; tickets start at $28.
Saturday, November 2
Celebrate "Day of the Dead" in style at one of the most vibrant events in Old Town. Beginning at 11 am, Fiesta De Reyes will kick off with live entertainment, face painters, art demonstrations and a parade at 5 pm. This event is FREE and open to the public.
Get ready for a flippin' good time at Park 101's 2nd Annual Police Pancake Breakfast, Saturday, November 2nd. Bring the whole family out for a morning of fun from 10 am -2 pm, where the Carlsbad Police Department will be manning the grill and cooking pancakes for the community. Enjoy breakfast for a good cause, as 25% of the proceeds from each meal will be donated to Shop with a Cop, a local program helping to bring a bright Christmas to underprivileged kids. There will also be a local gift card silent auction.
Start your day off with a fun, yet challenging yoga session in Downtown San Diego from 8:30-9 am. Free admission open to the public. Be sure to bring your own mat and water.
Don't' miss San Diego's Event of the Year! On Saturday evening in the crown room at the iconic Hotel Del Coronado, guests can enjoy an evening in support of the orphaned and abandoned children of Baja. Tickets to the charity gala are $150 a person which includes a champagne reception, Mezcal, and Baja wine tastings, a delicious dinner, DJ and dancing. The event begins at 5:30 pm.
Sip and swirl from 11 am-5 pm at the 7th Annual wine festival filled with wine tasting, a live auction of hand-painted wine barrels, local food artisans, bakers, cheesemakers and much more. General admission is $75 per person.
Sunday, November 3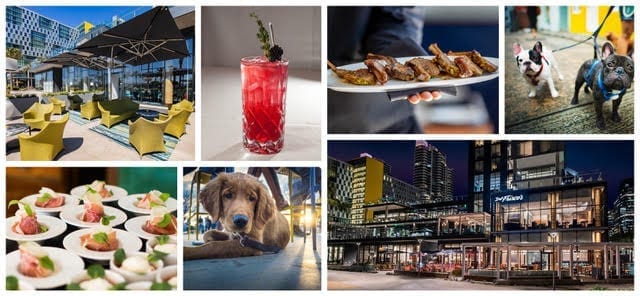 Del Frisco's dog-friendly patio is a stylish locale for bayfront happy hours and al fresco dining with your four-legged friends. In the spirit of San Diego's canine-loving culture, Del Frisco's is throwing a Pups on the Patio fundraiser Sunday evening from 4-7 pm. Cost is $50 per person which includes 2 drinks, hors d'oeuvres, and organic dog treats.
From 11-4 pm, Gaslamp district will be filled with historical and lively festivities. Free family fun happenings include panning for gold, an adventurous pony ride, ice cream eating contest and much more.
From 2-5 pm, The Village of Pacific Highlands Ranch is hosting a food tasting with local restaurants including; Baked Bear, Fresh Brothers, Luna Grill, and several more. 10 percent of proceeds will go toward the Canyon Crest Foundation, in support of teachers, coaches, administrative staff and students in the local community. Tickets are $25 per person.
Calling all donut lovers! Get ready for a fun-filled tasty event from 1-5 pm at Iron Fist Brewery. For $35 guests will enjoy 1 donut sample from several booths and 1 beer drink ticket. There will also be a donut eating contest and prize giveaways!
Join a community of survivors and co-survivors at the Susan G. Komen Race for the Cure event this Sunday from 6-11 am. All proceeds will go toward the Susan G. Komen foundation to help to fund research and medicine for breast cancer patients. For those that want to volunteer at the race, click here for more information. Event t-shirt is given to those at the race or at pre-registration.