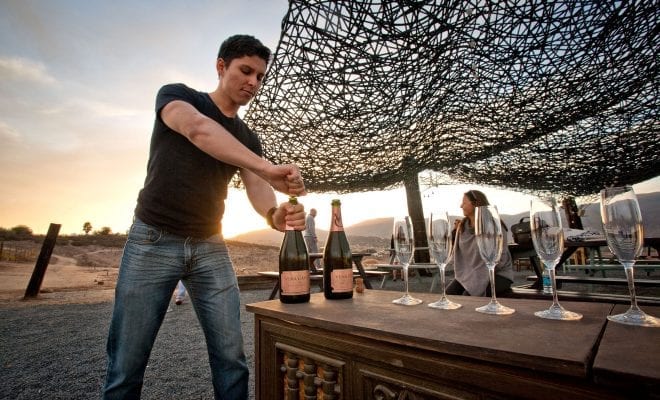 Entertainment & Events
16th ANNUAL SAN DIEGO BAY WINE & FOOD FESTIVAL Not to be missed. Period
By
|
Some of the signs of fall in America's Finest City are our cooler nights, daylight savings time's demise and the upcoming holidays. But one of our absolute favorites is the annual San Diego Bay Wine + Food Festival.
We have covered virtually all the events like this throughout California and in several other parts of the country and this event is truly the very best of its kind anywhere. From nationally recognized celebrity chefs preparing exquisite multi-course dinners to legendary mixologists and winemakers pouring up lovely libations, the festival is truly a beacon of culinary joy that is easy to get wrapped up in. But don't just take our word for it (even though The Entertainer IS everything San Diego), USA Today named it winner of the 2019 USA Today 10Best Readers' Choice travel award contest for Best General Food Festival.
The week-long festival, which has literally something for everyone, begins this year on November 10th and culminates with the immensely popular Grand Tasting on November 17th at the stunning Embarcadero South. There are over 40 different events throughout the week, which provide an amazing variety of immersive wine and food offerings, really creating special bucket-list check-off experiences and amazing memories.
We recently caught up with Michelle Metter, SDBFW Festival Producer and Owner of Fast Forward Events, (which as you can imagine is no easy task), one of the primary architects of the Festival. Michelle rightfully displays a deep pride in the event. "The festival is now in its 16th year, and each year our team is challenged with helping to tell the evolving story of San Diego as a thriving destination for food and beverage," she shares. "I'm most proud of the fact that we get to help shine a light on all of the amazing chefs, winemakers, brewers, farmers, fishermen, artists, and more who make San Diego such a unique and special city. The festival started in 2004 and at the time, our goal was to build a great event for people who love food. I don't think we anticipated at the time that the Festival would become what it is today. We're super proud of the role the festival plays, the scholarship and nonprofit programs we support, and our ability to amplify what is happening here in San Diego out to the nation."
Each year, the SDBFW Festival adds new events to the existing favorites.  Michelle shared a few of these highlights, as well.
"This year's festival will highlight natural wines and vegan chefs in a new Plant-Based Zone, presented by Miyokos. Additionally, we are offering a Chef's Table experience featuring acclaimed guest chefs, authors, and educators. The Chef's Table will give an exclusive, more intimate cooking demonstration with insider tips and the opportunity for Q + A. I think it's also important to spotlight Camp Cohn, our exclusive VIP experience, where rustic vibes will meet beautiful bay views at this glamping hot spot, featuring wine, cocktail tastings, chef-crafted cuisine and an array of interactive activities. And as far as I know, I believe we are also the only binational wine and food festival in the country, holding events in both the US and in Mexico simultaneously inside of the same festival week. Attendees at the Grand Tasting will have the chance to also stop by the Baja Pavilion to meet chefs and winemakers from the Baja California region as well."

Michelle Metter, Fast Forward Events
This region has really gained a prominent position over the past years for producing quality wines, as well as being an excellent destination.
While the wine and culinary component is a good time, charity is also an important aspect of the festivities. To date, the San Diego Bay Wine + Food Festival has raised more than $375,000 towards scholarships, helping aspiring culinary professionals achieve their dreams. This year, the festival is partnering with Fast Forward Future to help raise funds for continuing world-class education in the culinary, enology, viticulture and hospitality industries.
The San Diego Bay Wine + Food Festival has been providing San Diegans and visitors from all over the world one of the finest opportunities to experience the very best in culinary magic. No other event in San Diego is as dynamic and encompassing as this, and if you're a fan of such things, you do not want to miss this.
For a closer look at the amazing events taking place during the week, we have a breakdown of the top experiences. To purchase tickets, visit SanDiegoWineClassic.com