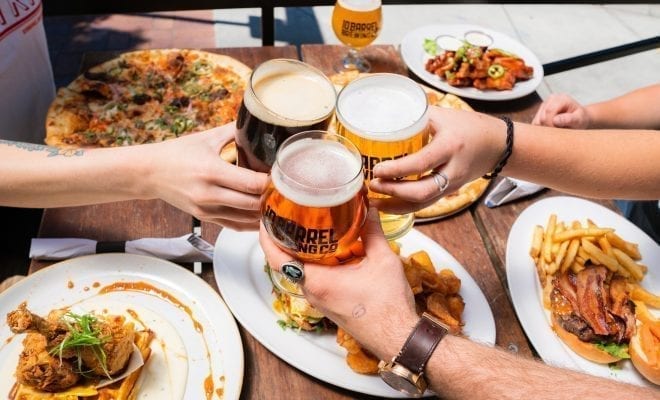 Entertainment & Events
Your Guide to San Diego Beer Week 2019
By
|
San Diego Beer Week has returned and with it comes a 10-day celebration featuring more than 130 independent craft breweries. Taking place from November 1-10, San Diego Beer Week will feature tons of events held throughout San Diego County at participating breweries, bars, restaurants and more. Celebrate the thriving craft brewing culture by checking out these featured events during San Diego Beer Week.
Celebrate SDBW, Day of the Dead style at 32 North Brewing Co. Enjoy variations of their dark Death of A Brewer and Russian Imperial Stouts, along with food truck vendors, a photo booth, music, and more!
Join Second Chance Beer Company for a county-wide celebration to kick off SDBW. You will also get the chance to try out their new Capital of Craft IPA, brewed specially for the occasion.
Join the San Diego Brewers Guild and more than 60 independent breweries for the annual 2019 Guild Fest! This kick-off party will showcase new craft beer from San Diego and beyond, a pre-party harbor cruise, and more.
Get ready for some serious competition as beer and darts clash for the ultimate tourney. Partake in some good old fashioned dart games with an ice-cold craft in hand.
Enjoy an excellent selection of IPAs, Belgians and Stouts at the Green Flash Smokeout. Food specials will also be available like mouth-watering Smoked Pork Belly being served on Hawaiian sweet rolls.
Flex your trivia skills at this showdown sponsored by North Park Brewing. Compete with other beer nerds for the ultimate prize: a "Beer Nerd of the Year" plaque.
Tom Ham's Lighthouse will be hosting this ultimate bayside craft beer event featuring 12 brewers and chefs. Gaze upon gorgeous views of the San Diego Bay as you sip on craft beer and food pairings from some of the city's finest culinary artists. 
Delight your tastebuds with a truly extraordinary meal prepared by the brilliant minds behind Wild Barrel and Lionfish. This inventive six-course dinner features creative bites, fresh seafood, and of course, craft beer.
An acronym for Barrel Aged Day, B.A.D. Tuesday is Pure Project's special day to finally crack open some of their finest rare beers that have been under lock and key until now.
Canna-Nerd Nite – Nov. 5 – 32 North Brewing Co.
This educational event will have three speakers from San Diego's cannabis industry spewing some fascinating facts, debunk myths, and plenty of mind-blowing science about cannabis. Nerding out and drinking is the name of the game at Canna-Nerd Nite.
Celebrate one of the greatest stouts to grace the world, all thanks to AleSmith. Some highlights of the evening include a Speedway Stout served in five different versions, creative beer floats, an opening of a cask of .394, and a Barrel Aged Quad.
Sour lovers must make it out to Thorn Brewing Co. to try an incredible list of sours. Pair your sour with tacos from Tacos El Mero Mero to make it a classic night.
Your furry friend deserves to be included in the fun of SDBW! Bring your pup dressed to impress for this costume contest, with prizes on the line, and beer to be consumed.
Come out and sip some delicious beers and listen to some classic tunes spinning on vinyl!
Join SBDW for the Battle of the Guilds. There will be 15 beers from each of three guilds; San Francisco, Los Angeles, and San Diego.
Clay Colton Band – Nov. 8 – Duck Foot Brewing Co.
The Clay Colton Band is known for putting on a great show, so come out and enjoy some good music and great beer.
Stone is one of the leaders in the brewing industry when it comes to excellent IPAs, but they have always carried a deep appreciation for the darker side of beer. At their DRK Festival, Stone will be throwing a massive celebration of the finest stouts, porters, and barrel-aged delights to be found in San Diego County. This event will feature a top-notch list of beers from both Stone and other fine breweries throughout the world.
With three local brewpubs participating, this pub crawl will feature a snifter pour at each location and a house pairing tasty bite from the kitchen.
10 Barrel Brewing Co. is throwing its first-ever Cali Love Music & Arts Festival to celebrates beer and the local San Diego community. Enjoy 20 different beers on tap, nine local indie rock and reggae bands on three stages, live art demonstrations and more at the East Village brewpub. The Festival will kick off with a scenic rooftop yoga class from 12 – 1 p.m. and live music will be bumping from 2 – 11 p.m.