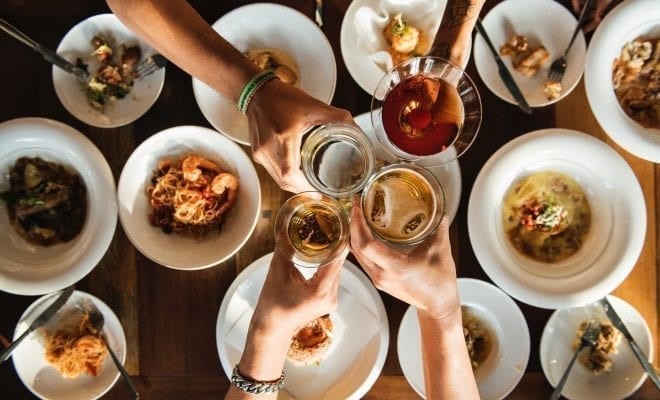 Entertainment & Events
This Weekend in San Diego 1/25-1/27
By
|
We will be closing out the first month of the year soon, and it's almost time to check in with those New Year's Resolutions we made ages ago. Anyone stick to Dry January? How's that fitness journey going? Cheat on your diet yet? Well, don't be too hard on yourself if you didn't follow through…there's always next year. Luckily, here in San Diego, we live for the weekends, and the city always delivers. Whether you're sticking to your 2019 resolutions, or living your best life, check out our top picks for the weekend.
Friday, January 25th
Looking for something to do with your little one? Check out Finger Painting Friday at The New Children's Museum starting at 10 am; tickets are $14. Other toddler activities are free with admission. You and your little one can experience all the joys of finger painting, without worrying about the clean up.
Friday at 11:30 am you can be a part of the BOMA San Diego "Building the Leader in You" luncheon series. Enjoy an afternoon of honoring our Public Officials of the Year. The lunch will be held at Tom Ham's Lighthouse with tickets starting at $55.
Duck Foot Brewing will be partnering with Specialty Produce to host a Furlough Feast at their East Village location, available to all furloughed government workers and their families who've been unfairly affected by this political battle. Just show your work ID/badge or paystub for $1 Pints, FREE chicken tortilla soup and our famous Brazilian cheese bread, from 3-8 p.m.
Enjoy a rare live interview with Eirk Marinovich this Friday at 7 pm; tickets start at $37.50. The Luce Loft will be hosting the podcast recording while serving drinks and getting the inside scoop on the designer's life.
Calling all Government Employees. Escape the stress and join us for a relaxing, complimentary cruise of San Diego Bay. Flagship Cruises & Events is San Diego's only local and family-operated cruise company since 1915, and they're committed to the community. To give back during this difficult time, all federal employees and their families are invited to a free 1 or 2-hour harbor tour during the shutdown. Choose from 6 tours departing daily.
Joel McHale is one of the most sought-after comedians and actors in the industry. He was most recently seen in The Happytime Murders as well as Netflix's A Futile & Stupid Gesture opposite Will Forte, in which he played Chevy Chase, his former Community co-star. McHale also recently hosted The Joel McHale Show with Joel McHale on Netflix, a half-hour topical series that took a sharp, absurdist look at pop culture and news from across the globe.
Saturday, January 26th
Come out to support the annual Children's Item Rummage Sale this Saturday at Northminster Presbyterian Church at 8:30 am. Enjoy sale items such as clothing, toys, games, furniture, and much more.
Head to Guajome Lake Regional Park at 9 am to support the "African Wild Dog", put on by Global Conservation Force. All proceeds will go toward the ranger training programs and will give back to other local communities of animals. Tickets start at $40.
Learn how to make delicious homemade cheese at Modern Maker Market this Saturday at 10 am, tickets starting at $60.
This Saturday morning at 10 am at Liberty Station NTC Park, middle school girls will be putting on an empowering morning workout. Join the Girl Squad Fitness team to learn more about the health and fitness in a safe space where you will be challenged and feel inspired by young minds.
Get ready for the largest display of sailboats in the west coast. Enjoy a crisp morning out in the San Diego Bay while enjoying drinks and local bites. The event will be held at Sunraod Resort Marina at 10 am – 6 pm with free admission.
Sunday, January 27th
Breakfast Republic Book Club Adventure is your chance to eat breakfast for dinner and meet a New York Times bestselling author in between bites. Taking place at The Village at Pacific Highlands Ranch, on Sunday, January 27th at 4:00 PM, join this book club gathering in partnership with one of San Diego's top breakfast destinations, for a breakfast, Author Presentation and book signing with bestselling author Melanie Benjamin and her new novel, The Girls in the Picture! For only $20, gain admission to this private event and get your own signed copy of The Girls in the Picture along with the opportunity to meet Melanie in an intimate setting! Sweeten the deal courtesy of Breakfast Republic with a themed breakfast-for-dinner menu designed for the event for only $10 dollars
San Diego Audubon is resting the habitat of the CA Least Tern this Sunday at 9:30 am. The endangered sea bird's are a special animal and you will be helping by cleaning the weeds and repairing fences so that you can help these little birdies live.
Start your Sunday off on a healthy note learning more about the benefits of juicing and how to properly stretch in order to reset your body. Enjoy the tell-all at Stretch U at 10 am. Keep your resolutions for 2019 going and make a healthier you! Cold Press Rx provides quality community educational programs and services throughout San Diego. At Stretch & Sip you can try free demo stretches, make your own juice and learn about the benefits of each vegetable and fruit you juice.
Come and learn the importance of fermentation and how to make your own kimchi. You will also learn about healthy bacteria and how these probiotic recipes can help you. Come to the Wild Willow Farm and Education Center at 11 am this Sunday.