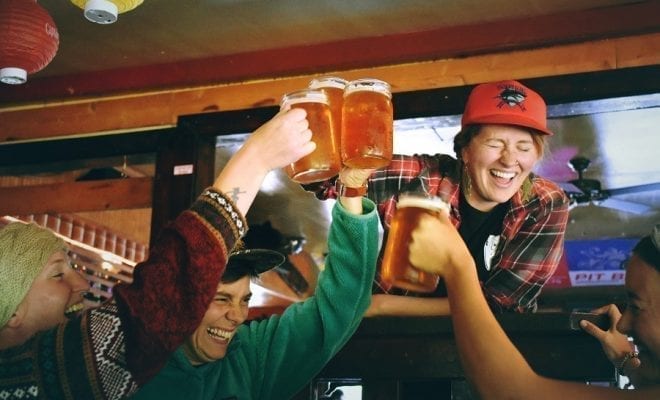 Entertainment & Events
Where To Watch the Superbowl
By
|
It's that time of year again, where Americans across the nation will gather for a day of beer-drinking, chip-dipping, and football-watching frenzy. This year, the New England Patriots will return to the field for their third consecutive year to face off the Los Angeles Rams. Pop group Maroon 5 will take the stage mid game for the highly anticipated Pepsi Super Bowl LIII Halftime Show. Not to mention the commercials! Check out our favorite spots loaded with food and drink specials for the big game.
Catch the game with a slice in hand at Woodstock's Pizza, with two locations in Pacific Beach and near SDSU. This hotspot for college students, surfers, and locals alike has the whole package, welcoming fans of all teams to enjoy the Super Bowl with a sizzling pizza and frosty pitcher of beer during the game. Woodstock's knows that the recipe for the perfect Super Bowl Sunday is friends, the big game and plenty of pizza. Check out Woodstock's social media pages and enter to win a catered Super Bowl Party for 10 people! The fun doesn't stop there – From January 31st to the big day, use code "SUPER" on your online order to get 10% off the Legendary #4 deal, an XL one-topping pizza, large salad, and regular dessert CinnaBread.
Make The Loma Club your Super Sunday headquarters. Enjoy all-day food and drink specials, patio games, raffles and watch the Rams vs. Patriots play for the championship. Reserve your table today at 619.222.4653.
Score big with your Super Bowl watching at Barrel Republic, the ideal spot to rev up your team spirit with a couple of cold ones. Known as the mecca for craft beer lovers in Oceanside, Carlsbad and Pacific Beach, Barrel Republic offers the freedom to pour your own pints from well-over 40 casks of coveted craft brews with the simple swipe of a wristband. In honor of the Big Game, Barrel Republic will be featuring $2 taco specials and $3 select pints at all locations to keep you fueled through the fourth quarter.
Head downtown for the biggest Super Bowl LIII Party in San Diego! Parq Nightclub will be playing the game on their massive Ultra High Definition LED wall and offer amazing seating, great food, specialty cocktails, and unparalleled entertainment. Imagine one huge house party with the biggest TV screen in the city. VIP Tables are limited and you can reserve with food and drinks delivered to your table.
There will be food and drink specials on game day. This kid-friendly game spot is filled with tons of activities like bocce ball, shuffleboard, bowling, and so much more. The spacious two-story venue has plenty of lounge seating for you and your friends to kick back and watch the big game.
Join Searsucker Del Mar on game day to party for the Pigskin Showdown. Catch the game outdoors at the covered back bar and lounge, or post up inside to catch the action. They've got every game day snack you could imagine, plus a whole bourbon roasted pig with all the fixings. Choose sides with specialty team-themed craft cocktails, or stay neutral with $15 Bud Light buckets. Plus, plenty of games such as corn hole and contests to keep you busy if you're not into the commercials, with incredible giveaways throughout the day. A wee-ones menu will be available for the football-loving kids, so bring the whole family.
Head to Bub's at the Ballpark for their Super Bub's Sunday event. Enjoy the big game and specials. They will be serving $5 drafts of Bud Light, Montejo, Michelob Ultra and Mission Brewery all day.
San Diego's top party destination, Mavericks Beach Club, will be throwing the party of the year on Super Bowl Sunday. Located just a few blocks from the sand in Pacific Beach, this multi-level entertainment complex, with 5 indoor/outdoor bars, 38 TV's and plenty of food and drink options, will be featuring $20 All-You-Can-Eat BBQ and raffle prize giveaways during halftime. Bring your friends for fun, food and of course, football.
If you plan to watch the game at The Smoking Gun in the Gaslamp District, you'll want to show up early as they have some super deals on Super Bowl Sunday. $18 All-You-Can-Eat-Wings (for two hours) can be paired with $9 22-oz. steins or a 'Holy Smokes Did You See that Play!' boilermaker special (a beer + a shot). Along with awesome food and drink specials, The Smoking Gun will have a half-time raffle for a complimentary Walk of Champagne Brunch, featuring bottomless mimosas, to mourn the end of football the following Sunday. In the mood for a hot dog? They've got you. Try the 'Awesome Dog' made with ¼ pound all-beef hot dog, homemade sauerkraut, red onion, green chili mustard and sandwiched on a homemade bagel roll.
Located on the corner of Fifth and Market in the Gaslamp District, barleymash was one of Sports Illustrated Top 10 places in the country to watch the big game last year, making it a San Diego Super Bowl destination. Fanatics can indulge in an order of Iron Fries, share a barley mac n' cheese dish or go ham on some chicken wings while they cheer their team to victory! With communal tables and large booths perfect for groups, and TV's placed throughout the venue, any seat is a good seat at barleymash.
Watch the game on the big screen, enjoy Smokehouse BBQ, tons of drink specials, and prizes & giveaways every quarter. Drink Specials include $4 Bottles, $20 Buckets Coors Light/ $5 Cans, $25 Buckets Saint Archer White, $6 Smirnoff Vodka Drinks, $6 Jim Beam Drinks, $7 White Girl Rosé, and $12 Champagne Bottles.
PB's favorite beach bar, The Duck Dive, is celebrating Super Bowl LIII in a big way this year! Along with the game kickoff at 3:30 p.m., the beach bar will kick off their game-day specials which include $7 22 oz. Coors Lights in a stainless-steel stein, which guests will be able to keep, $20 buckets of Miller Lite, a $20 touchdown platter with Dive Wings, calamari and oh-so-yummy Duck Fat Fries, and $10 sharable BBQ Chicken and Meat Lovers flatbreads. You won't find a better deal in town and seating is first come, first serve – so plan to arrive early and sport your team's colors!
Family-friendly Park 101 is gearing up for the biggest game of the year by offering football food and drink specials! Enjoy half-off wings, along with $5 Tecates, Kona Brewing and Guava IPAs, $5 house Bloody Marys and $5 Cupcake Prosecco mimosas. Also available will be Park 101's bucket o' beer special, where you get five Kona Big Wave cans for $20. You won't miss a minute of action as the game will be played on Park 101's giant outdoor projector.
Located in Mission Valley Mall, Yard House is the perfect spot to cheer on your team. They will be offering $2 off their over 130 tap beers, and half off select appetizers. Not to mention their dozens of flat screens that allow you to get a good view of the game from any seat in the house.
Don't miss the big game action at Whiskey Girl. Doors Open at 11 am for a full day of drinking, giveaways & football. In addition to the Super Square contest presented by 91X – San Diego, Whiskey Girl will be raffling off a bunch of prizes with "Super DJ" Romeo. A limited number of tables will be available for reservation.