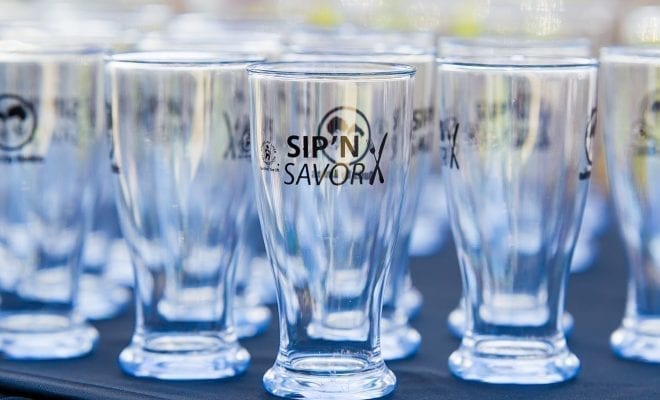 Entertainment & Events
Sip 'N Savor Festival at Hard Rock Hotel: Beer, Spirits & Food Tastings for a Great Cause
By
|
Looking to have a good time while supporting a good cause? Well, the 2nd Annual Sip 'n Savor Festival is here to brighten up your weekend. Not only will attendees get to sample food from local chefs and restaurants, enjoy live music, and drink some great beers, but proceeds go to The American Liver Foundation, a nonprofit organization aiming to bring awareness to liver disease and prevention.
The event will take place at Hard Rock's outdoor rooftop terrace. Tickets include food tastings from 11 different restaurants, plus unlimited beer tastings and a commemorative glass. VIP tickets are also available for unlimited spirit tastings plus a special VIP line so you can be sure to be first to sip and savor all the great beverages and food.
Head to the Hard Rock Hotel this Sunday, April 8th from 12-4pm. Tickets will be sold at the door if they don't sell out, but we highly suggest getting tickets in advance. The event will take place at the Hard Rock's outdoor rooftop terrace, Woodstock, where participating restaurants including JSix, Union Kitchen & Tap, Nobu San Diego, and The Smoking Gun SD will be serving bites to go with your brews.  Tastings will be provided by AleSmith, Belching Beaver, Thorn Brewing and more.
Did you know that in total, over 30 million Americans have some form of liver disease? Over 5.5 million people are living with chronic liver disease or cirrhosis, and approximately 20-30% of adults and 3-10% of children have non-alcoholic fatty liver disease , which can lead to a more serious liver disease called non-alcoholic steatohepatitis. Unnervingly, approximately 4.4 million Americans are living with Hepatitis B or C and many of these individuals do not know they are infected.
The American Liver Foundation is the nation's largest nonprofit organization focused solely on promoting liver health and disease prevention. The organization achieves its mission in the fight against liver disease by funding scientific research, education and support programs for patients and their families, advocacy, as well as public awareness campaigns about liver wellness and disease prevention. The mission of the American Liver Foundation is to facilitate, advocate and promote education, support and research for the prevention, treatment and cure of liver disease.
Grab some friends and start planning for your Sunday funday, all while donating to a good cause. Tickets available here.