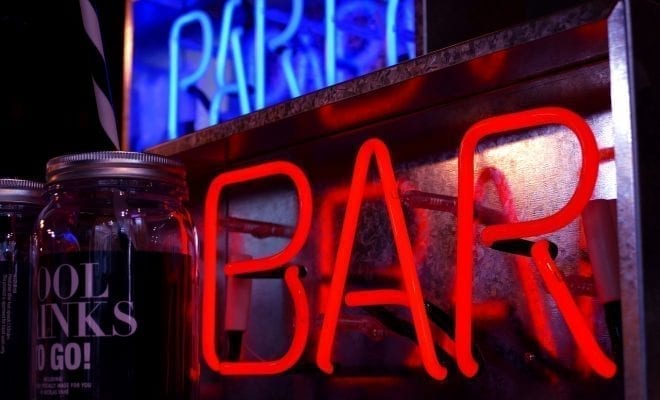 Entertainment & Events
This Weekend in San Diego 4/6-4/8
By
|
This weekend features fun festivals with delicious food, live music, local beer & so much more. Grab some friends and enjoy some of the awesome bands playing in the San Diego sun this weekend. Get active with by signing up for a walking tours or check out some exclusive art exhibits opening up this weekend – you won't want to miss out on the action.
Friday, April 6
Tequila Tasting at Galaxy Taco
Head over to Galaxy Taco in La Jolla for complementary Tequila tasting from 5-8pm. Every first Friday of the month, the host a specific tequila or mezcal brand, and offer samples of the highlighted spirit. Get your free mezcal sample featuring Agave de Cortes and enjoy cocktail specials containing the spirit available for purchase. April's cocktail of the month: Spring on the Cortes – Agave de Cortes, infused Aperol, lemon, passion fruit and Orgeat.
This exhibit will go on display this Friday at the Women's Museum of California in Liberty Station. It comes to San Diego from the Latin American Arts Festival. #metoo has brought awareness for the need for a conversation to stop sexual abuse, harassment, aggression, humiliation, and discrimination. The truth shines in art, the making of art, and is reflected in art. The pieces presented by these ten female artists seek to encourage future generations to bring and preserve equality, dignity, and beauty in our world. General Admission $5. Museum hours: 12-4pm.
Pandas on Imax at the Fleet Science Center 
Pandas are beloved around the world, and now they're coming to the big screen at the Fleet Science Center this friday in the IMAX® original film Pandas, a breathtaking documentary adventure and amazing experience for the whole family. Get your tickets ($19.95) today and head over to the Fleet Science Center at noon to join Qian Qian, a curious female cub on an exciting new adventure in the mountains of Sichuan as she takes her first steps outside her protected habitat, discovering her true animal nature … even as she faces the challenges of the unknown.
The San Diego Repertory Theatre stages Herbert Siguenza and Rachel Grossman's town hall, audience-participation show. The citizens of Beachtown, a small community, want to have a time capsule. But what should go in it? Everyone has a vote, says the mayor, adding "this is democracy in action!" Or is it? Get your tickets today ($24-44).
SD Soundings – UCSD Music Department
SD Soundings (formerly known as Springfest) is an annual festival wholly curated by and highlighting new work from the UC San Diego Department of Music. Featuring FREE events opening this Friday, SD Soundings is where emerging composers, performers and sound explorers preview their most dangerous ideas, initiate new collaborations and launch daring projects. Chamber sounds, computer music, noise, sound installation, free improvisation, and performance art all collide. Grab some friends and support the UCSD students by attending this awesome event.
The Detroit Underground – Humphreys 
The group features a very solid and funky rhythm section. These four seasoned players provide a solid foundation for the band's "smokin" horns. This powerful combination of dedicated musicians gives the band the ability to crank out tunes from artists such as EARTH, WIND, and FIRE, CHAKA KAHN,and STEVIE WONDER. They also play great motown hits and heart-felt ballads. You won't want to miss this your chance to dance at Humphreys Backstage Music Club located on Shelter Island. Tickets are $12, show begins at 9pm.
Michael Ray Live at Moonshine Beach
He may have a pair of number one singles to his name, but Michael Ray knows better than most how to best cultivate a dedicated fanbase. With one name-making show after the next, the Eustis, Florida native built a grassroots following never caring the size, scope or reach of his show. Country lovers head over to Pacific Beach this Friday to see Michael Ray live! Tickets are just $10, doors open at 8pm.
Goodguys 18th Meguiar's Del Mar Nationals
This event is happening Friday & Saturday (8am-5pm) & Sunday (8-3pm) at the Del Mar Fair Grounds this weekend. Adult tickets are $20; $6 for kids, and $14 for parking. The show will feature over 2,500 hot rods, customs, classics, muscle cars and trucks though 1987, plus exhibits, swap meet, Goodguys Autocross racing, entertainment, kids zone and more.
Shady Lady & Hop Heads Historical Pub Crawl & Walking Tour
See the Gaslamp District in a new light Follow your guides back in time to hear about the Gaslamp Quarter back when it was called the "Stingaree" and was infamous for its teeming red-light district. Learn about the historic buildings and colorful characters that populated them. The tour will also stop along three historic bars that are original to the Gaslamp Quarter. Tickets are $10-20; tour begins at 5pm.
Saturday, April 7
This Encinitas festival will featuring more than 20 local and regional artists displaying and selling their work at amazing prices. Fantastic sculptors, painters, glass artists, potters, gourd and fiber artists will also give demonstrations of their craft throughout the weekend. Celebrate the art of Asian horticulture at ArtFest with outstanding displays and demonstrations at the San Diego Botanical Garden. Festival will be taking place Friday, Saturday, & Sunday from 9am-5pm. GA: $14, Kids: $8. FREE with membership.
CityBeat Festival of Beers – University Heights
Celebrate the eleventh-annual event with over 50 breweries, food vendors, and live music. Support music in schools – proceeds from the CityBeat Festival of Beers are donated to the​San Diego Music Foundation, to fund the Taylor Guitars in Schools program. Doors open at 1pm; General Admission tickets are $40.
Oscar winning actor Sean Penn will read from and discuss his new book. From legendary actor and activist Sean Penn comes a scorching, darkly funny novel about Bob Honey — a modern American man, entrepreneur, and part-time assassin. Event takes place at D.G. Willis Books in La Jolla from 2-3pm.
Experience local San Diego businesses with MJ Tours California. On the Buds & Brews Tour you will be taken to some of San Diego's finest craft breweries and dispensaries. Drink, shop, and learn everything there is to know about cannabis and craft beer. Tour takes place from 5-9pm, where you will stop at 2 dispensaries and 2 breweries. Tickets are $110.
Fashion Week San Diego is holding its first event of the year at The Flower Fields in Carlsbad. Get your exclusive sneak peek of FWSD18 designers' collections before they make their full debut on the Fall Runway. The event will feature designer looks, entertainment, signature cocktails and much more. Combining fashion, music, and art, the 2018 Spring Showcase will give guests the chance to interact with designer brands at their trunk show booths. Tickets are $15-25. Show starts at 6 p.m.
Sunday, April 8
Sip & Savor Festival – Downtown
Looking to have a good time while supporting a good cause? Well, the 2nd Annual Sip 'n Savor Festival is here to brighten up your weekend. Not only will attendees get to sample food from local chefs and restaurants, enjoy live music, and drink some great beers, but proceeds go to The American Liver Foundation, a nonprofit organization aiming to bring awareness to liver disease and prevention. Grab some friends and start planning for your Sunday funday, all while donating to a good cause. GA tickets are $45; festival begins at noon.
Seaworld Seven Seas Craft Beer & Food Festival
Julian Gold Rush Days celebrates the discovery of gold in this mountain community and invites visitors to learn more about its history with a weekend of entertainment including gold panning, tomahawk throwing, candle dipping, and more. The old-fashioned mining camp will offer re-enactors, an arts and crafts market, food and drink, a petting zoo, pony rides, and old-fashioned laundry. The Hole in the Wall Gang, a non-profit dedicated to preserving the outlaw legends of the Old West brings their shoot-out show. Tickets are $20; 10-5pm.
Check out this true rockabilly band from San Diego, California. Rockabilly is an early 50's style of rock and roll music. A blend of sounds of western music styles like country to rhythm and blues or a blend of bluegrass with rock and roll. This FREE is taking place at the Coyote Bar & Grill in Carlsbad from 1-4:30 pm
Christine Lynch: The Italian Party – Mira Mesa
Indulge your senses over a delicioso Italian luncheon at Buca di Beppo in Mira Mesa, while Christina shares with readers the inspiration behind her equally delicioso novel. Includes lunch, beverage, author talk, book signing, and the chance to meet the author up-close and personal in an authentic and intimate setting. Event takes place from 11:30am-1:30pm. Tickets are $35.
Jameson Block Party – Pacific Beach
Sample Jameson cocktails from some of our favorite San Diego bartenders, craft Beer tastings, & food from our neighborhood favorites at Maverick's Beach Club. Also enjoy live performances throughout the day from Jameson Musicians, complimentary festival t-shirt, brewery giveaways, and much, much more! All proceeds from ticket sales benefit Keep America Beautiful which supports I Love A Clean San Diego. Tickets are $35, event is from 2-6pm.