Entertainment & Events
WonderCon 2018 Recap
By
|
WonderCon has always been a lighter alternative to Comic-Con.  It's still the case, however, be mindful that the event is getting more popular than ever, as proven by sold out tickets for the first two days and the parking quagmire this year.
Forget about driving into one of the Anaheim Convention Center structures.  All those garages were full and traffic was re-routed to the Honda Center (stadium) where attendees could park and take the shuttle buses to get to the convention.  Merely a few miles away, the lanes en route were jammed.  If you're planning to go next year, get a parking permit in advance (if you don't already stay at a hotel nearby), arrive super early, or drive straight to the stadium.
That said, it's always a pleasure to be at WonderCon where panel lines are short or non-existent.  Below are the highlights.
"Ready Player One" (March 30, 2018)
In attendance: author Ernest Cline, screenwriter Zak Penn and stars Tye Sheridan, Olivia Cooke, Lena Waithe, Ben Mendelsohn, Philip Zhao, Win Morisaki
While the director, Steven Spielberg, wasn't there, the admiration for the legendary filmmaker was palpable.  The presentation opened with a montage of Spielberg's iconic movies.  The stars were also star-struck when Spielberg's famous friends, George Lucas and Tom Cruise, visited the set.
Spieberg is the DNA of the movie and has a clear vision.  He's a film nerd, a child, so warm and  engaging.  He would dance behind the scene.  That's why there's such a camaraderie in the characters in his movies.  On the other hand, he sort of casts a shadow over the movie since he already directed great movies in the 1980s (the movie has references to that era).
Being an adaptation, some things could not be translated well from the book, such as hours of playing a video game, so they made it more cinematic, engaging and propulsive while staying true to its spirit.  For the actors and actresses, the challenges include motion capture, as it's something they had never done before and it required a lot of imagination to act while wearing a visor.  At the same time, there's a sense of liberation in the acting without the distraction of special makeup, hair or costume.
"Ready Player One" is set in 2045, where the world is a harsh place to live.  People escape to an immersive virtual reality named OASIS.  When the creator dies, he leaves clues for players to find a hidden treasure.  Whoever wins the contest will be gifted his vast fortune and control of the OASIS.  The futuristic adventure arrives in theaters this week, March 30, 2018.
***
"Lost in Space" (Netflix series; April 13, 2018)
In attendance: executive producer Zack Estrin and stars Toby Stephens, Molly Parker, Taylor Russell, Mina Sundwall, Maxwell Jenkins, Ignacio Serricchio, Parker Posey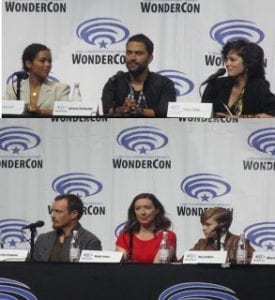 Set in the future, the Robinson family volunteers to travel to space to find a new colony since the Earth's atmosphere has grown toxic.  We've got an army dad, a scientist mother, two older girls and a young boy.
The opening scene is not your run-of-the-mill family get-together.  They play floating cards in space.  Their spaceship runs into trouble and they crash-land on a snowy planet filled with glaciers.  It's a good thing the planet has Earth-like gravity and air.
The spaceship sinks under a body of icy waters.  In an attempt to retrieve a necessary supply, one of the daughter plunges and gets trapped underneath.  The only thing that keeps her alive is an oxygen in her astronaut suit.  The mom is hurt and the other daughter has to perform an emergency medical procedure, aided by the instruction of her trapped sister.  The boy notices the planet has a mineral that would help thaw the ice and save his sister, so he and her dad takes off to find it.  The boy gets separated from the dad and encounters another side of the planet, forestry green.  But embers of fire flicker and soon he's surrounded by massive fires.  And he's not alone. An alien life rapidly approaches him.  Is it a friend or a foe?
The dysfunctional dynamics make the show work.  They love one another and would do anything to stay together.  A combination of family drama, humor, mystery and danger made the pilot remake (from 1965) a hit among attendees.  "Lost in Space" is a gripping, intergalactic family adventure.
***
"Impulse" (Youtube Red, summer 2018)
In attendance: executive producers Doug Liman and Gene Klein, showrunner Lauren LeFranc, stars Maddie Hasson and Missi Pyle
Doug Liman ("Bourne" series) has always wanted to jump into the superhero realm, but not the traditional way.  He admitted that his first foray, "Jumper," didn't quite work, so he's coming back with "Impulse."
The main character, a teenage girl, is unapologetically strong and guarded.  She's different from other female characters in a way that they didn't soften her or make her more likeable or relatable.  In a couple of clips, she's shown to be able to boldly turn the table on her teacher.
The girl has teleportation power, which is activated during a harrowing ordeal.  She doesn't want this power and considers it a curse.  The teleportation is always proceeded by a seizure and she always teleports backs to her bedroom.  The panel discussed how they did not want to glamorize the seizure.  It's sloppy, raw and painful.
This is also a story about a mother-daughter relationship.  The daughter is resentful towards her mother, who keeps moving from town to town pursuing one relationship after another.  This time to the town of Reston.  It's cold and snows a lot.  It looks idyllic, but flawed.  It's a typical small town, but interesting enough to have things happen.  The show has mystery, suspense and supernatural.
***
"Writing Great Dialogue"
In attendance: animation writers Craig Miller (Curious George, Beast Wars), Holly Huckins (Rugrats, Sheriff Callie's Wild West), Jim Krieg (Justice League Action, Batman: Gotham by Gaslight), Mairghread Scott (Guardians of the Galaxy, Transformers: Rescue Bots), Matt Wayne (Niko and the Sword of Light, Cannon Busters)
"From Script to Screen"
In attendance: Gabrielle Stanton (The Flash, Titans, The Vampire Diaries), Michael Narducci (The Originals, Medium), Ryan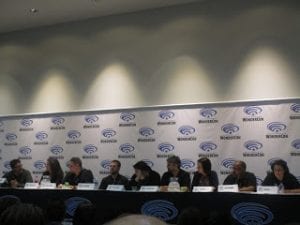 Condal (Colony, Conan The Barbarian), Sean Crouch (Lore, The Exorcist), Ashley E. Miller (Fringe, Black Sails), Steve Melching (Star Wars Rebels, The Clone Wars), Steve Holland (The Big Bang Theory), Kay Reindl (Freakish, Millennium), Marc Bernardin (Castle Rock), Mark A. Altman (The Librarians, Agent X), Amy Berg (Counterparts, Eureka)
Behind great shows are great writers and showrunners. The panels discussed what it takes to write great dialogue and bring script into screen.  It's important for every character to have a distinct voice.  People have distinctive speech patterns.  Writers should be able to hide the characters' names and know which character is speaking by his/her lines.  Every writer, regardless of personality, is also a salesperson, s/he has to be able to sell the words and bury the information in the charm (referring to story expositions).
Showrunners must be decisive and knows a 'yes' or 'no' answer within minutes of every question. Shows could go under very quickly.  It's like running a business.  They have to have a vision and a POV (point of view) on everything, and be able to communicate these.  They have to make it a safe place for people to talk and listen to their ideas, even if they are not great.  They should be able to balance between inspiring or pushing through and making decisions and holding people accountable.  One can still reject ideas in a way that would make people want to get up again and do better, and not shame them.  Courage and empathy, leading by examples and excellence go a long way.
***
"Selling the Hit: What You Always Wanted to Know about the Stunts Industry"
In attendance: stuntmen and stuntwomen from Black Panther, Avengers: Infinity War, Jumanji, Central Intelligence, comedies and live shows (e.g., Water World, Pirate Dinner), etc.
The stuntmen and stuntwomen have an impressive array of experiences, such as taekwondo, kickboxing, fencing, sword-fighting, parkour, gymnastic, surfing, and so on.  Every skill helps. Find what you love, learn and nourish it.  Do improv.  Respect everyone as if they're your next boss.  Collaborate when asked of you.  Recognize and respect the 'alpha' in your set.  Watch your actors carefully, know what they will act or react next and when they will land.
They shared their scary stunts and injuries, like broken bones and burns.  It's clear they are passionate about what they do.  While stars get the glories, some of our blockbusters and shows would not happen if not because of these professionals' skills and dedication.  They really appreciate stars who are nice and sincerely give them props for doing their jobs well.
As someone outside of the film industry, what I've found interesting is that these insights, from writers and stuntpeople, are applicable to other areas of life as well.
Copyright (c) 2018.  Nathalia Aryani.
Nathalia Aryani is a film columnist and has a movie blog, The MovieMaven (sdmoviemaven.blogspot.com). Twitter: @the_moviemaven. She can be reached at indotransserv@gmail.com.