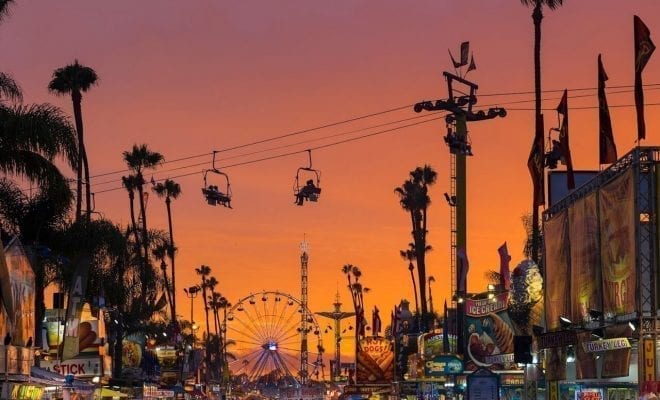 Entertainment & Events
San Diego County Fair To Host Big Name Live Perforamances
By
|
The San Diego County Fair dates back to 1812, originally as an agricultural fair for locals. Over 200 years later, the San Diego County Fair now attracts in over 1.5 million attendees at the Del Mar Fairgrounds, making it the fourth largest fair in North America. This is what Jackie Shelby, Exhibits Director of the San Diego County Fair had to say about the fair's history:
"The first Agricultural fair in the United States was in 1812.  Two hundred plus years later, the Exhibits Department showcases all that is agriculture in San Diego County and so much more.  What makes a fair different from any other event or festival?  Fairs feature competitions and celebrate the success of our citizens.  From the international photography exhibit to the thousands of school children's entries, winning a the convent blue ribbon is a lasting memory."
Over the course of 26 days, the fair will feature food from over 100 vendors, and live musical and comedy performances on 7 different stages from big names like including Little Big Town, Kansas, and The Fray. This fair truly has something for everyone, including animal and art exhibitions, flower gardens, and more. Expect to taste some one-of-a-kind fair food, and witness crazy competitions and contests at this fun filled event. Start planning ahead because this fair is jam packed with live musical and comedy entertainment you won't want to miss starting June 1. Take a look at some of the highly anticipated comedians and musicians coming to this year's San Diego County Fair.

Live Performances
With over 116 live performances across 7 different stages, the fair rounded up some awesome artists. The Paddock Stage will be hosting Electronic Fridays at 7:00 pm every Friday, where San Diego's top DJ's will be playing up-beat EDM music. Head to the Coors Light Rock Stage every Thursday for all day rock performances brought to you the Belly Up Music Festival. The Toyota Concert Series will bring you big pop artists like Noah Cyrus on June 28 at 7: 30 pm, and Tinashe (who released the double-platinum smash "2 On" [feat. ScHoolboy Q]) who will be performing on June 1 at 7:30 pm at the Corona Grandstand Stage. Brother trio Hanson will be celebrating playing music for 25 years together on June 8 at 7:30 pm at the Corona Grandstand Stage. The Barenaked Ladies will be at the same stage on June 14 at 7:30pm.
Country favorites like Sugarland will be performing at the Corona Grandstand Stage on June 2 at 7:00 pm., while Little Big Town will be at the same stage on June 15 at 7:30pm to perform hits like "Boondocks," "I'm With the Band" and "Pontoon." Come on down to the Fair for Wacky Wednesday, country style, where you can learn to line dance, or show off what you already know. Head to the Coors Light Rock On Stage at 9pm on June 27 for a square dancing show down.
With a legendary career spanning more than four decades, Kansas has firmly established itself as one of America's iconic classic rock bands with hits like "Carry On Wayward Son" and "Dust in the Wind." They will be performing on June 7 at 7:30 at the Corona Grandstand Stage. The Fray, who achieved national success with their 2005 debut, featuring the hit singles "Over My Head (Cable Car)" and "How to Save a Life," which went double-platinum will taking the same stage on June 27 at 7:30.
Larry the Cable guy, multiplatinum recording artist, Grammy nominee, Billboard award winner, motion picture star, and one of the top comedians in the country will be delivering live laughs for fair-goers at the Corona Grandstand Stage on June 16 at 7:30pm. Gabriel "fluffy" Iglesias, one of America's most successful stand-up comedians performing to sold-out concerts around the world, and accumulating more than 300 million YouTube views will be taking the same stage on June 30 at 7:30 pm. On July 4 at 9:30, head to the Corona Grandstand Stage to watch Jeff Ross Roasts San Diego, as the Roasting King will be gearing up to do what he does best. Can't get enough laughs? Swing by the Turf Club every Friday and Saturday at 8:00 pm for their LOL Comedy Show Happy Hour, where you'll get $2 off draft beer, house wine, and call cocktails.
Music and comedy not enough entertainment for you? Then be sure to check out the Timeshare Exit Team Showcase Stage to watch Some of the Southland's finest magicians shortly after 6:00pm every evening of the Fair at the After Six Magic Show.