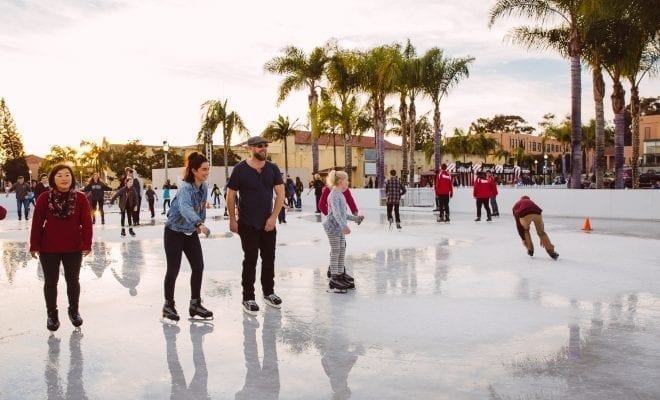 Entertainment & Events
Ice Rink at Liberty Station: Supporting Rady Children's Hospital
By
|
Kick off the holiday season by grabbing some skates and hitting the ice! Rady Children's Hospital Auxiliary and Liberty Station will host opening night of Rady Children's Ice Rink at Liberty Station on Thursday, Nov. 16, from 5:30 p.m. to 9:30 p.m. This event will bring the San Diego community an authentic ice-skating experience to celebrate the holidays and benefit the Rady Children's Hospital's Peckham Center for Cancer and Blood Disorders.
During this magical opening night, families will make memories and enjoy an ice-skating show, a welcome program, live music, hot chocolate, holiday vendors, festive goodies and other festive, family-friendly activities.
"We are so excited to bring this special ice rink to Liberty Station for the third year in a row," said Bridgett Brown, president of Rady Children's Hospital Auxiliary. "It will really set the scene for a magical holiday season, providing families a great way to have fun and also support patients and families at the Peckham Center."
The magical affair will be emceed by San Diego's own NBC 7 and will begin with a show performed by San Diego Ice Arena. At 6 p.m., Santa will make the trek from the North Pole and take the ice, in the first skate of the season at a live performance of Skating Santa. After Skating Santa's performance, families and guests will be able to join Santa in the rink for a night of icy fun! Opening night tickets are $10 and include skates. Families and guests will then experience special opening night vendors and entertainment.
The ice rink will stay open through Sunday, Jan. 7, and will be open daily from 10 a.m. to 10 p.m., except on Thanksgiving and Christmas, and it will close at 5 p.m. on Christmas Eve. Adult tickets are $14 and children tickets are $12 throughout the season. Season passes are also available. Tickets can be purchased on-site and are good for reentry throughout the day. Each ticket includes a pair of skates and a helmet.
More than $1 million has been raised from the ice rink over the past 20 years. This year our fundraising goal is more than $130,000, and more than 40,000 people are expected to visit the ice rink over the holiday season.
The Rady Children's Ice Rink at Liberty Station's cooling system is uniquely designed underground to create a winter destination built to last, and is the first of its kind in Southern California.
For more information on this year's Rady Children's Ice Rink at Liberty Station, visit www.radychildrensicerink.org. For updates about the neighborhood, connect on Facebook/LibertyStationSD, Instagram @libertystation, or Twitter @liberty_station.