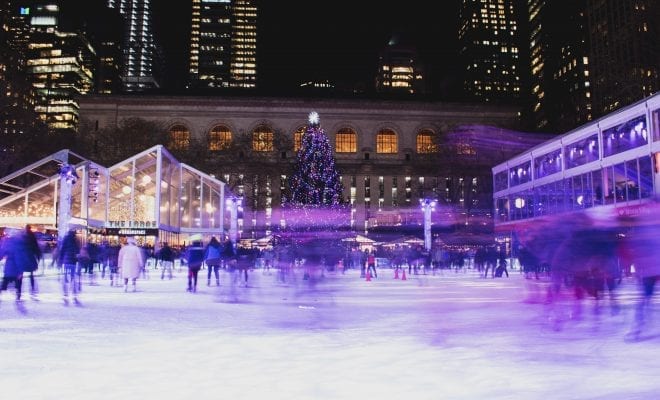 Entertainment & Events
Where to Go Ice Skating in San Diego This Winter Season
By
|
'Tis the season to strap on the ice skates and get out on the rink! Ice skating is extra special during the holiday season and makes for a perfect outing to get in the Christmas spirit. Here are all the rinks in San Diego for all your holiday ice skating needs. 
There aren't many places in America where you can go ice skating while the waves of the ocean crash against the shore in the background. The Hotel del Coronado transforms its stunning Windsor Lawn into an amazing ice rink with skating sessions open daily.
Price: $30 per person with ice skate rentals included 
Get out on the ice while supporting a great cause! Get your skate on outdoors at Liberty Station, with all proceeds benefiting the Peckham Center for Cancer and Blood Disorder at Rady Children's. 
Price: $15 for adults, $14 for kids 
While this rink is open year-round, it is extra special during the holidays. Located inside the UTC Westfield Shopping Center, the Ice Arena has a warm, glass-enclosed Dining Terrace upstairs for those who don't want to skate. They also offer a free intro to ice skating every Saturday morning.
Price: $15 for adults, $12 for kids. Rentals are available for $5
Serving San Diego for more than three decades, this ice arena is perfect for skaters of all skill levels. They offer time slots dedicated to freestyle sessions for the veteran skaters, as well as public sessions with plenty of fun themes. If you have children with you, the Family Party sessions are a great choice, while their Adult Night is suitable for a grownup night, complete with nostalgic tunes from the 80s and 90s.
Price: $14 for adults, $12 for kids. Rentals are included.
Equipped with two Olympic-sized rinks, the Iceplex is home to a variety of athletes. It is also a great place for a fun skating session, in addition to a variety of games including hockey, figure skating, broomball, and curling.
Price: $10 for adults and $9 for kids 10 and under. Rentals are available for $3. 
The Viejas Resort continues its tradition of transforming San Diego's largest ice rink into a winter wonderland. They put together quite the backdrop for one of the best ice skating experiences in San Diego, Plus, when you need a break, you can enjoy a variety of seasonal snacks and warm drinks they have available.
Price: $16 for adults and $14 for kids. Rentals are included.