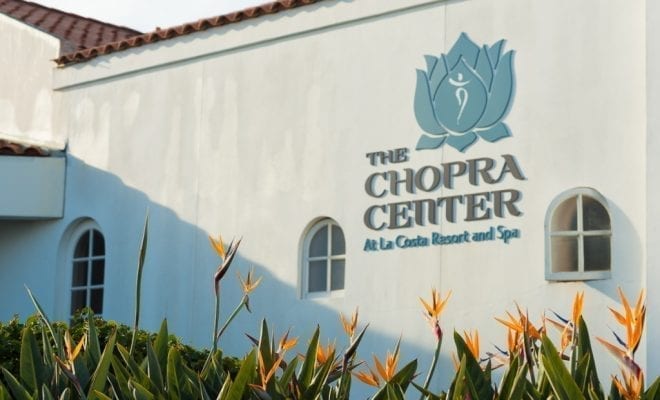 Entertainment & Events
The Chopra Center Hosts "The Heart of Vedanta" as part of Conscious Living Sessions Series
By
|
The Chopra Center, the premier provider of experiences, education, teacher trainings and products that improve the health and well-being of body, mind and spirit, launched its new Conscious Living Sessions series in December, offering transformative workshop experiences of learning, light-hearted fun and conscious community. Held once a month on Sunday mornings at the Chopra Center in Carlsbad, these 90-minute sessions cover topics from meditation to Ayurveda to holistic home and lifestyle trends and feature masters sharing valuable insights to help embrace an awakened, joy-filled life.
"At the Chopra Center we work closely with clientele to offer them customized treatments from our highly trained therapists and some of the top researchers in the holistic health field," said Jaime Rabin, vice president of client services and operations at The Chopra Center. "Through these Conscious Living Sessions we're able to make these practices available and accessible so that guests can lead richer, more enlightened lives on their own terms."
In January, the Chopra Center will welcome renowned world religions expert Peter Bolland to its grounds for "The Heart of Vedanta" Conscious Living Session. Bolland will guide participants through a thought-provoking exploration of Vedanta, one of the world's most ancient spiritual philosophies which is based on the sacred scriptures of India. At the center of Vedanta is a simple idea that all is one. The eternal, formless, sacred ground of being, known as Brahman, takes form in the field of time as matter, energy, and consciousness. In this sense, everything is Brahman, including us. This beautiful and challenging portrait of reality makes the whole world a holy place and our own lives temples.
Attendees of the session will dive deep into Indian wisdom – including yoga, meditation, and Ayurvedic medicine, and discover ways to apply ancient philosophies to their own lives, let go of a tired way of thinking and develop a more heightened and inclusive perspective on spirituality.
Humanities department chair and professor of philosophy and humanities at Southwestern College, Bolland brings more than 26 years of teaching expertise of world religions, Asian philosophy, ethics and world mythology for 26 years. An in-demand speaker, Bolland offers multi-media lecture presentations throughout San Diego including the Vedanta Monastery, the Osher Lifelong Learning Institute at SDSU, San Diego Oasis, Vision: A Center for Spiritual Living, the Unity Center, First Unitarian Universalist Church and more. As an award-winning singer-songwriter and poet, Bolland artfully weaves the many threads of his work into an uplifting message that inspires others to realize the infinite significance of their own lives.
After "The Heart of Vedanta," attendees can continue their day at the Chopra Center by getting an Ayurvedic spa treatment customized to their individual mind-body type, or browsing the Chopra Center's retail center for goodies from bath & body products to health books to beautiful handmade jewelry. The Chopra Center also offers immersive health retreats all year long.
Guests interested in "The Heart of Vedanta" can register online at www.meetup.com/Conscious-Living-Meetup. The cost to attend is $20. All sessions will be held at the Chopra Center, located on the property of the Omni La Costa Resort & Spa at 2013 Costa Del Mar Road, Carlsbad, CA 92009.
To learn more about the Chopra Center, visit www.chopra.com. Connect on Facebook/ChopraCenter, Instagram @chopracenter and Twitter @chopracenter.