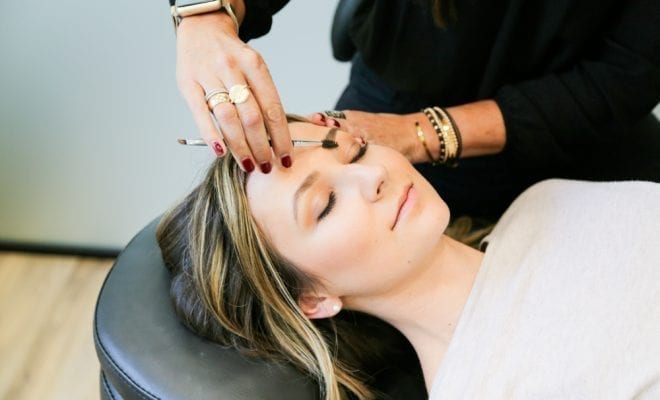 Lifestyle
Del Mar Welcomes Browology Studio
By
|
No matter the season – bold, beautiful brows are here to stay. San Diegans can put their best brows forward with the help of Del Mar's new Browology Studio, a full-service beauty studio specializing in skincare and hair removal. The spacious, state-of-the-art studio, located in the Pointe Del Mar Health and Wellness Center, officially opened in September by master brow artist Stephanie Bostwick. Browology Studio focuses on brow shaping, offering services in brow waxing, tweezing and microblading – a new and innovative semi-permanent eyebrow tattoo technique. The studio also offers full body and Brazilian waxing, facials; including Intraceuticals®, Rhonda Allison and SkinCeuticals treatments; lash lifts and airbrush tanning to target all facets of the beauty experience.
Stephanie Bostwick brings more than 15 years of experience in the beauty industry, with training and endorsement from top industry influencer and beauty pioneer Anastasia Soare, founder and CEO of Anastasia Beverly Hills. Under Soare's tutelage, Stephanie mastered the "Golden Ratio," brow technique, derived from world renowned artist Leonardo Da Vinci's, "Golden Ratio," method to illustrate symmetrical body proportions. Each esthetician on the Browology Studio team is trained in this technique of brow shaping to balance facial features and enhance natural beauty.
"The confidence that comes from being bold and beautiful from the inside out is indescribable, so we make sure to not only enhance your features but use them to elevate your natural beauty," said Bostwick. "We consult with each client personally to find the best choice for their eyebrow shape, skin type, health limitations and lifestyle to ensure their beauty dreams come true properly and safely."
Nine years after earning her degree in Liberal Arts, Stephanie felt a major shift in her priorities and decided to pursue a more fulfilling career path in beauty. After building her reputation in the industry, Stephanie was recruited to work at Studio Anastasia, located in La Jolla and owned by industry pioneer Anastasia Soare. Stephanie soon earned the highly coveted opportunity to learn from Soare in her Beverly Hills studio, where she mastered the "Golden Ratio" brow technique. Stephanie carried her experience into her own ventures, where she later co-owned a beauty salon for almost 10 years. After realizing Del Mar's need for a specialty brow and skincare salon, she decided to finally open her own beauty studio and fulfill her vision of a best in class facility designed to enhance her clients' natural beauty.
What makes Browology Studio special is its industry-leading beauty treatments, including microblading, a semi-permanent tattoo process with results lasting from 18 months to three years.  This innovative technique is used to create the most natural looking, realistic hair strokes ideal for enhancing the look of one's eyebrows.  While the studio specializes in brows, an array of services are offered including eyelash extensions and lash lifts, a technique that shapes the eyelashes upwards for added length, height and volume, as well as body waxing, airbrush tanning and facials for the Browology Studio estheticians to enhance their clients' natural features from head-to-toe. Browology Studio also offers a number of beauty products for sale including SkinCeuticals skincare, creating a one-stop shop for the total beauty experience.
To learn more about Browology Studio, visit www.browologystudio.com or follow on Facebook and Instagram.