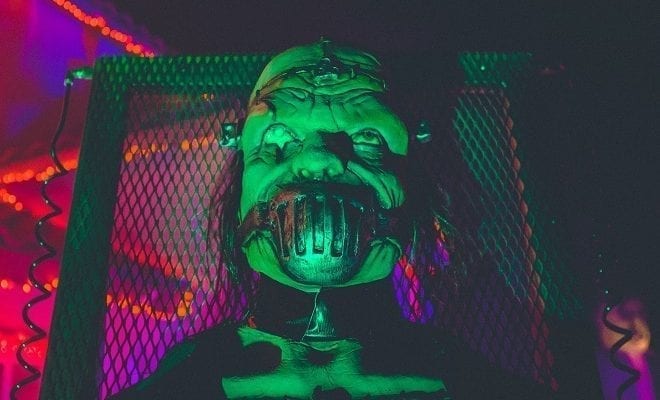 Entertainment & Events
Best Haunted Houses In San Diego
By
|
Fear is something we all deal with differently, but in October, it is mostly regarded with a touch of fun. Why sit on the couch watching a scary movie with your friends when you can go out and experience your fear head-on. Haunted houses are a Halloween time staple, and can be a fun way to celebrate the holiday. Nowadays, haunted houses have become more and more complex, with better scares, intricate costumes, and makeup, and give you a more authentic experience. No need to travel all the way to Knott's Scary Farm or Universal Studios, San Diego has some fantastic haunted houses for you and friends to experience together.
Located in the heart of San Diego, Savage House Haunted Attraction is bringing a fully themed haunted house attraction to San Diego. Halloween lovers will be pleased to go through a fully-themed haunted house attraction complete with a full storyline and high production value, giving you the feeling that you're a character set in a featured horror film. This year's attraction is set in the Grey Family Farm, a place that is said to hold unspeakable terror with reports of murder, torture, and even cannibalism… As you walk through, you will be subjected to the horrors of the farm and its inhabitants, forcing you to undergo a true test of just how brave you are. The attraction will be available for patrons to enjoy every Thursday-Sunday from the hours of 7-12am until October 31st. Tickets start at $18 and include admission to the horror museum on site as well.
In the Gaslamp district, The Haunted Hotel is San Diego's longest running haunted house attraction. Recently voted as one of the scariest haunts in America, The Haunted Hotel is sure to appease even the most seasoned haunted house veterans. Celebrating its 25th anniversary, The Haunted Hotel will be bringing its best yet, with scares for all who enter. The Haunted Hotel will feature the Hellevator, which will plunge patrons into the chaos of the hotel. A zombie infested alley will be sure to scare any zombie fans. Upon entering the Mutant Mine Shaft, the room will begin closing around you, as you make your way to the Morgue Autopsy Lab. If you count clowns as one of your fears, then you might want to stay away from this one. To top off the horror, the Hillbilly Swamp will feature ruthless killers looking to find their next victims. Plus, this year, Lights Out Wednesday is coming back! Make your way through the house, with only a glow stick around your neck to lead the way! Tickets can be purchased on-site, or online for $19. Don't miss out on experiencing one of the top haunted houses in the nation.
Scream Zone will be offering 4 separate attractions that will be sure to strike pure horror into your hearts. Located in Del Mar, Scream Zone is known as being the goriest haunted house attractions in San Diego. The House of Horror features unsettling lighting and pop-out frights, playing on the fear of being trapped. The Haunted Hayride is a ride through the horror that is filled with trippy visuals and horrifying clowns and zombies. Karnevil is an attraction that will take through a carnival full of horrors, those who fear clowns beware. Open every Friday and Saturday, with select nights on during the week, don't miss out on this awesome event!
You've never seen Balboa Park like this before. Take a stroll through if you dare, as The Haunted Trail has been taken over by horror icons this year! As you make your way through the twisted pines and oaks, you'll be confronted with the likes of legendary horror figures like Freddy, Michael Myers, and The Nun. If you follow the red balloon, you'll be met with a bloodthirsty Pennywise. You'll even make to the Upside Down as seen in Stranger Things, just be careful to avoid the Demogorgon. The Haunted Trail also features a 3500 square feet maze where you'll be stalked with Purge-infested terror as you try to find your way out. Tickets are $25.
This completely free Haunted House is one of the very best in Mira Mesa. Every year, the residents and friends of 10908 New Salem Circle transform their front yard into Salem Haunts! Ever since 2012, they have been bringing a scary good time to all of their visitors on Halloween, so be sure to check it out!
Located in El Cajon at the very fitting abandoned Marshal Scotty's Playland amusement park, this haunted excursion is sure to spook you by the location alone. You'll take a walk through a dark and desolate grounds of a once happy place, as you wind your way through the House of Horror before finding yourself in the midst of Clown Town. This is a family friendly event, so if you don't want the kids to get too scared, stop by the ticket booth to purchase a $1 glow stick, and their monsters won't scare you! Tickets are $18.
A haunted trail walk-thru experience unlike any other, Star-Fright is a fully immersive experience taking the audience on a journey to learn of the terrors that happened there. While walking through, attendees will wear wireless headphones while "dead performers" interact with them. Happening every weekend of October in front of the Starlight Bowl in Balboa Park, free showing is available on October 28 at 2:00 pm.