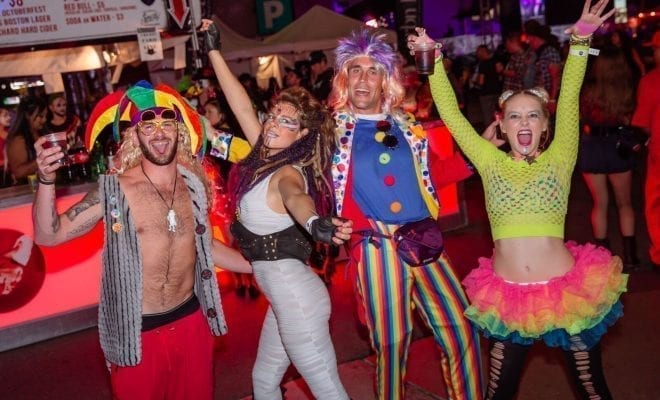 Entertainment & Events
This Weekend in San Diego 10/26-10/28
By
|
Halloween may be on a Wednesday this year, but the official festivities start this weekend, so if you haven't made your weekend plans, we've got you covered. From specials at the local bars to Halloween scavenger hunts, you can celebrate this weekend any way you want, as whoever you want. Gather your goons and get ready for Part one of this year's spooky season. There are so many ways to celebrate this year.
Friday, October 26th
This Friday spend your night in Little Italy with your little ones at the 12th annual event Trick-or-Treat on India Street is hosted by Little Italy Association of San Diego. Local businesses will give out tasty treats and hand out candy as your little ones have fun trick or treating. Get ready to start celebrating Halloween early and let your child get in on all of the festivities that San Diego has to offer.
Time: 5:30 p.m. to 7:30 pm
Price: varies
House of Air in Carlsbad is letting you jump for a scare this weekend with a special Halloween Teen Night. Make sure to wear your Halloween costume and get ready to run and jump on trampolines, rock climb, and jump into airbags for 3 hours. Complete with a costume contest, pizza, and glow up gear, teens will have a fun night out with friends while celebrating their favorite holiday in style.
Time: 6 p.m. to 9 pm
Price: $30
Address: 6133 Innovation Way, Ste. 102, Carlsbad
The Rooftop Cinema has become a very popular spot in San Diego, with its unique movie treats and not to mention the fact that you get to look at the stars while watching your favorite movies. This week in honor of Halloween, Beetlejuice is the movie of choice. Reserve your seats now and get ready to watch this spooky fil while chowing down on nachos, tacos, and delicious cocktails. As a guest, you can also come early or stay after to indulge in 15% off of all beverages and bites at the Grand Hyatt San Diego's restaurants.
Time: 6:30 p.m. to 11 pm
Price: $17-24
Address: One Market Place, San Diego, 92101
Age: 18+
Grab your best costume and head to a night out of spooky hauntings while raising money for the Urban Street Angels, who have a mission to end the youth homelessness in San Diego. All of the proceeds will go towards this non-profit, all you have to do is buy a ticket and have an amazing time. Enjoy appetizers, costume contests, entertainment, raffles, and of course–a full bar. The Musem will have all exhibits open, so be sure to explore the historic setup when you make your way down to the spookiest fundraiser in San Diego.
Time: 7 p.m. to 11 pm
Price: $50-$250
Address: 1350 El Prado, San Diego, 92101
Age: 21+
---
Saturday, October 27th
This Saturday, the WCKD Village is transforming 6 blocks of Gaslamp and East Village into the largest Halloween Music Festival. There will be a total of 4 stages with a wide variety of talent including Cheat Codes, Michael Calfan & special guest E-40. Make sure to wear the most epic costume you have to win that sweet $5,000 cash prize, and take advantage of the spooky spot themed areas such as The Demented Circus, The Madhouse, WCKD Woodland, and The Village Crypt. Don't miss out on the biggest and most epic Halloween party in San Diego.
Time: 6 pm-midnight
Price: $55-$65
Address: 656 5th Ave., Ste. B, San Diego, CA 92101
Age Limit: 21+
This Saturday on October 27th, you'll be on your way to Neverland at the Haunted Never-Never Land Hallowed bash. There will be themed drinks and bites available, along with a sinister twist to the Peter Pan fairy tale. Make sure to wear your most original costume and get ready to dance the night away while jamming to live music all night long in Gaslamp.
Time: 8:00 p.m. to close
Price: varies
Address: 555 Market Street, San Diego CA 92101
Second Chance Beer Company + AleSmith Brewing Company Beer Release
The Second Chance Beer Company is officially collaborating with AleSmith Brewing Company. The Blend-O-Matic features two beers (a Brut IPA and Hazy IPA), one recipe from each brewery, designed to be mixed and savored together. San Diego Beer Week may not be here just yet, but to prepare, the new beer part Brut IPA and part Hazy IPA will be available at Second Chance's Carmel Mountain Ranch and North Park locations, with the celebrating starting Saturday, Oct. 27 and official distribution on October 29, 2018.
Time: all day
Price: varies
Address: Carmel Valley (15378 Avenue of Science #222, San Diego, CA 92128)
North Park (4045 30th St. Ste A San Diego, CA 92104)
Age Limit: 21+
Upper East Bar in East Village is throwing a Boos and Brews Bash and beer festival this Saturday. Come to drink unlimited beer (with purchase of ticket) from more than 10 different breweries in San Diego. To go with your beverages, there will also be delicious bacon-wrapped hot dogs, nachos, and bratwursts to satisfy all of your cravings. Enjoy the rooftop party before going out for the night and get an early start to your festivities in style.
Time: 12-5 pm
Price: $25
Address: 616 J St #101 San Diego, CA 92101
Age Limit: 21+
Start off your Halloween weekend doing something active and outdoors so you can enjoy the somewhat crisp air. Enjoy a morning with the fresh scents of trees and watch as the leaves start to change colors for the new season. This is the perfect way to jump-start your weekend and relax before all of the hectic activities.
Time: 8:30-10 pm
Price: Free
Address: Two Father Junípero Serra Trail, San Diego, 92119
The Oktoberfest Community Cleanup with I Love A Clean San Diego and Think Blue! will be taking place this Saturday to pick up litter in local neighborhoods. Do your part in keeping San Diego beautiful and enjoy the discounted beers from Benchmark Brewing after! You can also work towards community service hours, and you can give back to the community and place that you call home.
Time: 10 am-noon
Price: Free
Address: 6190 Fairmount Avenue, Suite G, San Diego, 92120
Get ready to indulge in the nation's favorite comfort food at the Fourth Annual Mac n' Cheese Festival this Saturday. The event will include recipes from 20 regional restaurants, where guests and panel judges will decide who will reign as Mac n' Cheese Champion. Come hungry and leave happy at this event.
Time: 11:00 am – 2:00 pm
Price: $40.00 GA; $70.00 (VIP)
Address: Waterfront Park, 1600 Pacific Highway, downtown San Diego
Ages: 21+
---
Sunday, October 28th
This Sunday, come down to the 8th annual URT Spook Event and costume surf contest. URT, the brand is based in Coronado, is creating a surf contest with a spooky twist. Every participant of all surfing levels will be coming out to surf in costume. Watch as you see a Yoda with a light-saber surfing in the water right next to a component dressed in a skeleton onesie. Dress to impress, the winner of the costume contest is winning a brand new beach cruiser from Holland's Bicycles.
Time: 4:30-7:30 pm
Price: Free
Address: Shipwrecks Beach, 920 Ocean Blvd., Coronado, CA 92118
Round out the weekend at this family fun event filled with handmade crafts, local foods, a petting zoo, pony rides, pumpkin contests and more. Dress up in your Halloween attire and enjoy all the fall essentials: pies, pumpkins, and soups. Plus there will be live music, and a beer and wine garden.
Time: 9:00 am – 4:00 pm
Price: Free
Address: Along Main Avenue in downtown Fallbrook
---
All Weekend
Come to help Second Chance Beer Lounge in North park celebrate the location's one year anniversary this Halloween. Celebrate Saturday with yoga, painting, and delicious bites. You can also stop by Sunday for the Magnificent Mystery Marketplace, that will bring you local vendors including The Potted Poppy, Prey, and Profit, North Park Soap Co. Come try out a delicious beer flight with all of your favorites, and bring our friends along for a fun weekend out drinking your favorite brew and celebrating your favorite spooky holiday.
Date: October 27th & 28th
Time: varies
Price: varies
Address: Shipwrecks Beach
Age Limit: 21+
Enter if you dare and be prepared for a scare at the VFW Post 5867. The Haunted House Fundraiser is raising money for National Family Home in Michigan. Get into the spirit of Halloween this weekend while supporting an important cause and make your heart race around every corner of this haunted house set up. Check out their other events at their Facebook page and get your tickets now for this hauntingly perfect and festive event!
Date: October 26th &27th
Time: 6 pm – 10 pm
Price: $5-$10
Address: 2650 Lindo Lane, Lakeside, 92040
Spend your weekend going on spooky adventures at the 19th annual Olivehain Hainted House, presented by Boy Scout Troop 2000. Experience a tour through the 133-year-old Germania Hotel and explore several haunted rooms in the building, and choose from 1 of 3 scare levels that were created by the troop. Along with actors, guides, and scout friends, this event was created for the skeptic and all Halloween enthusiasts. Along with a Candy Mystery Trail, Frankenstein entertainment, and free Halloween movies that will be featured on a big screen in the middle of the woods, this is the best way to celebrate All Hallows Eve.
Date: Ongoing until Saturday, October 27, 2018
Time: Fridays, 6:30pm-9:30pm and Saturdays, 6:30pm-9:30pm
Price: $5 – $10
Address: 423 Rancho Santa Fe Road, Encinitas
The Pacific Southwest Railway Museum Association is hosting a festive Halloween celebration through the 28th. There will be train rides, pumpkin patches, and other Halloween activities that will get you ready to celebrate your favorite holiday. Enjoy a night out taking pictures with pumpkins and getting excited about the fall season.
Date: Ongoing until Saturday, October 28th
Time:  11 pm-4pm
Price: Varies
Address: 750 Depot Street, Campo, 91906