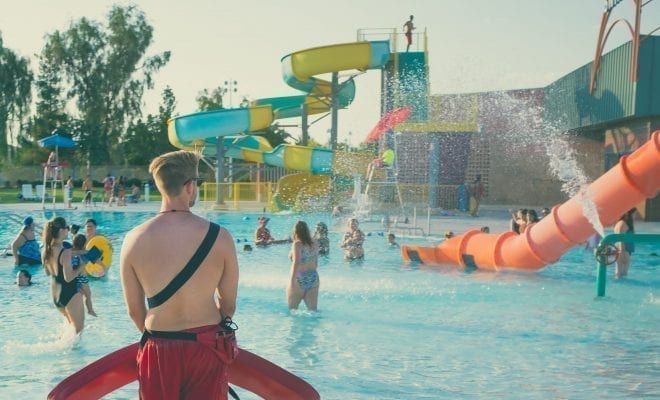 Entertainment & Events
Beat the Heat at These San Diego Waterparks
By
|
Staying cool this summer is on everyone's minds, and sometimes, AC just isn't going to cut it. Thankfully, there are some pretty sweet water parks in San Diego that can help you beat the summer heat.
Located along the Embarcadero in Little Italy, this spot has become a locals family favorite for cooling down in the summer. This 12-acre park is decked out with the very best in innovative water park attractions. The giant fountain is a favorite of the park, and the floor is grippy so kids can run around without fear of slipping. The best part is it's free!
Ride the waves at this waterpark in Vista, where there is something for everyone. Whether you want to rip down some gnarly waterslides, or lounge about in the sun while floating on an inner tube in the lazy river, Wave Waterpark is the place to be to enjoy a hot summer's day. If you need some quality relaxation, rent out one of the cabanas for a day, where you can enjoy cold drinks and food in between your aquatic adventures.
This local pool is a neighborhood favorite for families and little ones to have some quality water fun. Kids and toddlers can crawl and splash around the shallow kiddie area, while the bigger kids can go up and down the tunnel slide. The park also has a main pool with a deeper park for practicing your cannonballs. Entrance is $4 for adults and $2 for children.
If you happen to be making your way to Legoland anytime soon, it may be a good idea to upgrade those tickets to take advantage of the awesome water park they have. The little kids can play with the animals in the Splash Zoo or slide down the mini-slide in the Splash Safari. The bigger kids can head over to the Joker Soaker Zone or take a spin on the lazy river with a build-your-own-raft. Tickets start at $89.99.
This San Marcos mini-water park is the perfect summer destination to cool off. A funneled water play area makes for a good time without getting too wet, but there are also pools and lifeguards on duty for proper swimming too. Pack a picnic and lounge over on the grassy expanse next door for a great summer day.
Come out and experience some of the craziest waterslides in Southern California. This Chula Vista waterpark has a ton of spectacular waterpark attractions that will provide legitimate thrills for even the most experienced of water park connoisseurs. Tickets start at $29.99.