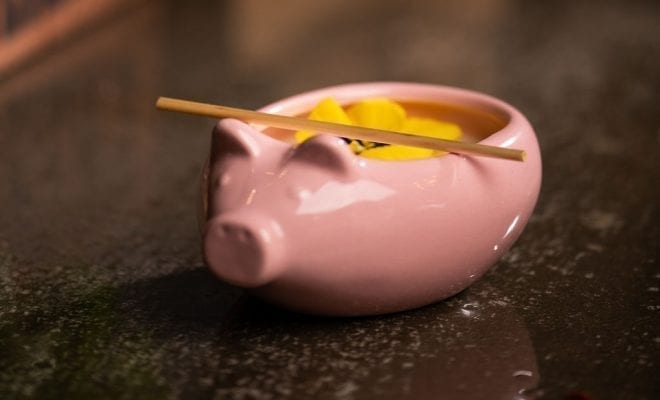 Farmer's Table: That'll Do Pig, Courtesy Photo
Drinking
Thirsty Thursday: Jump For Gin!
By
|
Everyone loves a good cocktail- whether you're hanging at a beach club or cozied up in the comfort of your own home, having a tasty drink in-hand makes any bad day seem a little better. It should come as no surprise that restaurants and bars all over San Diego are shaking things up in the cocktail realm, bringing Insta-worthy libations to the city's craft connoisseurs. Our newest obsession, Botanical gin really brings a cocktail to life. From mojitos to negronis and everything in between, we've tried them all, and in the process, discovered that no other city slings creative drinks the way San Diego does.
Calling all gin lovers! We've rounded up our top spots serving up cocktails that will make you jump for gin. In no particular order, these are our San Diego favorites that are sure to make your Thursday Happy Hour better with amazing food, stellar atmospheres, and the best gin cocktails in town.
Little Italy
Take an underground journey into Cloak & Petal, a Little Italy restaurant reminiscent of an abandoned Tokyo subway, complete with a classy Japanese dining lounge that will make your cocktail dreams a reality. Gin-lovers can delight in the Absin-tea-ism, a cocktail that includes sweet basil-infused aromatic gin, absinthe, fresh pineapple, tart lemon and cane sugar.
Gaslamp
Head into downtown San Diego for a night you probably won't remember, and stop byWhipHand, a new addition to East Village serving up local favorites with new twists. Fans of The Office can enjoy the Great Scott! prepared with scotch, amontillado sherry, punt y mes, cacao and mole bitters, all served up in a "World's Best Boss" mug, just like the one used by everyone's favorite Dunder Mifflin regional manager.
La Mesa
Head to Farmer's Table if you're looking for a little something different to pair with your bacon and eggs. That'll Do Pig blends botanical gin, egg whites, rose water bitters, cold press lemons and agave, wrapped up with an edible flower on top. What more could you ask for in the morning? Be sure to check out their woodfired pizzas made with local and organic ingredients!
Pacific Beach
Situated in one of the most scenic coastal neighborhoods in San Diego, Waterbar prides itself on a "social seafood" menu with flavor-forward craft cocktails. A must try is their Thetis' Love, comprised of Tanqueray, lemon, basil water and house blackberry-balsamic reduction, a uniquely honed compilation of flavors that showcase the ingenuity present behind the bar.
There is something for everyone in San Diego, so stay up on industry trends and head to these hotspots delivering innovative combinations for craft cocktail lovers.